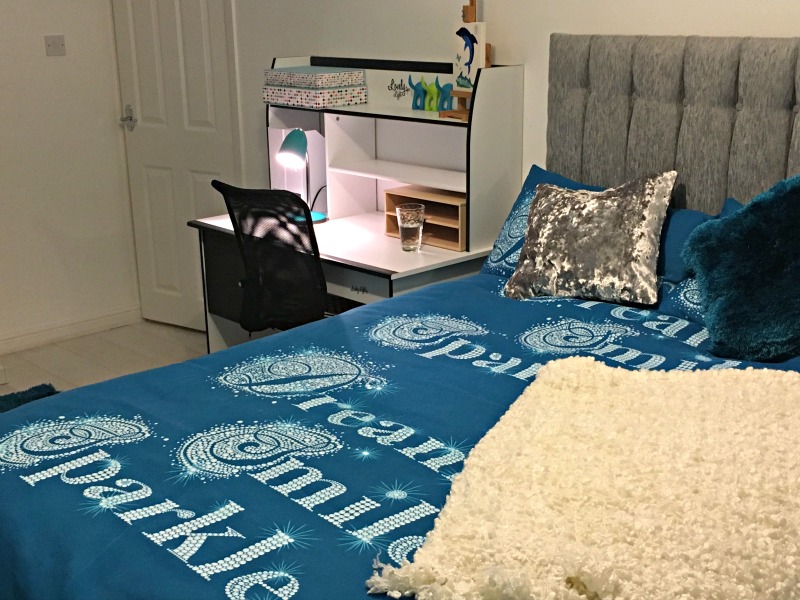 Back in March, I put out a call for help. I needed tween girl bedroom ideas. My baby girl had grown out of pink, was suddenly 'over' fairies, and no longer craved Disney princess trinkets. I was out of my comfort zone and into tween room makeover nomansland. The only guidelines I had was that it was to be her birthday present (great, a deadline), and that it had to be teal.
Thankfully, My Bespoke Room came to my rescue, with some genius tween girl bedroom design ideas to create her the perfect grown up room. Eight months later, the process is complete, and my daughter is no longer a little girl. I've never been happier, and nor has she.
Pinterest searching also tells me that these ideas are good for a teen girl bedroom makeover too, so I'm hoping it will last a while!
Room decor ideas for a teenage girl
With a long and narrow room, I considered so many different arrangements for tween girl bedroom designs, but when it came down to it, what we needed most was storage.
I would show you the 'before' photos, but I don't want to cause unnecessary distress; let's just say that tidying up is not her favourite activity. Which is why my most expensive purchase was this set of sliding doors and storage combination from Spaceslide. Given the shape of the room a fitted wardrobe seemed like the perfect solution. The addition of all the mirrors – far from making the room feel even longer, has really opened the room out to more light and a spacious feel.
Spaceslide do a range of tower units, and hanging rail combinations, so you can piece together the perfect solution to your storage requirements. For my girl I needed lots of drawers, and lots of hanging space (she likes clothes!); but I also needed some shelf space, and versatile storage options for throwing random bits of 'stuff' in, to keep the room looking neat. And yes, I have since found random bits of stuff thrown randomly into cupboard space in the 4 weeks since she moved back in there. But as long as I don't have to see it…
The turquoise boxes are Drona fabric flat-pack storage tubs from IKEA priced at £2.50. Our Spaceslide combination cost £1692, and it was worth every bit.
Clutter sorted, I needed to be careful with space in the room. She wanted a double bed, to move on from her old high sleeper that she'd covered in stickers. Ever mindful of storage, I traded up a little for an ottoman, and now all her teddies, and dressing up clothes that she can't bear to part with, but doesn't want hanging around any more (sob) reside in the base. I had thought that perhaps an ottoman might be annoying, but this one has a mechanism that makes it easy to lift, so if she wants to swap one Build-a-Bear for another, or momentarily become a cheerleader, she can do it herself.
Tween girls bedroom accessories
Next I went looking for cute teen bedroom ideas to make her room feel personal to her. I found the perfect duvet set, priced at £19.99, from Wayfair, and added a fleecy throw from IKEA, and some teal, aqua and silver cushions that I found in Dunelm. (Is it just me who can spend hours at Dunelm stroking cushions? I think it's the perfect place to find bedroom decor ideas for a teenage girl.)
The desk was from Room To Grow, and was the one item we kept, though I updated it with a desk lamp from Dunelm, and some more IKEA storage solutions. Aren't those cat's bottom hooks cute?!
I really wanted to make a statement for my girl, and make her feel like she really had moved on from pink, girly and childlike, so this was a statement purchase: somewhere for her to sit and read, hang out with her friends, and really make a space for herself that was separate from the rest of family life. This futon, which happened to be on offer at Wayfair at the time, converts so that two small teenagers can sleep on it, meaning that she had the most epic sleepover for her birthday celebration. Although actually, now I come to think of it, not much sleeping got done. The addition of a tall bookcase next to the futon means that if I ever need her, I know I'll find her on her sofa with a book – for a bookworm, this was probably the best part of the makeover.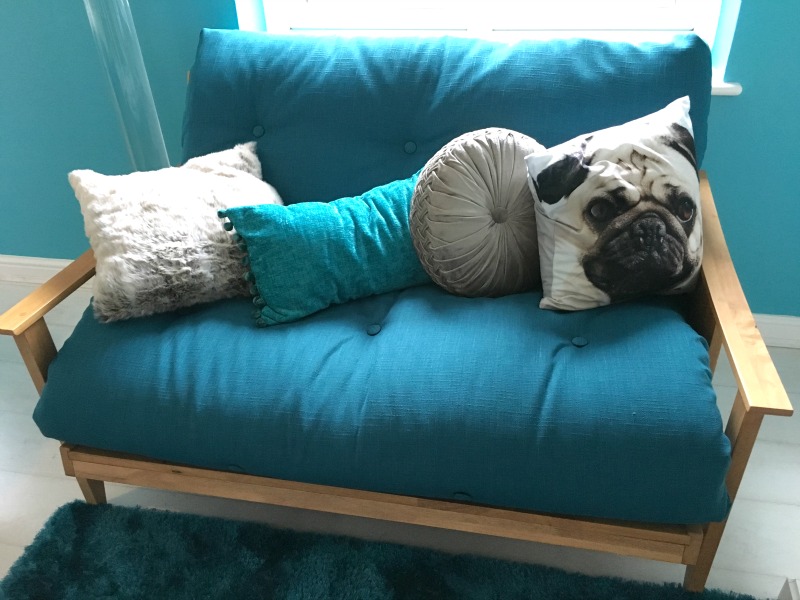 Furniture in, and flat-packs built, next on the list was soft furnishings and bric-a-brac to make her room feel homely. She has always grumbled about the hard flooring which, whilst practical, and in my opinion, stylish, makes her feet feel cold when she gets out of bed, which leads to her unwillingness to get out of bed at all on a school morning, apparently. Funny it has no effect at the weekends…
We were lucky enough to be given this Plantation Rug Company Oceans Rug from Houseology, and it fits perfectly between the bed and the wardrobe, creating an almost carpeted feel to that side of her room. It looks lovely reflected in the mirror too.
For her walls, I wanted pictures that were modern and fun, as well as reflecting her personality and current passions. She loves music, but is constantly changing her mind about favourite bands. Harry and Liam, on her old 1D poster, had been sporting moustaches and pig noses for a while before we took it down, and she's gone through crushes on 5 Seconds of Summer and the Vamps, to settle, for now at least, on girl band Hey Violet. So I put up a large clip frame that's easy to open up and replace the poster inside, to keep up with her changes of heart without the tell-tale marks of torn down bluetack.
Isn't this framed print adorable? When I began this blog it was based on the principle that the things my kids came out with made me laugh, and go all cuddly, so much that I needed to retain the memories, and Wot so Funee? was born. This shopping list, that I still have on a scrap of paper, was one written by my 5 year old daughter before she dragged Actually Daddy relentlessly round the shops for my birthday haul. I've always loved it, and Lissie, from Alphabetty Prints offered to immortalise it for me in a hand designed, framed print. I love it so much that I've since had one of my son's most notorious quotes framed too.
Personalised room decor ideas for a teenage girl
Next I wanted something inspirational, something that would make her take a deep breath every morning and know that she can achieve anything if she goes out there with the right attitude. Since she was diagnosed with Type 1 diabetes just over a year ago, she has astounded me with the strength and maturity with which she has come to accept and manage her condition. It's no easy feat, and when our friend Alice sent us this quote at the beginning of our journey, I didn't realise quite how true it was. I wanted her to remember this message, so I designed my own picture for her, using a stock image, overlaid in Canva with the words. I emailed it over to The Canvas Prints, who transferred it to canvas for me, and it takes pride of place by her bed.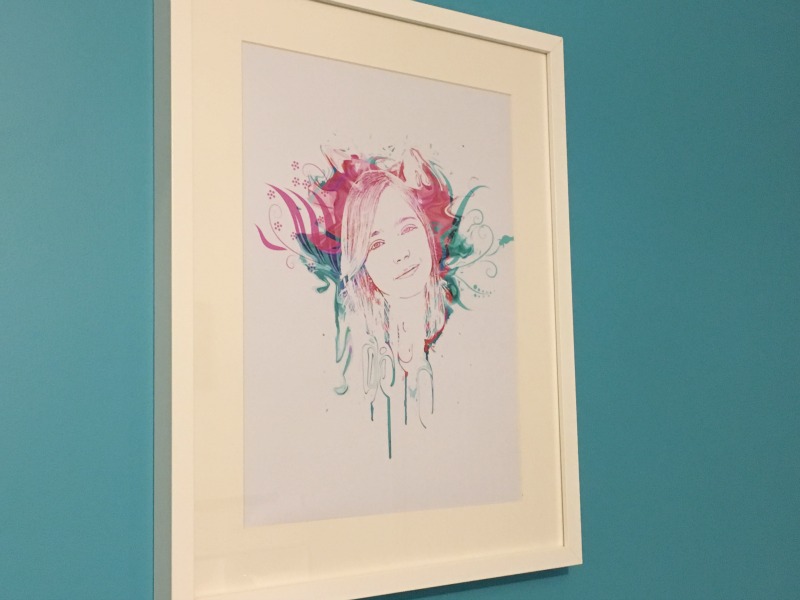 I love this picture of her, taken by family photographer Stephanie Belton. For something a bit different, and very modern, I uploaded it to Photobox, where, under the Pop Art options, you will find Splash. You can use any photo, and there is a choice of colours; I don't think she noticed that I've sneaked a bit of pink into this one…
A girl needs a bit of twinkle in her room, and at 11, she still prefers a little light to sleep by. A few years ago we chose a pink rose fairy light string from Blaze On, and I was delighted when they heard about the new teal theme and sent us these Ambient Balls lights in Metro Turquoise. Strung along her headboard they're perfect to sleep by, giving just enough glow to be comforting as she drifts off, but not so much light that it's distracting. I love Blaze On, and they have every colour you could wish for, as well as something for all ages.
Cheap bedroom decor ideas
Finally, I had gone for cheap and cheerful with the window blinds, but still wanted to soften the hard lines around the plan rollers. I asked Facebook for ideas and came up with 'voile swags' as being the best option. I'd never heard of a voile swag, but I duly followed the link, and found the swags on ebay, (you can just see them here in the top corner). Inexpensive, easy to hang, and she loves them!
As she slept in the bottom bunk in the Bug's room on her last night as a ten year old, I placed the door hooks, hung her old dreamcatcher, and covered her door frame with wrapping paper. This was her only birthday gift from us, so she would need to be able to unwrap it. What a gift it has been. And she's even managing to keep it tidy. Kind of…
Teal has turned out to be a lasting attraction – Maddie is now 16 and she and her brother recently redecorated our playroom to make a teen den where the kids can hang out with their friends. The colours are remarkably similar!
You can see a video snapshot of our makeover here. And if teal isn't your thing, you might like these ideas for a purple bedroom.
Looking for ideas for a younger child's bedroom? Check out our Star Wars bedroom makeover.
We were given the Plantation Rug Company rug (priced at £125) by Houseology, for the purpose of review. Also reviewed was the AlphaBetty personalised quote picture, the quote picture from The Canvas Prints, and the fairy lights from Blaze On (£26.50). Prices correct in 2015.