When we moved into this house 10 years ago we always intended to decorate this room as a playroom for our kids, who at the time were just 4 and 18 months old. We never got round to it, and they lived with ugly wallpaper, covered with various swimming certificates and headteacher commendations until recently, when we decided to skip the 'playroom' stage, and move onto a teenage hangout room worthy of their ages now at 16 and 13. 
Getting teens involved in decorating a teenage hangout room
The benefit of waiting until they were teenagers became clear immediately. Their motivation was high, and as it was going to be their room I was prepared for a bit of experimentation. So, armed with a few tins of paint and some sandpaper, they got to work on the basic decorating. It was a great project for the school summer holidays, and they even managed to rope their friends in! Maddie did most of the paintwork, while I steamed off the old ugly wallpaper and prepared the wall for this incredible world map wallpaper mural. 
Advertorial content: this post contains links to MuralsWallpaper, who gifted us the blue world map wallpaper mural for our teen chillout room makeover. All images and opinion is my own. 
Hanging a wallpaper mural for the first time
I've never hung wallpaper before, let alone a mural, so I was super nervous. At one point I was begging our busy decorator to fit me in at a weekend, end of a day, middle of the night, or whenever he could – that's how terrified I was of getting this wrong. The lovely team at Murals Wallpaper reassured me, told me they'd all felt the same, and had eventually hung one themselves with no trouble. They even sent me this guide on how to lay out the paper, how to apply it to the wall, and how to trim it so that I couldn't get it wrong and end up with Mexico in the Middle East!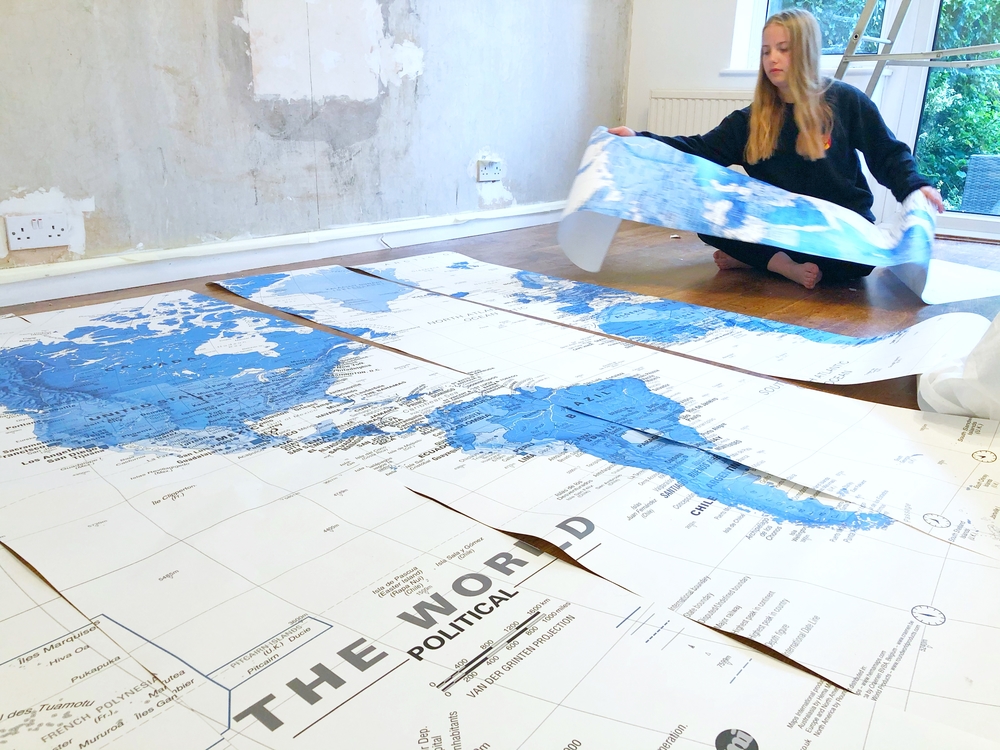 Basically, you size the wall (even that was way more simple than I'd imagined), leave it overnight to dry, then cut your wallpaper according to the guide they give you (they put really obvious lines on it that say "cut here" so there's no possibility of getting it wrong), and lay it out on the floor. Maddie did that part herself, and then I hung each strip, gently pushing the sides into place so that everything aligned. I will confess to making a small tear in the paper as I tried to cut a section for the plug socket, but that's probably because I need a new Stanley knife! Otherwise it was as simple as they said it would be.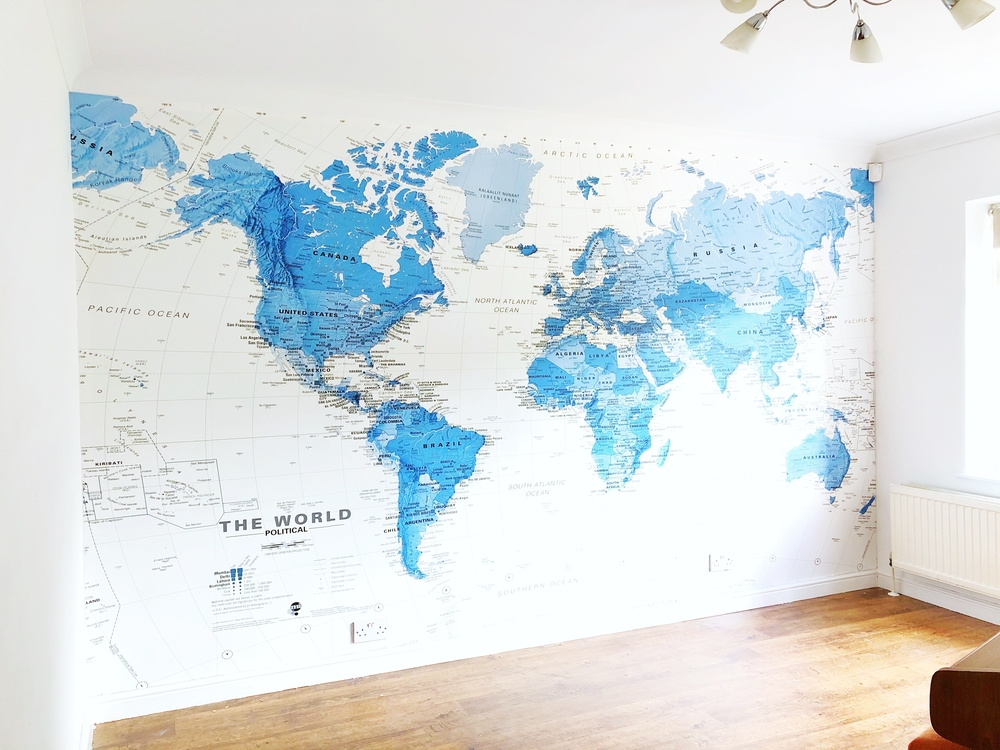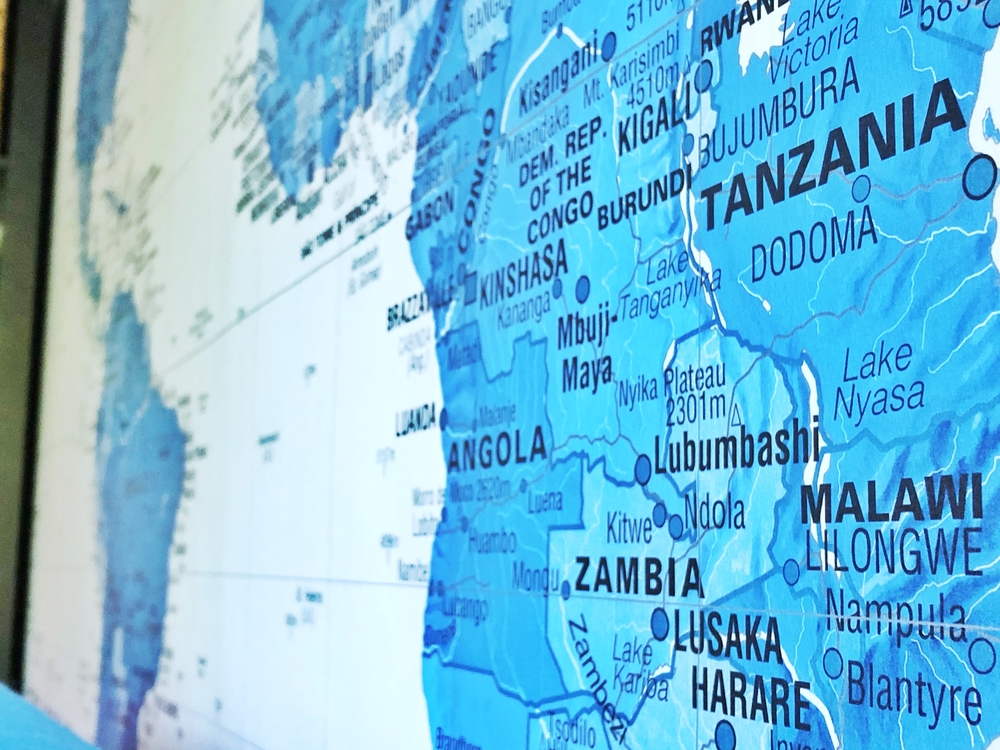 Everyone who's visited so far agrees that the mural looks amazing, and we've had quite a few conversations about where the countries are, so it's been educational as well! Take a look at the Murals Wallpaper website – they have loads more colours of maps, and hundreds of other design types (I rather fancy a graffiti wall in the kitchen next!)
Furnishing a teenage hangout room
Then we were on to the fun part – choosing furnishings for a teenage room so that the kids could hangout with their friends away from Mum and Dad, somewhere that feels cool. We already had this teal futon from Maddie's bedroom makeover some years ago, so that became the main seating area. We then bought some mustard cushions from Dunelm and The Range to give the blue a bit of an accent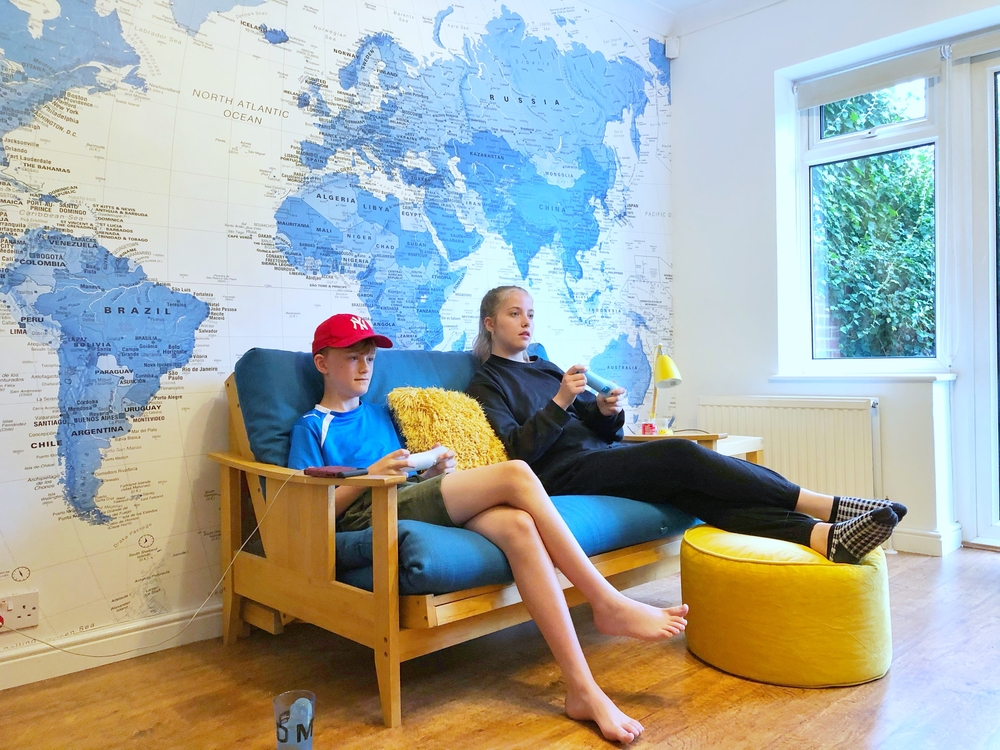 A yellow lamp and thick rug from The Range completed the look, and we added a side table to help avoid the otherwise inevitable drink spills that are bound to come from a night playing Cards Against Humanity with your friends when you're 15!
As you can see, Rocket made himself completely at home. In fact he moved most of his toys in here immediately and varies his nap location depending on the colour he fancies in any given moment! 
Looking for ideas for a younger child's bedroom? Check out our Star Wars bedroom makeover. 
PIN FOR LATER
Seating for a teenage chill out room

We'd originally swapped out quite a large old sofa bed from this room. It took up a lot of space and was a bit shabby, being 30 years old (in fact, it was my first furniture purchase as a twenty something moving into my first home, so it was difficult to throw out). But we quickly realised that the futon wasn't going to be enough when they had friends over. We'd been offered a beanbag from Beanbag Bazaar, so we chose this large grey armchair, and it's absolutely perfect for the room. 
And if you like how it looks, you could be in with a chance of winning one as Beanbag Bazaar have given me a beanbag armchair to give away to one of my readers. if you think a beanbag armchair would work in your house, head over to my giveaway to enter to win one! 
Storage is important! 
We kept our old IKEA storage just because it really works. We have a lot of board games, as well as a few games consoles and of course, the TV. But on top of that we have a teenage LEGO fan who makes some of the larger models most years on his birthday. And I do mean on his birthday – it takes him very little time to construct these giants!
I think I'd like to buy another beanbag chair for this room, just to give the teens more comfy options when there's more than a few of them. And we definitely need another small table so that drinks don't get knocked over (or stored on top of the piano – my mother would have a fit if she saw that!) But largely this is now a room that works beautifully for a good sized group of teens to hang out away from their parents, without the need to disappear to their bedrooms. 
Also, Rocket really, really likes it…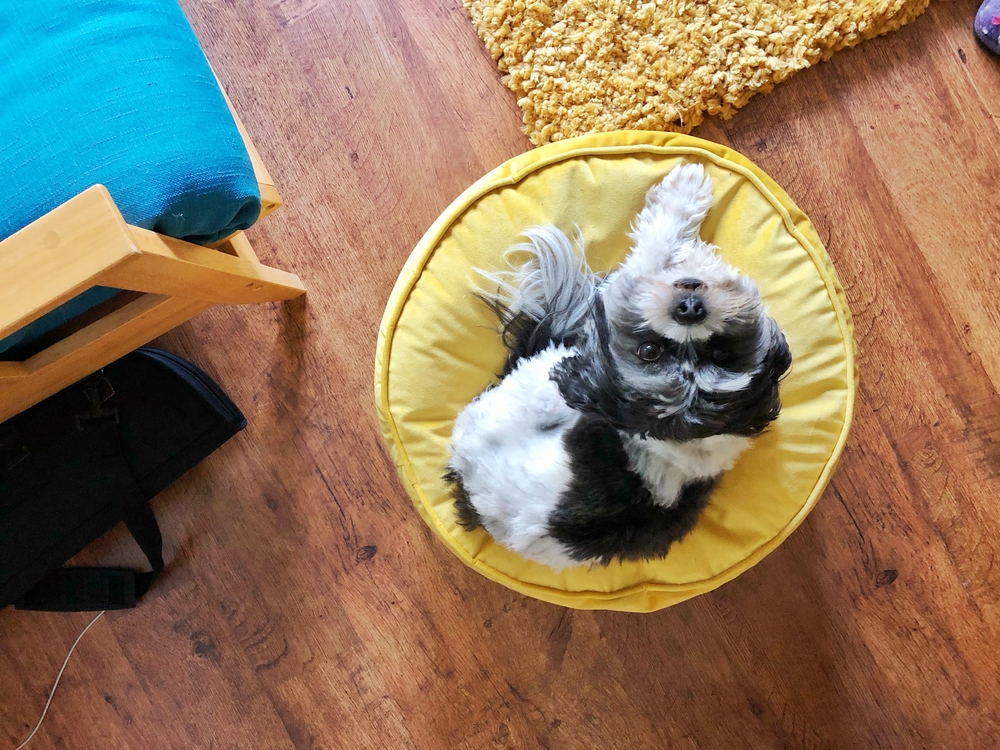 If you're looking for ideas for redecorating a teenager's room I also love this post on how to paint geometric wall designs, and this would be handy for any parent faced with their teen's love of all things black – how to decorate a room in dark colours. And Dulux's colour of the year 2021 could be your choice if your teen wants to go for neutrals. 
Have you upgraded your playroom for the teenagers? I'd love to hear what you did – leave me a comment below! 
THANK YOU FOR READING
If you've enjoyed this post and found it useful here are some ways you can say thanks and support Actually Mummy:
Click here to buy me a virtual coffee.
Join our Teenage Kicks Facebook group which includes lots of advice and support for parents of teenagers. You can post your own problems and advice here too.
Click here to leave a review of the Teenage Kicks podcast.
Click here to sign up to our newsletter packed with tips, ideas and support for parents of teens.
Share this post with your friends.