How to Connect with Teenagers
The teenage years can be a difficult time for both parents and teenagers. Teenagers are going through a lot of changes, both physically and emotionally, and they are trying to figure out who they are and where they fit in the world. This can make it challenging for parents to connect with their teenagers.
However, it is important for parents to stay connected with their teenagers during this time. Teenagers need their parents' love, support, and guidance. They also need to feel like their parents understand them. In a recent episode of the Teenage Kicks Podcast, I talked to Danielle Marsh, who shot to fame with her family of 4 teens and tweens after a viral video post of their parody song on Covid 19. Since then they've connected as a family to create more fun songs on their YouTube channel, Marsh Family Songs.
Danielle and 16-year-old Alfie joined me on the podcast to talk about what it's like sharing the project, and how talking about difficult things – including menopause! – helps them stay connected. Connecting to teenage boys can feel even more difficult for mums, so I was especially pleased to hear Alfie's take on it. Scroll down for more tips on connecting with teenagers, and read on for more on the podcast episode.
Listen to the podcast
Who is Danielle Marsh?
Danielle is a 45 year old mum to 3 teens and a pre teen who became known during the pandemic when a Covid parody song they produced went viral in March 2020. Since then the family have continued to post parody songs and original content on a varied host of topics from the cost of living crisis, menopause, repeated political shenanigans and overuse of technology. Juggling jobs, kids, music and life Danielle and husband Ben along with Alfie, Thomas, Ella and Tess hope to find humour in even the trickiest of topics with the belief that if they discuss it round the dinner table it's a possibility for a song!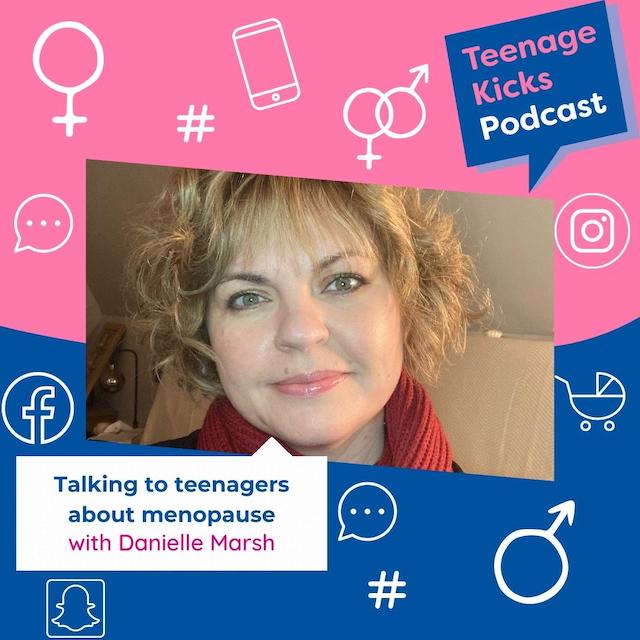 More tips for connecting with teenagers
Be interested in their lives. Ask them about their school, their friends, and their interests. Listen to what they have to say, and don't judge them.
Be respectful. Teenagers are still learning how to be adults, and they need to be treated with respect. This means listening to their opinions, even if you don't agree with them.
Be there for them. Let your teenagers know that you are there for them, no matter what. This means being available to talk to them, even when they don't want to talk.
Be yourself. Teenagers can spot a fake a mile away. So, don't try to be someone you're not. Just be yourself, and your teenagers will appreciate it.
Do things together that you both enjoy. This could be anything from going to the movies to playing video games.
Talk to them about their friends and what they do together. This will help you understand their social world.
Be open to talking about difficult topics, such as drugs, sex, and relationships. This will show your teenagers that you trust them and that you are there for them.
Don't be afraid to ask for help from other parents or professionals. If you are struggling to connect with your teenager, there are people who can help.
Connecting with teenagers can be challenging, but it is also rewarding. By following these tips, you can build a strong relationship with your teenager that will last a lifetime.
Listen to the podcast now
You can find the Teenage Kicks podcast wherever you get your podcasts, including on Spotify and Apple. Or listen below:
Subscribe to the Teenage Kicks podcast
Thank you so much for listening! I really appreciate every listener, and would love you to subscribe and leave a review wherever you get your podcasts. And don't forget to explore previous episodes that might be of interest to you or a friend – including losing a parent, being hospitalised with mental health problems, and battling an eating disorder.
I'd love to hear from you if you have any suggestions for future topics on the Teenage Kicks podcast. Just email me on teenagekicks@gmail.com, or you can find me on Instagram and Twitter at @iamhelenwills. I appreciate every message, and love to hear from my listeners.
For information on your data privacy please visit Podcast.co. Please note that I am not a medical expert, and nothing in this blog or in the podcast should be taken as medical advice. If you're worried about a young person please seek support from a medical professional.
Join me in the Teenage Kicks Facebook group!
If you're a parent of teens it can be difficult to know where to go for advice, to vent, or just to talk. So I've made the Teenage Kicks Facebook group, for all parents of teenagers to chat in a safe space. You can request to join by clicking the button below. It's a private group and everyone in there will be a parent of teenagers.