Parenting is hard. Parenting teenagers can feel even harder for some. Which is why a lot of my work involves supporting parents with their own mental health as they go through challenges with their children that they don't feel equipped for. No matter how positive I am about the joys of this stage, parenting teens can feel lonely and stressful, and that takes a toll. I'm keen to remind parents that they're not alone, so I'm always delighted to hear about resources to support parents of teenagers, especially when they're worried about their child's mental health.
Advertorial content: I have been paid by Young Minds for my time in creating this post.
Young Minds is an organisation I often recommend when the parents I coach are at their wits end. Young Minds is a mental health charity for children up to the age of 25; they provide tools to help young people look after their mental health and find solutions when they're struggling. But Young Minds support parents too. You know how the saying goes "You're only as happy as your unhappiest child"; I've often struggled with this myself, lying in bed in the early hours, churning over in my mind how I can solve a problem for my child that is causing them pain. It can feel impossible to cope, knowing that our adolescent children not only need to take responsibility for their own problems, but don't even want their mum and dad involved! And that's when my own mental health starts to suffer.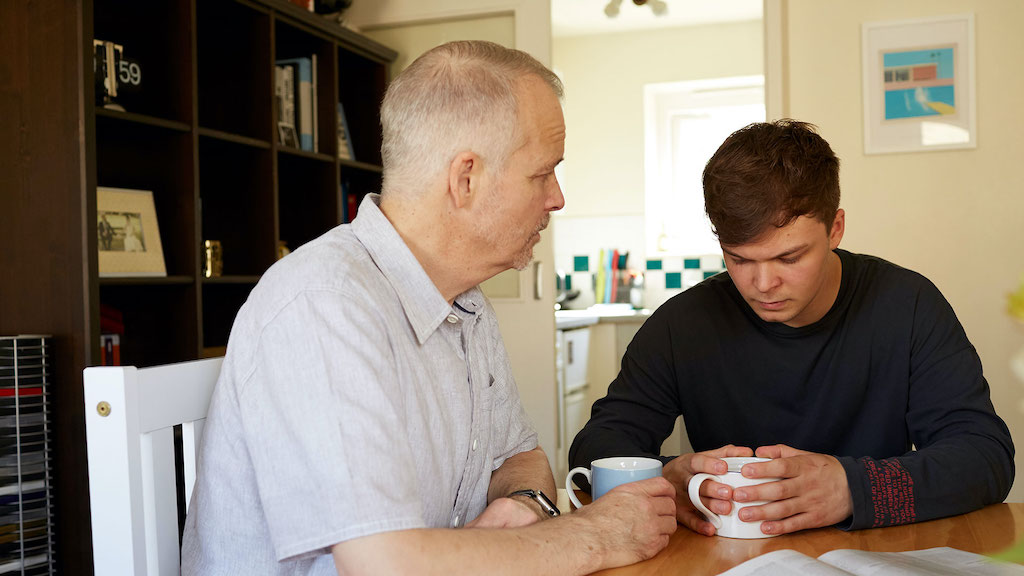 One of the reasons I started my podcast was to show support and give inspiration to parents whose teenagers are going through difficult things – to let parents know that they're not the only ones dealing with this. But sometimes there really is no substitute for talking to someone who gets it. For Stem4's Parent Mental Health Day, Young Minds are keen to let parents know that about their Parents Helpline services, which offer practical advice and guidance if they are worried about a child's mental health.
Help for worried parents when they need it
Parents of teenagers go through so many emotions as they gradually learn to release their child to their own independence, and it can be so difficult to let go, especially when our kids are doing something we'd rather they didn't! No parent escapes the anxiety the teenage years bring; I've personally felt those rollercoaster moments when I lurch from one crisis to the next, with seemingly only a nanosecond of relief before a new set of challenges presents itself to test my nerve. What I would give in those moments for a sounding board!
Young Minds want to empower parents and carers with the right skills, tools and resources to help them cope with difficult times, so they've set up a helpline which provides that listening ear. When you call, you'll speak with a trained adviser who will listen and explore your concerns in complete confidence. They can point you in the direction of various kinds of support, depending on your situation, or give you practical advice on your child's behaviour to help you decide what to do next.
Best of all they will listen! Do you remember the school gate chat, when you'd confide in another parent and they'd say "Oh my good me too, I totally get it!" If you're anything like me, that was sometimes all you needed – to feel heard and understood – to give you the confidence to go home, put your big pants on, and tackle the issue again. As teenagers, our kids don't want us in their lives, talking to everyone we meet about their traumas, so we don't get that daily reassurance. Young Minds will do that for you. And if you need further help, they'll arrange for one of their independent, experienced professionals to call you for a free 50-minute telephone consultation within seven days.
What if I find it difficult to talk?
Young Minds know that it can sometimes feel difficult to pick up the phone and talk to a stranger about your biggest fears. That's why they also offer support via webchat. Sometimes I just need to talk to someone to get things off my chest, but there are times when I can't talk (because one of the kids is home and might overhear me!) so I know the value of being able to message for an instant response. You should know that you're not the only parent in your situation though, and they will be able to help. Young Minds say they speak to thousands of parents and carers each year who are worried about their child's mental health, or facing challenges when working with schools and accessing the right support. So they've probably dealt with similar before, and will have reassurance and practical advice on how to cope.
If you have a child aged under 25, contact our parent's helpline, email us or message our web chat service to discuss your concerns in more detail with one of our trained advisors.
How can I access the helpline? 
You can call the Parents Helpline on 0808 802 5544 or contact them via webchat, Monday – Friday 9:30am – 4:00pm. It is available in England, Scotland, Wales and Northern Ireland. There is also an out of hours email service, that you can reach when the helpline and webchat is closed. You can access the webchat and email service online by clicking here.
What happens when I contact you? 
What can you support me with? This service is intended to provide practical advice and emotional support. We can also point you in the direction of where to get further help. We cannot provide advice on medication, counselling/therapy treatments or assess and diagnose mental health conditions.
By providing this service, we support parents and carers to enhance their resilience, improve their mental wellbeing and cope with difficult family circumstances.
In 2021/22:
· Our Parents Helpline team answered 14,047 phone calls, web chats and emails.
· 82% of parents and carers said they felt more confident after contacting the Parents Helpline.
· There were almost 2.3 million page views of the parents' information and advice on our website, a 64% increase on the previous year.
This Parent Mental Health Day, find time to do something positive for your mental health. If worries or concerns about your child's wellbeing are getting on top of you, speak with one of our trained advisors and get practical information and advice on what to do next.