Honestly, I could go on (and on) about our trip to Negril with Beaches Resorts all day long. But I don't want to cause mass jealousy (well, alright, maybe a tiny bit), and also, every time I write about it, I wonder why I came home. So for this post I'm just going to show you the resort in video. Because, let's face it, what you really want to see is how good they are at towel art, right?
Useful information about Beaches Resorts Negril
Rooms
Rooms at Beaches Negril come in 3 levels: Luxury (from $292 pp/pn) has various sections, including interconnecting rooms, should you need them, a private balcony or patio, and a complementary soft-drinks mini bar; Concierge (from $342 pp/pn), with additional seating areas, and the services of a concierge, who will greet you on arrival, give you a tour of the resort on your first morning, and deal with any bookings or queries you might need help with. You'll also have access to the Concierge lounge, where you can relax with a drink or some snacks, should you not need a full restaurant meal; and Butler level (from ($707) pp/pn), with premium drinks, furnishings, and the services of a private butler who will attend to your every need.
We stayed in a Concierge Suite: our room was equipped with an X-Box 360, and myriad TV channels, for those moments when you need an afternoon snooze, but the kids (allegedly) don't.
Beaches is meant for families, and your room will reflect that. We had a large, comfortable double bed, and two single bed sized sofa beds, each with a pull out bed underneath. So the room could have slept 6 at a push, but accommodated 4 very comfortably. They'll also consider your children when tidying up your room – Becky found that her son's toys enjoyed playing with the towel animals while they were busy at the beach. It's the little touches.
Housekeeping will make the sofa beds into beds, with proper linen, every evening, and return them to sofa state each morning – you'll wonder where the duvets went, until they appear again at bedtime!
Ground floor rooms can be arranged with ramps for mobility access, and many rooms can be set up as interconnecting, so that a large family group can be accommodated together in one party, but keep their privacy when they need it.
The complementary mini-bar fridge is restocked daily with water, and in a Concierge Suite and upwards also carries soft drinks, beer, wine and prosecco. There is also a coffee maker, and you can request a kettle if you need it.
Bathrooms have plenty of towels, and shampoo, conditioner and shower gel are all supplied, as is a hairdryer and robes – including small versions for the children.
All rooms have air conditioning, flat screen TV's, XBox 360 game console, iron and ironing board, coffee maker, refrigerator, clock-radios, in-room safe, iPod d0cking stations, and hair dryer.
Food
Kimono's Teppanyaki is a fun night out
Beaches Resorts is Luxury Included, which means all food and drink is covered, as well as tips. That's not just buffet-style food, and poolside cocktails, but à la carte meals, premium spirits, and Sandals own, very good international wines. See our review of the food at Beaches Negril for more detail.
Don't worry about dining in restaurants with your child; you will find something for even the fussiest eater here, and on the slim chance that you don't, chefs in all the venues are happy to prepare something bespoke for you. Every time.They're also great at catering for food allergies and other conditions.
Men will need long trousers, proper shoes and a collared shirt to dine at Italian restaurant The Venetian, but everywhere else is Resort Casual, which basically means no swimsuits. You'll need to make reservations at The Venetian, Soy, and Kimonos (featured in the video).
Water parks and pools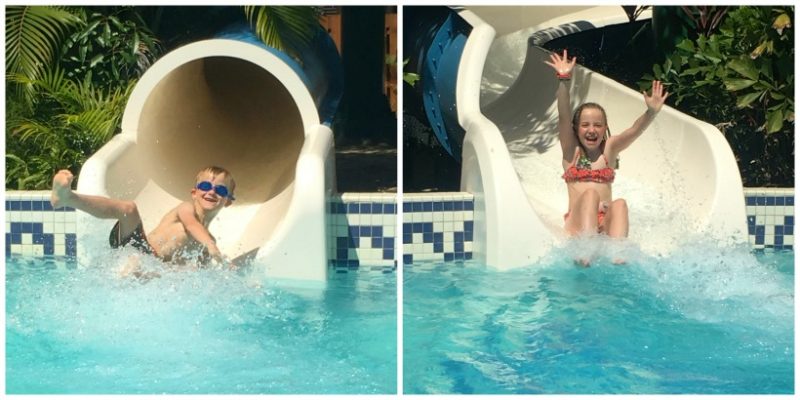 The glamorous main pool is situated right next to the beach, by The Mill restaurant. There's a fully stocked swim-up bar, and floating beds, as well as plenty of fresh towels for the sun loungers. Whilst children are allowed at this pool, we found ours preferred the dedicated kids pool, where they could go between their own swim-up bar – complete with mocktails – and the water park.
There are two long water slides next to the pool, with a dedicated lifeguard, top and bottom. There's also a lifeguard at the fab lazy river, which you can ride on an inflatable if you wish, and a water park with water jets and smaller slides for the younger members of the family.
There's also a small toddler pool tucked out of the way, in a quieter area of the grounds, which made it very quiet and peaceful for Becky and her baby.
The beach
Yes, it really does look just like this…
There are cabanas on the beach which you can hire for the day. We did rather fancy the idea of splurging on one of these – you get lunch brought directly to you and laid on a linen cloth! – but we found that it wasn't hard to find sun loungers in the shade of a tree, or a straw parasol.
The sea is sectioned into a safe swimming area, which is lifeguarded – although anywhere is lovely to swim in – so we were happy to let the kids dip in and out as they pleased. On the one occasion that we did see a stray paddle-boarder cross the rope, he was herded right back into his own space by the lifeguard, who also kept an eye on which kids were with which adults.
Negril beach is public, but there is security at each end of the Beaches Resorts section. We wandered a little out of resort to get GG's hair braided by a lady on the beach, and were asked to sign out and back in again as we passed the security guard. And whilst we did get the occasional approach from people selling crafts, or parasailing, it was never intrusive, and much less insistent than we'd found it to be on the public beaches of Barbados.
By about 11am you will be convinced into a cocktail or a beer, as one of the bar staff does the rounds bringing drinks right to you, so you never need to move, if you don't want to!
Watersports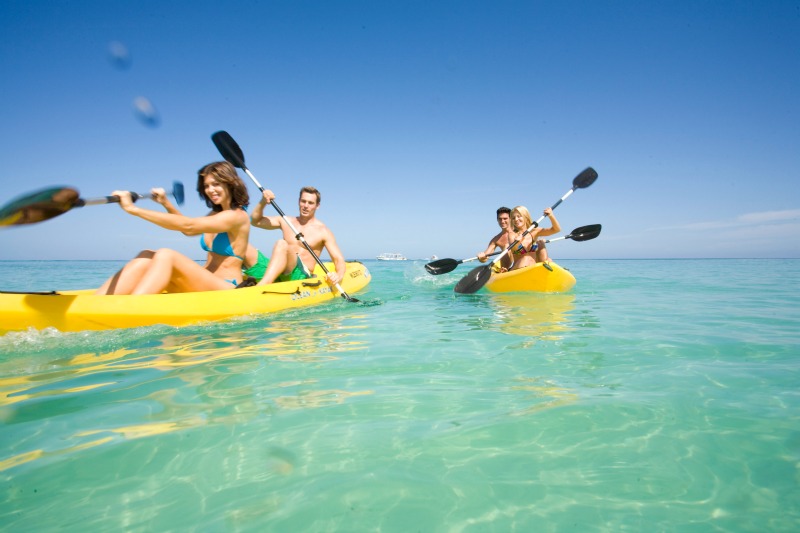 Most of the watersports take place on the beach, and you'll find the usual pursuits of banana boats, kayaks, and the Wild Cat, an inflatable sofa pulled along at speed – immense fun! What you'll also find is that the more intense activities are also part of the Luxury Included set-up, meaning that you can learn to water ski, sail, and windsurf free of charge. You can even take a trial scuba session at the pool at no extra cost (although if you sign up to become PADI certified you will have to pay for the course). If you're already certified, all your diving is included.
A boat goes out three times a day to various sites where you can snorkel with a guide, again, all included in the price of your holiday.
Resort facilities
On land there's also plenty to do: mini-golf, croquet, and a playpark for the kids, as well as an Xbox lounge; tennis, beach volleyball, and a well-equipped gym are all included.
Childcare: Beaches Resorts operate 4 kids clubs from newborn to teenaged, between 9am and 9pm, including a night club for the teens, right next door to the adult's night club – perfect for being independent of each other whilst staying close by! Beaches can also (at an extra cost) provide out of hours care, and one-to-one assitance for children with special needs, so they can join in with everyone else.
WiFi is free for all guests.
There is a doctor and nurse on site. We met a couple who had called out the doctor to their child in the middle of the night and were impressed that he arrived with them within 30 minutes. We also made contact with the resort prior to travelling to let them know our daughter's brand of insulin, so they knew where it could be sourced locally if needed.
The on-site spa is a lovely oasis, and at an extra cost offers a full range of spa treatments, including for children.
Other excursions can be organised via Beaches Resorts partners, Island Routes. See our post about our lovely dolphin swim, and an amazing catamaran cruise.
Our stay at Beaches Negril was courtesy of Beaches Resorts. Seven nights' accommodation at Beaches Negril Resort & Spa costs from £5,735 for a family of four (2 adults and 2 children). Price includes Luxury Included® (all-inclusive) accommodation in a Negril Premium Double Room, return economy flights from London Gatwick with Virgin Atlantic and return resort transfers. Subject to availability and valid for travel in June 2016. To book or for further information on Beaches Resorts call 0800 597 0002 or visit www.beachesresorts.co.uk.