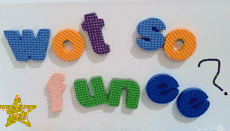 Steal my badge by copy/pasting the html text below: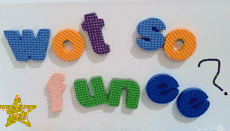 As most of you know by now, I am a loquacious girl. I even know what that means. Basically, I talk a lot, and now I know how to read, I also write a lot. I write notes to my Mummy, notices for my door, cards for my friends, and sometimes lists.
Now very often when I have written such a masterpiece, M&D take one look and burst out laughing. Very rude in my opinion. The same happens to the Bug. Being younger than me he can't write, but sometimes he says very clever things. What do M&D do? Burst out laughing. Then they tell their friends and they all have a good laugh. I don't get it. What exactly is so funny?
Take this as an example. Ok so my spelling wasn't the best when I was 5, but the meaning is clear. Daddy knew exactly what I wanted to buy Mummy for her birthday, and we got it all! Job done. I even took the time to colour-coordinate my words – I've never seen a grown-up work this hard on a list. So I would have thought a gold star was in order!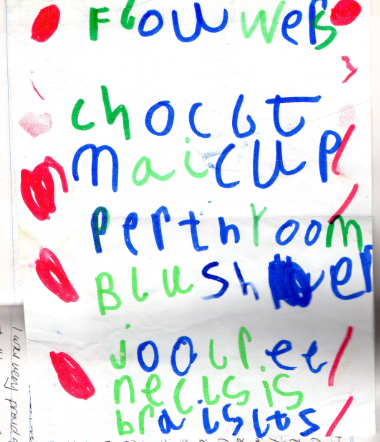 Every Tuesday I will post an example of our work, and you can see for yourselves how smart we are. I will put a linky tool in each post so that you can link up similar examples of brilliance from your children. It can be a photo of their calligraphy, a typed version of something they have written, or simply a genius utterance from your clever toddler. I will stare Mummy down and defy her to laugh at them.
Rules are simple:
Write a post about your children's linguistic accomplishments that week
Include a link to the Wot So Funee? post or page so that your readers can have a laugh at everyone else
Come back to Actually Mummy on Tuesday and link your post to that week's Wot So Funee? write-up
And if you are feeling generous please do steal the code for my badge and display it in your post or sidebar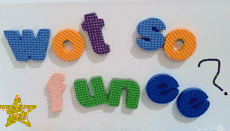 Tweet using #Funee
Steal my badge by copy/pasting the html text below:
Related Posts:
Wot So Funee? and Alphabet Thursday
Wot So Funee? Mummy's Birthday
Wot So Funee? What kids want at Christmas
Things they teach in school these days. Wot So Funee?
Wot So Funee? Star Wars: Revenge of the Sith
Wot So Funee? Where do Babies Come From?
Wot So Funee? Week 5: When I Grow Up
Wot So Funee? Week 4: The Boden Catalogue
Wot So Funee? Week 3: Learning to Spell
The linky list will open on Thursday morning and will stay open until the following Wednesday, so don't worry if you miss posting on Thursdays.