I get very excited at the prospect of Christmas food. So excited that in the run up to December I quite regularly add mince pies, posh biscuits and maraschino cherries to my supermarket deliveries more than once. Which means I always end up with way too many Christmas leftovers. There was even one Christmas when I ended up with two large Christmas puddings. It was a genuine mistake. Ahem…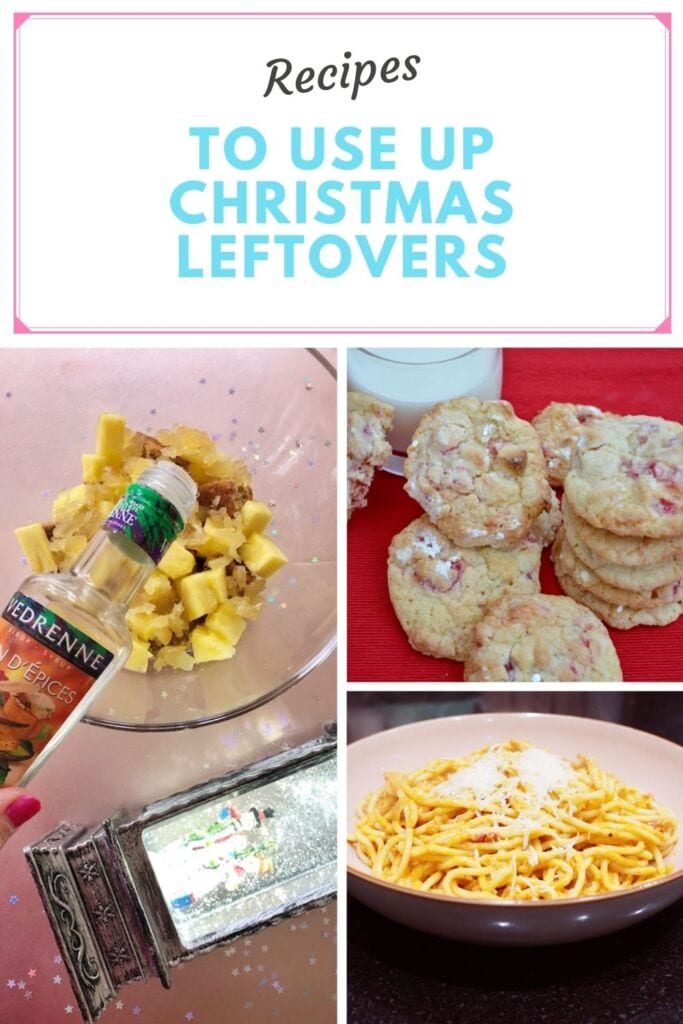 And let's face it, there's only so many ways to jazz up a turkey sandwich (Brie and cranberry sauce being the only two I know of).
I hate waste though. So I'm always on the hunt for new ways of making the most of leftover Christmas food. I have my staples of Bubble and Squeak, and Turkey Vegetable soup (you can find my recipes for both below), but this year I've rounded up some new recipes I'm going to try to really make sure all that Christmas food doesn't go to waste. Here are 20 recipes and ideas for using up your Christmas dinner leftovers.
20 Christmas leftover ideas that won't bore your family
Easy turkey ragu
There comes a time when I'm struggling to come up with a menu plan over the holidays, and that's when my craving for pasta kicks in. This year I made a version of the "Christmas fettuccine" made so popular by the film The Holiday. But I've had this turkey ragu recipe recommended to me and I don't think I'm even going to wait until next December to try it. It looks simple but delicious, and the perfect antidote to all the heavy meat-based meals of the festive period.
Turkey, chestnut, bacon, and Prosecco oven baked risotto
There is absolutely nothing I don't like about the sound of this turkey recipe from food blogger Helen at Casa Costello. Apart from the need to buy more chestnuts and Prosecco, because we never have leftovers of those! A risotto goes down well with everyone here, including the kids. And whoever first created the idea of a risotto that bakes all by itself in the oven is quite simply a genius. This is definitely going to be a favourite on our Christmas leftovers menu going forward.
How to make bubble and squeak with Christmas leftovers
It starts after Boxing Day, when I have not only the turkey, but our traditional baked ham to use in the now mandatory Christmas leftovers hash. It really is a hash, but as Christmas lunch leftovers recipes go it's amazing. Here's how I make it, in case you want to try.
Simply chuck the remains of your Christmas lunch into a large roasting pan – including the gravy, bread sauce and stuffings – and let it cool in the fridge overnight. The important thing is that everything goes in. Roast potatoes, all the vegetables and any leftover pigs in blankets. We even cut up Yorkshire puddings (And yes, I do know that yorkies aren't technically part of a Christmas lunch, but we like them, so in they go.
When you're ready to make your bubble and squeak take a large pair of kitchen scissors or a sharp knife and roughly chop everything in the pan. Mix it all together, and toss in a good slug of olive oil.
Here's where it gets really messy because now I add about 150g grated mature cheddar and toss everything together. I never said it was going to be healthy, but it's so yummy it's totally worth it!
Sprinkle a little more cheese over the top and simply pop it in the oven at 200 degrees C for 30-40 minutes, depending on how crispy you like it. To make it extra crispy, I also turn big spoonsful of it half way through the cooking time.
People literally devour this dish in our house – although they might not want to eat again that day!
Turkey and cranberry picnic pie
On my hunt for Christmas turkey leftover recipes I came across this turkey and cranberry picnic pie and it sounds lush! I would never have thought of making a cold pie with turkey. Usually if I'm thinking pie recipes I just bung a can of Heinz condensed chicken soup over some turkey and mushroom and stick a puff pastry crust on top. But the thought of cold turkey and cranberry in a thick shortcrust has me longing for snow so I can use the excuse for a big family walk with a stop for packed lunch! With a flask of hot chocolate, of course.
This would make an excellent addition to the kids lunchboxes too. Another one to help bypass the turkey sandwiches!
How to use up leftover Christmas pudding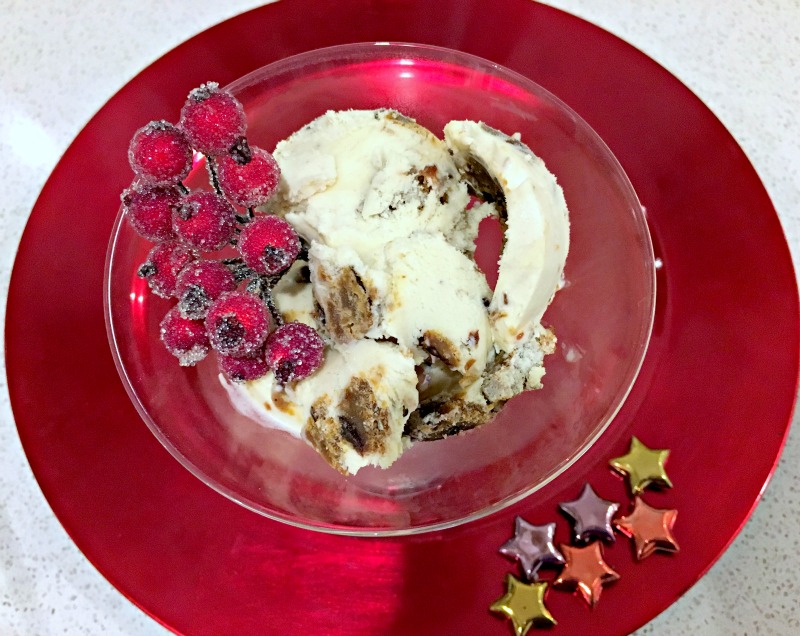 I'm a massive fan of Christmas pudding and could eat it all year if I had brandy cream to go with it. But I appreciate that all that heavy spiced fruit can be a bit overwhelming for some people. So I created this Christmas Pudding Ice Cream recipe to freshen things up a bit. It's easy to make from scratch, and even easier to make the cheat's version. I've fancied this and had it in my bowl within 15 minutes before now. Perfect when late night cravings hit!
Alternatively, I love the look of these Christmas pudding truffles. Christmas pud in a chocolate? Yes please!
Leftover Christmas cake ideas
Christmas cake is the one thing we do eventually get bored with in this house so I'm always looking for leftover Christmas cake recipes so it doesn't go to waste. There are quite a few that have worked well for us – here are some of our favourites:
Christmas cake crêpes
Who doesn't love a crêpe for dessert? I found this Christmas cake crêpes recipe on the Good Housekeeping website and I absolutely know it's going to be a hit. They had me at Cointreau, but I'll replace it with orange juice for the kids.
Cherry Bakewell Cookies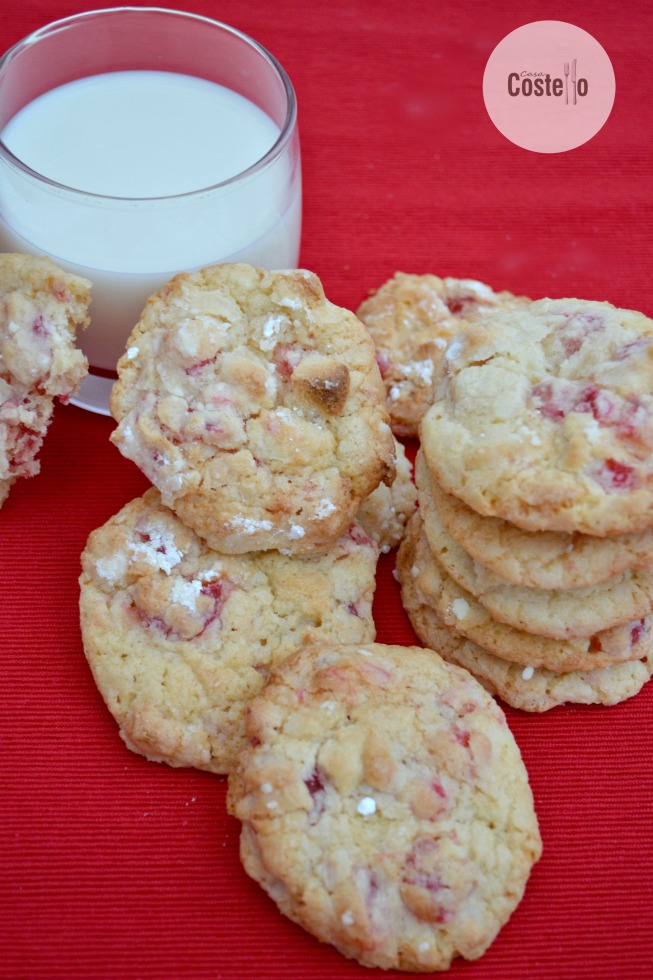 The crêpe recipe above tells you to remove the icing and marzipan, so here's a gorgeous recipe for using up leftover marzipan. Cherry bakewell cookies take a classic recipe and put it into a chewy cookie that's perfect all year round and will also freeze well for treats later in the year.
You could also do the Christmas pudding ice cream recipe with Christmas cake, in which case I'd leave the marzipan in, but not the icing.
How long will leftover mincemeat keep?
Aaaages! Most supermarket mincemeat will keep for up to a year, and homemade mincemeat will freeze very well. I won't recommend it, but I will be keeping my leftover jar until next year. If you really want to make use of it now though, this mincemeat bakewell tart looks incredible.
What can I do with leftover Christmas veg?
It can be difficult knowing what to make with leftover cooked vegetables, but actually it's very simple! Do not throw out Christmas veg. You can either add it to my Bubble and Squeak recipe above, or make a mix of it for stir fried side dishes. Shredded cooked cabbage and sprouts will freeze for up to three months. I portion mine into tupperwares and get them out to accompany grilled salmon or lamb chops, and it makes a nice alternative to my usual steamed veg.
Or, you could make a Christmas leftover frittata. Just throw a handful of your mixed sliced Christmas veg into a frying pan with a little olive oil, stir fry until crispy, and add 2-3 beaten eggs. Cook on both sides until just firm and serve immediately.
Alternatively, a thinner version of this frittata recipe with slightly fewer ingredients will make a gorgeous filling for a tortilla wrap for a Christmas leftover sandwich with a difference!
How to make Christmas dinner soup
Also a really easy way to make sure you get every last scrap of use out of your Christmas dinner leftovers, turkey and vegetable soup is a massive win with kids and adults alike. You need a large lidded casserole for this, as you're going to put the whole (stripped) turkey carcass in it for the stock. Remove all the skin and most of the meat (reserving only the meat) from the turkey, then throw in everything, bones and all. Add 1.5 litres of boiling water, a couple of chicken stock cubes, two carrots (no need to peel), two celery sticks and a halved onion. Simmer this for an hour, or until the rest of the meat has fallen off the bones.
Fish out the meat chunks, vegetables and turkey carcass and strain the liquid into another pan. Add 50g rinsed pearl barley – this is essential and reminds me of my childhood! Finely chop the onion, celery and carrot and add this back to the pan too. Simmer again for 50 minutes to cook the pearl barley, then add the remains of the meat (finely chopped), heat through and serve.
The beauty of this soup is that you can add any veg you like, so if you still have cabbage and sprouts chuck a few of those in too – just make sure they're finely chopped.
And if making this soup all feels like too much after all the Christmas cooking, just strip the turkey carcass, pop it in a freezer bag, bag and throw it in the freezer until you're ready. It makes a perfect lunch for anyone feeling under the weather – like a hug in a bowl (now there's an advertising strapline!)
How to use up leftover brandy butter and brandy sauce
Gingerbread trifle
Custards and creams aren't brilliant at being frozen, so these are things that do need to be used fairly quickly. This year I made a Gingerbread Trifle recipe to use up a carton of brandy sauce I'd bought for the pudding but never used. We had some ginger cake that had seen better days, so it seemed perfect to create a recipe that would use both. Brandy sauce is basically an alcoholic custard, so we had cake, custard and alcohol – 3 of the 5 basic constituents of a trifle! Click the link for my step-by-step trifle recipe if you fancy making this.
Brandy butter biscuits
I'm told brandy butter freezes well, but I've never tried it. I do like the look of these brandy butter biscuits though, so when I run out of mince pies I'm going to give them a go. I love the idea of adding rosemary to sweet biscuits – I'm fascinated by how they will taste!
Leftover Christmas cheese recipes
There's always a few odds and ends of cheese hanging around after Christmas isn't there? Usually I just make a broccoli or leek soup to add stilton to, or a baked camembert if I have a whole cheese. But did you know that most hard cheeses can be frozen to use in cooking? We had a raclette for dinner on my birthday and the leftover slices are now in my freezer to be used in a macaroni cheese (or a French tartiflette!) on a cold January night.
I do rather like the sound of these mini cheese and pickled walnut quiches though. They're going on my canapés list for next New Year's Eve!
Can you freeze leftover turkey and ham?
Yes. Freezing Christmas leftovers is easy. All your veg can be portioned up to reheat as side dishes as described above. The turkey carcass can be frozen for later use in a turkey stock or to make my Christmas dinner soup above.
And did you know that cooked meat can be sliced and frozen ready to use in packed lunches? I discovered this gem a few years ago, and now my kids make their own turkey or baked ham sandwiches to take to school. They take the meat out of the freezer, pop it straight into a sandwich, and it's defrosted by lunchtime but still cold enough to be safe. You can keep sliced meat for up to 3 months as long as it went in the freezer within a day or two of cooking.
How long do Christmas leftovers last?
Food safety guidance states that cooked meat can only be reheated once, and to be on the safe side I'd follow the same guidelines with vegetables as well. So really, you need to use up Christmas dinner leftovers in one go after the main event.
It's worth making a meal plan for your large joints of meat and leftover veg, and freeze anything you won't eat within 3 days. That way you can make pies, stir fries and sauces for up to three months after the big day using ingredients you've frozen.
Cakes and puddings can be used for a bit longer – Christmas pudding especially has quite a long shelf life if it's stored in a fridge, even up to two years – though cake will go dry eventually.
Trifle needs to be eaten on the day it's made otherwise it will be sloppy and inedible.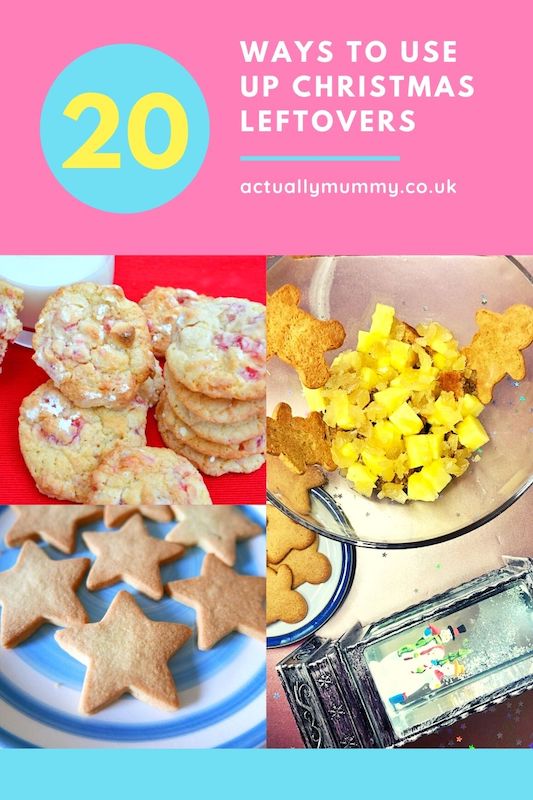 Have you finished all your Christmas leftovers yet? I'd love to hear if you have other ideas to include in this roundup to get us through the post-festive food excess! And if you haven't found your perfect recipe yet, here are some more ideas of things to do with Christmas leftovers.
THANK YOU FOR READING
If you've enjoyed this post and found it useful here are some ways you can say thanks and support Actually Mummy:
Click here to buy me a virtual coffee.
Join our Teenage Kicks Facebook group which includes lots of advice and support for parents of teenagers. You can post your own problems and advice here too.
Click here to leave a review of the Teenage Kicks podcast.
Click here to sign up to our newsletter packed with tips, ideas and support for parents of teens.
Share this post with your friends.