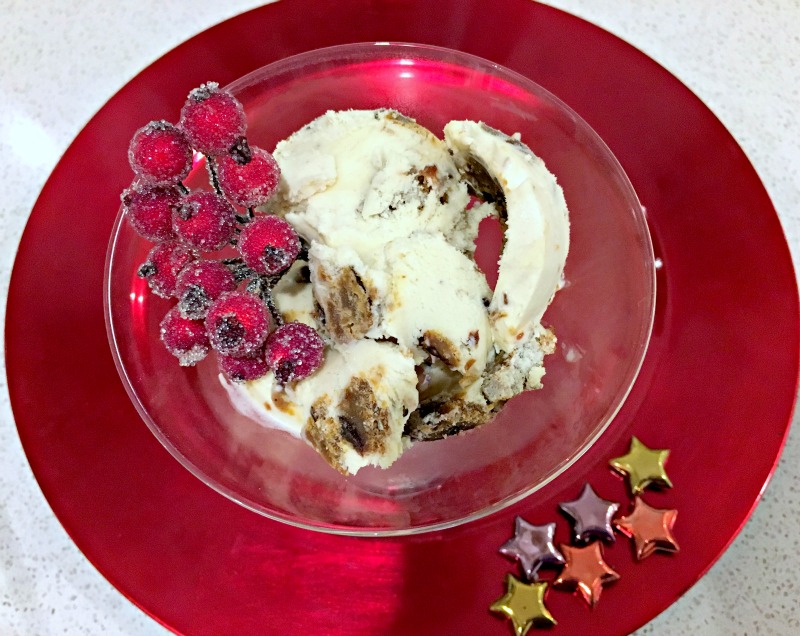 Quick Christmas Pudding Ice Cream
I absolutely adore Christmas pudding. So much so that I'll even sneak one of those mini puds into my shopping before the big day, because I can't wait. A big spoonful of cream (especially if it has brandy or Cointreau in it!) and I have the perfect evening as I write my Christmas cards. Thank goodness the shops start Christmas so early!
But as soon as Boxing Day arrives I'm done. I can't stomach any more cognac-fuelled, spice-flavoured raisins, and the leftover Christmas pudding and cake sits in the tin looking lonely until I eventually throw it out.
Can you freeze Christmas pudding leftovers?
Last year I put our pudding in the freezer, and it fared quite well. Well enough for me to microwave a spoonful in October so I could use up some leftover cream, though I wouldn't recommend leaving it that long!
But the more I looked at it, the more I thought there must be a better way to use all that Christmassy gorgeousness. I scoured the internet for leftover Christmas pudding recipes but it was slim pickings, so I made my own! This Christmas pudding ice cream is so good that you'll want to make it on Boxing Day, and it will all be gone by New Year's Eve.
How to make Christmas Pudding Ice Cream
I used our Sage Smart Scoop ice cream maker for this recipe, but you could just as easily use the freeze and mix method if that's how you usually do your ice cream – just freeze the finished mix in a shallow tub for half an hour at a time, mixing in between freezings until it's a good consistency. Sage have a Quick Mix Vanilla Ice Cream recipe which uses condensed milk, avoiding the faff of making a custard first. It's pretty good, and I just added some mixed spice to the base mix. You could add some Cointreau or Cognac if you want to make it really special, but as I was serving this to the kids I thought I'd better not! There's always Bailey's cream if you need a boost.
And if you don't have an ice cream maker, it's really not a cheat to make Christmas pudding ice cream using ready made ice cream. Okay it is, but seriously, who has the time to worry about authenticity when a craving hits? Just soften some vanilla ice cream for 30 minutes, mix in some broken up Christmas pudding (and maybe some ground allspice or cloves) and refreeze for 30 minutes before eating.
Seriously, why would you buy Christmas pudding ice cream when it's so easy to make?
Christmas Pudding Ice Cream Recipe
Quick Christmas Pudding Ice Cream
This ice cream is quick to make, using condensed milk instead of custard, and is a brilliant way to use up leftover Christmas Pudding.
Ingredients
250

ml

whipping cream

315

ml

whole milk

240

g

sweetened condensed milk

1

teaspoon

vanilla extract

1

tsp

mixed spice

Leftover Christmas pudding - around 100g is enough but you could add more
Instructions
Place cream, milks and vanilla into a large jug and stir to combine. Refrigerate until cold.

Pour into ice cream bowl of machine and churn to desired setting, adding in mixed spice as you churn.

Towards the end of the cycle, and before the ice cream is hard, add chopped up pieces of Christmas pudding.

Freeze or enjoy.
Think of this as a festive version of the universal favourite Cookie Dough ice cream. You could also do it with chunks of mince pie, Christmas cake, or stollen. And if you have leftover chocolates (excuse me?!) you might like this Ferrero Rocher ice cream recipe. The possibilities are endless! Check out our other ice cream recipes here.
Happy Christmas!
Pin for later: