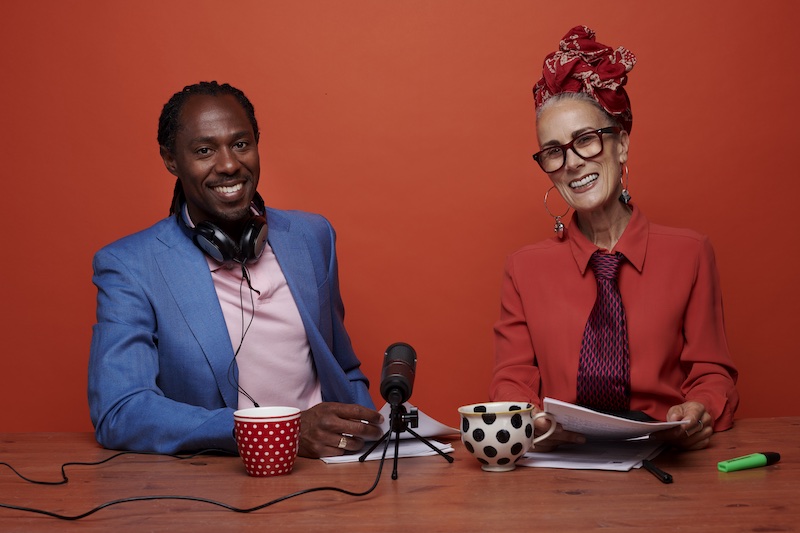 What do you know about unconscious bias? The chances are, if you're a white British parent who doesn't have to use a food bank, you know much less than your teenager. And I'd wager that if you have teens, they will understand much more about bias than you do. In fact, my own teenagers have been instrumental in my own learning curve as I've discovered unconscious bias not just in myself and my family, but all around me in the world.
So what do you need to know about unconscious bias as the parent of a teenager?
If this resonates, you will love this podcast episode I recorded with Caryn Franklin, MBE, and Professor Keon West about their new audiobook SKEWED, where they shed light on the millions of messages in the media that we absorb every day, without even noticing. They hope that by listening to the book we'll all be able to notice these biases and know them for what they are. Which, quite aside from being a good thing to do, will help us understand and converse with our teenagers more easily.
Joyful curiosity is the enemy of bias. And bias is the enemy of curiosity.

Caryn Franklin, MBE
Caryn says that during her long career in the media (she's a well-known fashion editor, and former host of BBC's The Clothes Show) she's experienced bias all around her, including attempts to package her by others who have made assumptions based on how she looks and who she is assumed to be. Based on research studies and their own personal experiences, Caryn and Keon take SKEWED listeners on an enlightening journey through the myriad of biases, stereotypes and agendas we unconsciously absorb every day.
But how does understanding unconscious bias help make us better parents? In a series of interviews, the book tackles the issues parents are already beginning to challenge, like:
Dads Don't Cry? – exploring male vulnerability and bringing up sons who don't fear tears. Drawing on Keon's own parenting experience, observations and studies, he discusses his perspectives as a black father from a family where 'men don't cry', while also looking at the broader landscape to discover why men, in general, still avoid showing vulnerability, and how that might be affecting children.
Bringing up girls – Caryn discusses the positive steps she has taken as a parent to prepare her girls for the hormonal payload women are landed with and expected to navigate in both relationships and the workplace, such as never criticising her own body in front of her daughters or never objectifying women by talking about their appearance did you experience this in your own childhood, and what impact did it have on you?)
Are there harmful messages hidden in children's entertainment? – What should parents look out for when it comes to books, films and games that may be fostering hidden biased narratives? From stereotyped fairytales, to the notable absences of gay characters in children's stories, Keon and Caryn reflect on their own personal experiences as parents
Why don't white parents want to talk about race? – Although 81% of white parents think it is important to discuss racism with children, only 62% actually started a conversation. Plus 95% of the white mothers asked to read a diversity-themed story to their young did not pick on race to discuss it further. Both Caryn and Keon also have a mixed race family share experiences around this.
Why bias isn't a dirty word
As someone who has experienced bias on a much lesser scale than large sections of the population, I'll admit that I'm really nervous about admitting to my own bias, conscious or otherwise. But the goal is for all of us to notice our bias, and change our thinking, not to shame us for it. What I love about Caryn and Keon's book – and about this chat – is that it becomes very clear that bias is not a dirty word. In fact – whilst it's not good – it's normal:
The brain does this. It makes patterns, and it likes stereotypes, and it moves to bias because it facilitates quick judgement, so we needn't feel that we're hugely dysfunctional, we just need to recognise that that's what we do, and it makes us lazy.

Caryn Franklin, MBE
This is not a book or a podcast that aims to chastise anyone for the way they think or operate. Instead, it attempts to open our eyes to how bombarded we are with biases, stereotypes and agendas that we unconsciously absorb every day, and to challenge cultural messaging around identity and objectification, including race, gender, gender non-conformity, sexual orientation, age, and attractiveness. You won't be left with a sense that you're not good enough; instead you'll be equipped to question more, notice more, and to rethink the things you've always taken for granted (for example fairy stories that normalise a world where it's okay to kiss an unconscious girl in the woods!).
Caryn Franklin MBE, fashion editor and later former presenter of BBC TV's iconic Clothes Show, now commentator, educator and activist, commented: "We are all naturally inclined to bias. In fact, the brain thinks it is helping us to make shortcuts to judgment. We also seek familiarity and often surround ourselves with people, things, ideas, and opinions in which we can see ourselves, and our own world views, reflected. Keon and I wanted to challenge human propensity to absorb bias and the stereotypes our omnipresent and evermore powerful media presents. And just as importantly we wanted to explore our own biases, investigate the origins and unpick the comforting falsehoods we all sometimes tell ourselves" Consulting with the Advertising Standards Authority, Caryn helped overturn the objectification of women in advertising
Professor Keon West is a Social Psychologist at Goldsmiths, University of London and an expert on identity, prejudice, and representation. A Professor of Social Psychology at Goldsmiths, University of London, and expert on identity, prejudice and representation, Keon is fascinating to listen to. He tells his own story of privileged bias growing up in his native Jamaica and his awareness of racist bias in America and beyond, and opened my eyes to a completely different way of recognising bias in myself and others, and what it can teach me about my own relationships. Seriously, you will love his astute observations on what's happening in our world.
Find out more about SKEWED: Decoding media bias on Caryn's website. You will also find the book on Audible via Amazon.
Honestly this was such a fascinating chat for me – I hope you love it as much as I did!
Listen to the podcast
Subscribe to the Teenage Kicks podcast
Thank you so much for listening! I really appreciate every listener, and would love you to subscribe and leave a review wherever you get your podcasts. And don't forget to explore previous episodes that might be of interest to you or a friend – including losing a parent, being hospitalised with mental health problems, and battling an eating disorder.
I'd love to hear from you if you have any suggestions for future topics on the Teenage Kicks podcast. Just email me on teenagekicks@gmail.com, or you can find me on Instagram and Twitter at @iamhelenwills. I appreciate every message, and love to hear from my listeners.
For information on your data privacy please visit Podcast.co. Please note that I am not a medical expert, and nothing in this blog or in the podcast should be taken as medical advice. If you're worried about a young person please seek support from a medical professional.
Join me in the Teenage Kicks Facebook group!
If you're a parent of teens it can be difficult to know where to go for advice, to vent, or just to talk. So I've made the Teenage Kicks Facebook group, for all parents of teenagers to chat in a safe space. You can request to join by clicking the button below. It's a private group and everyone in there will be a parent of teenagers.
And if you're stuck for how to engage with your teenager, this list of things for teens to do might be helpful.