There's this instinct when you're the parent to protect, and then I realised I cannot protect her from this, this is her journey.
*Please be aware that this post contains references to self-harm and suicide.
When Brenda realised her 11 year old daughter Faith was sexting with an older boy she was shocked. Over the next few years Faith continued to send nudes on her phone and became suicidal, despite her parents' best efforts to support and guide their daughter. Brenda says she eventually realised this: you can't control your child's behaviour, or their pain. Letting go of your own goals as a parent, and acknowledging your child's pain is the best you can do to support your child to find their own way through the trama they're struggling with.
What is sexting?
Sexting means sending indecent images of yourself or others, or sending sexually explicit messages. Sexting is commonly known as "trading nudes", "dirties" or "pic for pic", and it's relatively common in young adults, with 62% of millennials saying they sext at least once a month; 17% of teenagers over the age of 15 saying they have shared a nude or sexual image of themselves, although 90% of teens believe the majority of their friends are sexting.
Is sexting a crime?
Sexting is illegal if you're under the age of consent; it's also illegal to sent sexually explicit images of anyone who is under the age of 18. The law defines indecent images as those containing naked pictures, topless pictures of a girl, pictures of genitals, sex acts including masturbation, and sexual pictures in underwear.
How do you prevent your child from sexting?
Faith's mum and dad were textbook great parents. It's easy for all of us to assume we've done enough; that the horror stories in the media belong to other families, not those of us who've worked really hard on our parenting and consider ourselves well informed. But they did a great job, and Faith still embarked on a relationship with her mental health that saw her sexting, self-harming, and even attempting suicide.
Here's a wake up call for parents (like me) who think they've done everything right, and this won't happen to their children – Brenda and her husband did everything right. Faith says her parents were very sex positive and had discussed porn, self-esteem and coercive control openly. But she started sexting in 6th grade when she got her first mobile phone, around the age most UK children are starting secondary school, and she refused to stop. It started when an older boy encouraged her to send nude pictures, and gave her positive reinforcement when she did. She says her parents had parental controls in place, but it didn't stop her from what she viewed as exploring her sexuality.
Brenda could see the repercussions of what Faith was doing, but Faith couldn't. But she felt strongly that her behaviour reinforced the body positivity message she felt so strongly about. She interpreted her parents' warnings as victim blaming, even though they tried to impress on her that underage sexting is a crime.
The point is, it may not be possible to prevent your child from doing what they're intent on doing, and trying to stop them might make them dig their heels in even further. The second point being that as parents the last thing we should be doing is judging another parent for their child's behaviour.
Are teenagers confused about sexting?
Parents like Brenda are naturally horrified to learn that their child is sending explicit images, but it's not difficult to understand why teenagers do it, especially given the high proportion of teens who believe all their friends are doing it. They understand the risks, but they take them anyway:
Young women were concerned about the repercussions of sending pictures, but those worries were overshadowed by more immediate day-to-day pressures, such as wanting the relationship, promises of love and trustworthiness, persistent requests, anger, harassment, and threats.

Sara Thomas, Journal of Sexuality Research and Social Policy.
It's also not uncommon to see illegal images like those described above on social media. You don't have to search Instagram too hard to find sexually suggestive images – including those of young teenagers – that are presented as aspirational. The teenage brain notoriously craves belonging and acceptance, so it's easy to see why some teenagers feel compelled to follow suit.
Why sexting might be a sign of mental health issues
Faith says it's not just great parenting that makes a happy life for a child. Our children are born with their own inherent problems. She first had suicidal thoughts at the age of 9, and it's still the knee-jerk thought process she goes to during times of stress. Separation anxiety and friendship issues are normal for children, but Faith interpreted these as something that was wrong with her. Faith never doubted that her parents loved her, but she felt she didn't deserve that love. She internalised her shame, and thought it would be better for everyone if she wasn't there any more.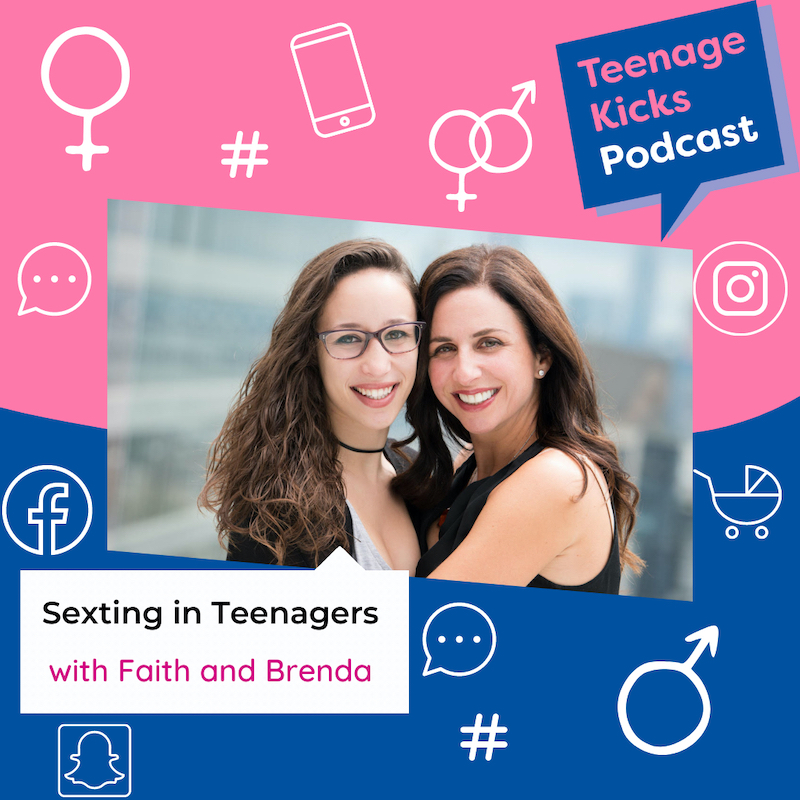 Faith started counselling and was well supported by her family but she still struggled with depression and anxiety. Brenda says there was no lasting solution, and things just kept getting harder. Eventually they hospitalised Faith, but she says she felt like a failure as a parent for not knowing how to make her child better.
Ultimately Brenda wasn't able to change Faith's behaviour, so she and her husband focused on supporting Faith's mental health through counselling and acceptance of how she was feeling. The turning point was when Brenda acknowledged how unhappy her daughter was and openly talked about her suicidal feelings with her. Find out how that conversation went by listening to the podcast.
Listen to the podcast:
You can find the episode in your usual podcast app, or if you prefer, you can listen online below, or through the podcast page.
Who are Faith and Brenda?
Brenda Ferber is crisis counselor and an award-winning children's book author based in Florida. When she's not writing, reading, or talking to kids about books, she's likely playing tennis or golf, seeing live theater, spending time with her husband and their three fabulous children, or counseling people through Crisis Text Line.
Her daughter, Faith Ferber, is a Licensed Master Social Worker working as a therapist in Washington DC. She is also an anti-sexual violence activist, writer, and speaker, and she's a proud member of the LGBTQIA community.
You can watch the video of Brenda's decision to send Faith to Wilderness Therapy below, and read the story I mention in the podcast about the pivotal talk she had with her daughter about suicide. You can also follow Brenda and Faith on TikTok at @stigmasmashers.
Subscribe to the Teenage Kicks podcast
Thank you so much for listening! I really appreciate every listener, and would love you to subscribe and leave a review wherever you get your podcasts. And don't forget to explore previous episodes that might be of interest to you or a friend – including losing a parent, being hospitalised with mental health problems, and battling an eating disorder.
I'd love to hear from you if you have any suggestions for future topics on the Teenage Kicks podcast. Just email me on teenagekicks@gmail.com, or you can find me on Instagram and Twitter at @iamhelenwills. I appreciate every message, and love to hear from my listeners.
For information on your data privacy please visit Podcast.co. Please note that I am not a medical expert, and nothing in this blog or in the podcast should be taken as medical advice. If you're worried about a young person please seek support from a medical professional.
Join me in the Teenage Kicks Facebook group!
If you're a parent of teens it can be difficult to know where to go for advice, to vent, or just to talk. So I've made the Teenage Kicks Facebook group, for all parents of teenagers to chat in a safe space. You can request to join by clicking the button below. It's a private group and everyone in there will be a parent of teenagers.
And if you're stuck for how to engage with your teenager, this list of things for teens to do might be helpful.