This Rocky Road recipe has everything you want for a fast, no-bake treat. The addition of Mini Eggs makes it a perfect Easter treat for kids AND adults!
It's so easy to make too. It only takes 10 minutes to put together the ingredients, and you'll have your Mini Egg Rocky Road slices ready after a couple of hours in the fridge.
Contains affiliate links
Ready to make Mini Egg Rocky Road? Scroll down to print the recipe
I had the idea for this version of the classic Rocky Road after discovering a pack of Mini Eggs I'd stashed in the cupboard for the kids and forgotten about. I did think about turning them into cupcakes or brownies, but after the success of my White Chocolate Rocky Road, I knew I had to do the favourite chocolate biscuit cake in this house to use up my Mini Eggs (I DO realise how ridiculous it sounds that I had leftover Mini Eggs – Instagram told me to "just eat them!"
Over the years I've made various Easter treats for the kids, including the year my daughter was diagnosed with type 1 diabetes these low sugar traditional Easter biscuits. We do still enjoy those with a cup of tea, but these decadent Easter dessert slices are still our favourites. And thankfully, they're easily managed now that she has an insulin pump.
How to make Mini Egg Rocky Road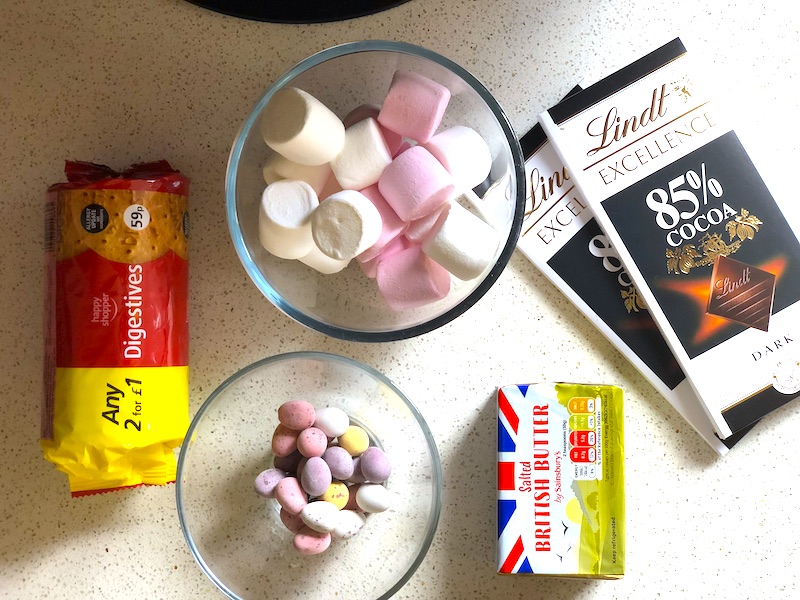 Ingredients
200g digestive biscuits
200g dark or milk chocolate
100g salted butter
2 tbsp golden syrup
100g Mini Eggs
100g marshmallows
Equipment
Large mixing bowl
Non-stick saucepan and hob, or microwave
Chopping board
20x20cm shallow tin or dish
Cling film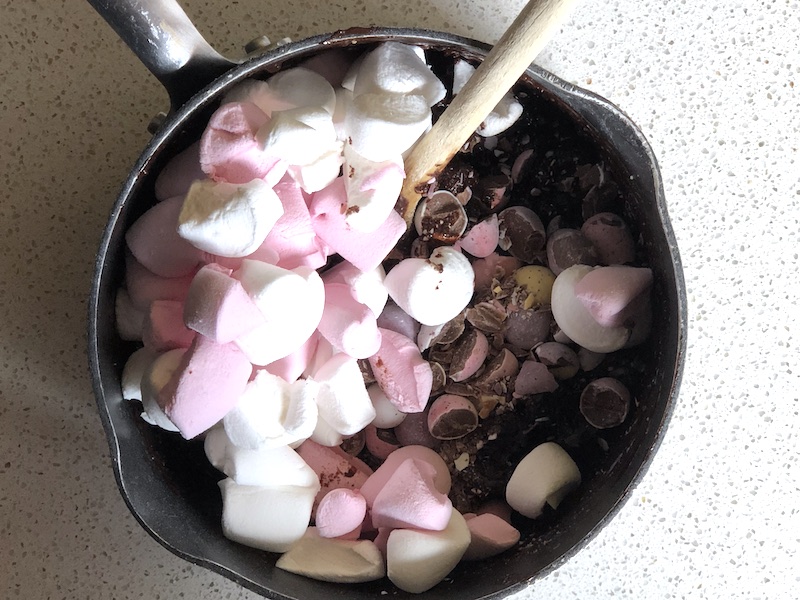 Instructions
Melt the butter, chocolate and syrup over a low heat on the hob, or in the microwave, stirring frequently.
Gently crush the digestive biscuits with a rolling pin, leaving some larger pieces.
Roughly chop the Mini Eggs and snip larger marshmallows into 4-6 pieces.
Stir the biscuits into the melted chocolate mix, then fold the Mini Eggs and marshmallows in.
Line your baking tin/dish with cling film and pour the mix into it, spreading it out evenly.
Chill in the fridge until set – this should take a couple of hours.
Turn out onto a chopping board and slice into 10 squares.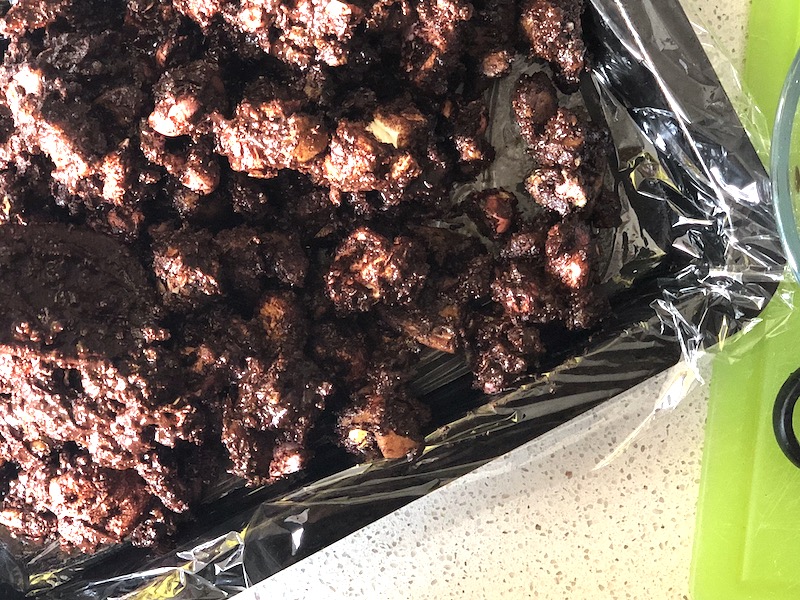 This is one of those recipes that won't last very long. The whole family adored Mini Eggs Rocky Road slices so much that they were gone in a couple of days. Lucky it's so easy to make!
Tips for making the perfect Mini Eggs Rocky Road
Is Rocky Road easy to make?
Absolutely! This takes literally minutes to put together, and is so simple a child could make it (with some help from an adult with the chocolate melting part). You cannot get this recipe wrong. The beauty of Rocky Road is the jumble of ingredients anyway, so it really doesn't matter how it turns out – it always looks and tastes wonderful anyway.
Do I need any special equipment to make Mini Eggs Rocky Road?
Nope. As long as you have a means of melting the chocolate and butter, all you need is a large mixing bowl, and some kind of shallow tin or dish to cool the mixture in. Ideally you'll use clingfilm, but this just makes it easier to get the chilled biscuit slab out of the tin.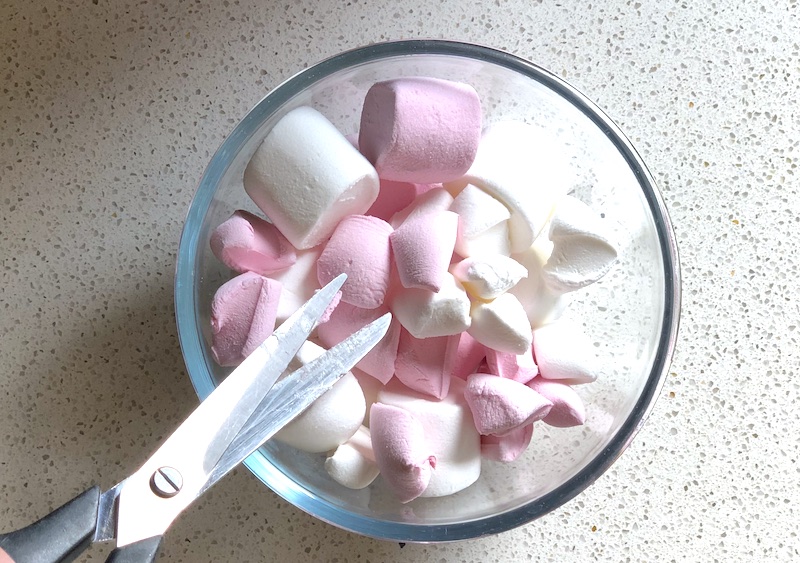 Can I change the ingredients in this Mini Eggs Rocky Road recipe?
Yes. As long as you stick to the basic ratios of chocolate, butter and biscuits you can change any of the added ingredients in similar quantities. Have a look at my White Chocolate Rocky Road recipe to see how I've used pistachios and cranberries, which you could add in place of the Mini Eggs here.
I love the idea of a Rocky Road with popping candy chocolate and jelly beans. Or how about a Christmas version with Chocolate Orange segments?
You can also use milk or white chocolate for those who don't like dark, although I'd argue that they'd be too sickly with white chocolate.
Is Mini Egg Rocky Road suitable for Vegans
This recipe can be easily altered to make it suitable for a vegan diet. Replace the chocolate with a vegan alternative, use a baking block like Stork in place of the butter and make sure your biscuits and marshmallows are vegan. You can now also buy Doisy and Dam mini-eggs online and from most Holland and Barrett stores in the UK. I couldn't find a vegan Mini Egg substitute in America, but there's a good selection of vegan chocolate on Amazon you could choose from.
Is Mini Egg Rocky Road gluten-free?
The only ingredients in this recipe that contains gluten are the digestive biscuits, so if you substitute those with your regular gluten-free biscuits it should be straightforward to make a version without gluten. Be careful with marshmallows as some versions are made with wheat starch. Opt for a brand made using corn starch, and double check the labelling on your choice of chocolate.
Fortunately Cadbury Mini Eggs are gluten-free.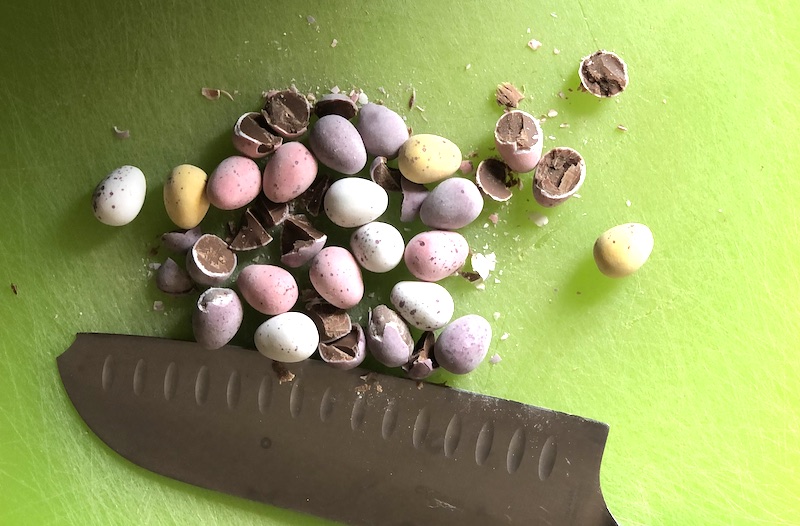 Is Mini Egg Rocky Road safe to eat while pregnant?
Despite the fact that these biscuits aren't baked, they should be safe to eat as there are no eggs added to this recipe. Keep the finished slices in a covered container and eat within the recommended time.
How long does Mini Egg Rocky road keep?
Keep the sliced squares in an airtight container in the fridge for best results, and it will last for up to a week without losing freshness. Kept out of the fridge you'd want to finish these within a couple of days.
Can I freeze Mini Egg Rocky Road?
This is one of those recipes that should freeze well, and it will keep quite nicely for up to 3 months in an airtight container. However, bear in mind that the marshmallows will lose some of their fluffy softness and become chewy over time, so to enjoy at their best I'd eat them fairly quickly.
Can I make this Rocky Road recipe in different quantities?
Yes! Rocky Road is a perfect party treat so you may well find yourself needing to make larger quantities. Just bear in mind that you'll need a bigger tin (or multiple tins) and extra space in the fridge.
I have also been known to melt a few chunks of chocolate with a knob of butter and throw a biscuit and some marshmallows and raisins at it for an instant(ish) fix. It really is a very versatile recipe!
What goes well with Mini Egg Rocky road?
Well, I'm biased, but for me this rich cake needs a cup of Earl Grey. The simple dry flavour cuts through the heaviness of all that chocolate perfectly!
Why did my Rocky Road not set properly?
Provided you've chilled it for long enough to set firmly, the most likely reason for Rocky Road that resembles rubble is not enough chocolate and butter, or too many additional ingredients. If you add extra ingredients be careful to keep the overall ratio of melted ingredients to dry ingredients the same, or there won't be enough set chocolate mix to hold it all firmly together.
The other possibility is burnt chocolate. It's really easy to burn chocolate so that it turns out grainy, in which case it won't blend well and hold everything together when it sets. When you're melting chocolate keep it on a low heat and stir regularly to avoid it catching or overheating. If using the microwave method heat chocolate in 5-10 second blasts, checking and stirring between each go. Be patient – it will melt quite quickly once it's warm enough.
A Device to Help Little Kids Get Involved in the Making
The Tukataka learning tower is a special stool for toddlers and young children that enables them to work at the kitchen worktop, table, and kitchen sink. They can observe your actions and participate in new, stimulating activities such as washing up, dough rolling and more. These activities enable children to develop and learn new skills.
But what's really great is that little ones will be happy that they can help you with the daily tasks in the kitchen.
It doesn't have to stop in the kitchen though – they can also help in the garage by being in front of a workbench, or able to reach the top of the car to help with washing! There are lots of ways to use it so that kids can be involved in whatever you're doing.
Print the Mini Eggs Rocky Road recipe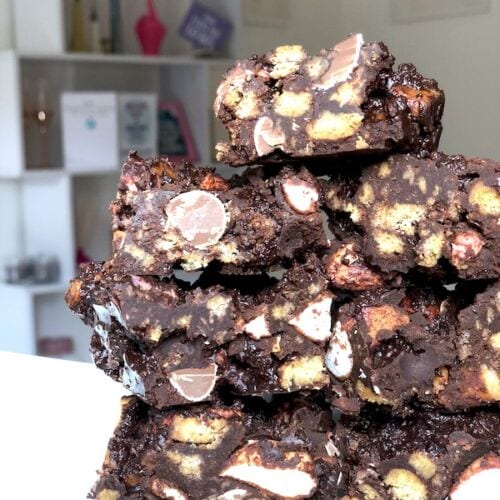 Mini Egg Rocky Road
A no-bake easy Easter treat – classic Rocky Road recipe with Mini Eggs
Equipment
20x20cm baking tin

Cling film

Saucepan and hob, or microwave

Mixing bowl

Fridge
Ingredients
200

g

digestive biscuits

200

g

dark chocolate

100

g

salted butter

2

tbsp

golden syrup

100

g

mini chocolate eggs

we used Cadbury Mini Eggs

100

g

mini marshmallows

or chopped large marshmallows
Instructions
Melt the butter, chocolate and syrup over a low heat on the hob or in the microwave

Lightly crush the digestive biscuits, keeping some larger pieces – popping them in a plastic bag keeps the mess down

Roughly chop the Mini-Eggs

Snip the marshmallows into small pieces if using large

Mix the biscuits into the chocolate mix, then fold in the rest of the ingredients

Line a shallow dish or tin with cling film and spoon in the mix, spreading it out evenly

Chill in the fridge until set – about 2 hours, then turn out onto a board and cut into 10 squares
Notes
You could change out the Mini Eggs for any small chocolates – how about chocolate orange segments, or M&Ms?
Looking for more easy bakes? Check out these