Once upon a time a boy met a girl. The girl loved travel, and the boy loved adventure. They fell for each other and set about a series of road trips in their holiday time. Cool open-top cars drew them along gorgeous coastlines, and through stunning landscapes. They stopped in cities for cocktails, on beaches to see whales, and in rocky mountains to watch bears and breathe the freshest air. Then they got married and had children. The end.
Except it wasn't. Sure, they travelled short-haul for a few years, while they worked up the nerve to fly further afield with their offspring. But then the kids grew, and so did their taste for adventure. They learned to ski, stayed up late in Spanish cookery classes, and took ten-hour flights to the Caribbean. Epic road trips once again became part of the travel plan. Only this time there would be thrills for the children as well as the grown-ups.
Dinosaurs in Alberta!
Jurassic World has been a huge hit in our house. The Bug has always loved a bit of dinosaur action, and spends hours on beaches looking for 'real fossils.' He is fascinated by nature, and can quote rock structures and geological fact pretty accurately, for an eight-year-old. So he was always going to love the movie. His future career ambitions include being the next David Attenborough, or a marine vet, and he plans to be the one in high school biology classes who takes over the scalpel while his classmates quietly faint in a corner. He loves everything about animals, and I have a feeling that he will love our road trip holidays.
Alberta, in western Canada, is not unknown to us; we've travelled to the Canadian Rockies many times in the pursuit of snow sports, but never have we explored the landscapes that were home to a vast habitat of dinosaurs millions of years ago. Travel Alberta, aware of the fascination of children with palaeontology, are now highlighting the huge range of experiences that can make up an epic holiday for the whole family.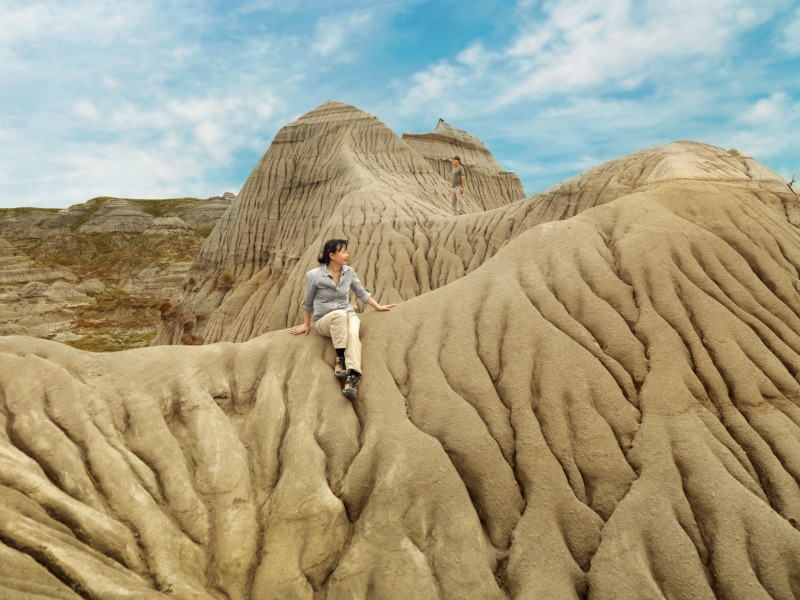 I think we would start in the Canadian Badlands, a fossil hotbed since the nineteenth century. The scenery as we'd follow the Red Deer River sounds spectacular, which is a massive plus for me on a holiday. But I suspect the fun for the children would really begin at Dinosaur Provincial Park, a UNESCO World Heritage site. As well as going on a fossil safari with a real palaeontologist, over-14's can take a guided excavation, with the potential to uncover previously-unseen fossils. For ages 7 up, there's a hike to a bone bed that contains the remains of hundreds of horned dinosaurs, and younger children can get their hands on a huge variety of real fossils. And after an exhilarating day we could sleep under the stars in one of the park's gorgeous glamping tents!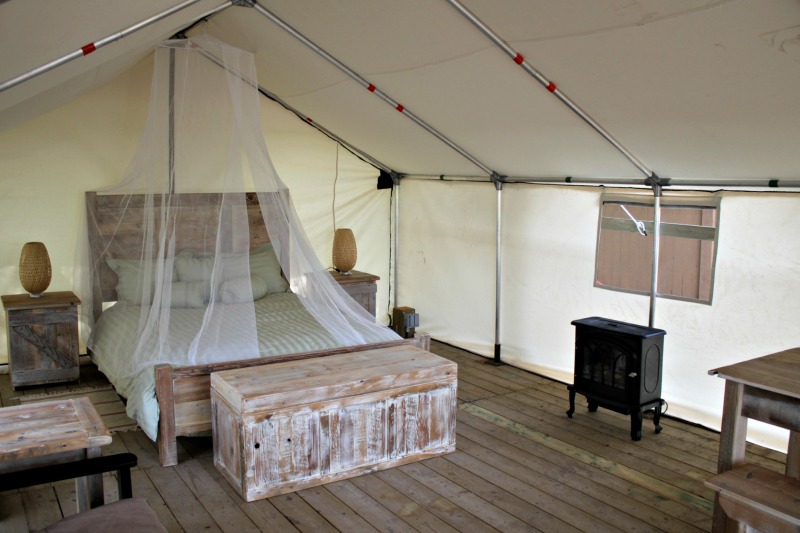 Being who we are, once we've travelled across oceans for a holiday, we're likely to want to pack in as much as possible, so I think next up would be a hunt for the Northern Lights in one of Alberta's dark sky preserves. The UK is so full of man-made light that it's often impossible to see the stars, so to be able to spot the backbone of the Milky Way with the naked eye would be a must for me. The Bug spends most of our camping trips glued to the Star Walk App, trying to fathom which constellations he is seeing, so I think he'd be enchanted by this excursion too.
This image is from Drumheller, which also hosts the Royal Tyrrell Museum of Palaeontology. And I'm telling you this because, as I type, the latest edition of BA2 – the magazine of my old university in Bath – just landed on my doormat. In it, the department of Biology and Biochemistry are hailing the discovery by one of Bath's palaeontologists of a brand new species of dinosaur. You can marvel at this new discovery on a visit to the museum, and find out why it's called 'Hellboy.' (Sounds like the Bug after a late night)!
My next travel adventure – the whole family in an RV for a Jurassic road-trip through Alberta. What do you think?
For more on the dinosaurs in Alberta check out this post on Space In Your Case, or follow #AlbertaDinosaurs on Twitter.
I'm working with BritMums and Travel Alberta highlighting the region Alberta as the place to go to make your dinosaur dreams come true. I have been compensated for my time. All editorial and opinions are my own. Visit Travel Alberta for more information.
More Alberta Dinosaurs posts: