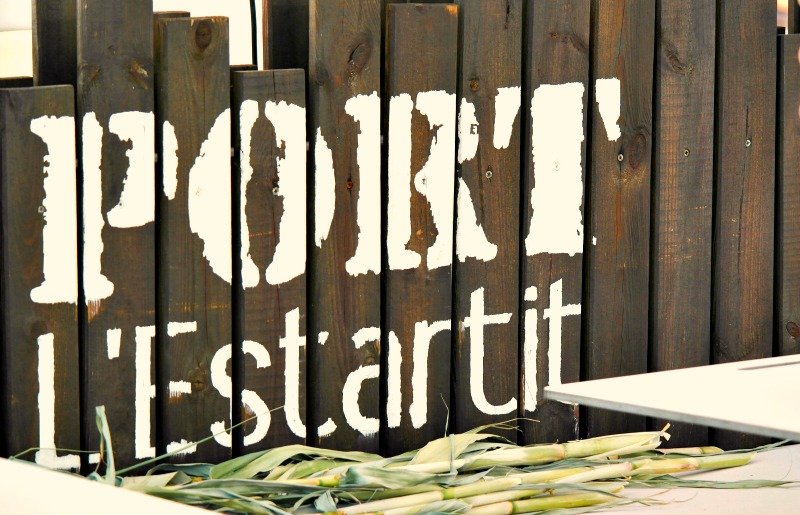 When you think of a weekend break, it usually involves the car. If you do decide to venture further afield, maybe the Eurostar. You don't generally think of getting on a flight to Spain. Especially with the kids. But you should. Oh, you really, really should.
A few weeks ago I picked up the kids from school on a Friday afternoon, and headed down to Gatwick. Less than 2 hours after take-off, our Vueling flight touched down in Barcelona, and by 8.30pm we were in the beautiful Costa Brava town of L'Estartit. Just in time for a proper Spanish dinner. Perfect!
The Costa Brava is one of our favourite family holiday destinations, given that it is driveable from the UK in a day or two – and what better excuse for a stopover in Champagne? We usually spend a couple of weeks here each summer, but we'd never considered coming for a weekend. But as the rain drizzled in the UK, we felt the warm breeze on a happy stroll around this beautiful harbour, taking in the the sights and sounds that only the Mediterranean can offer.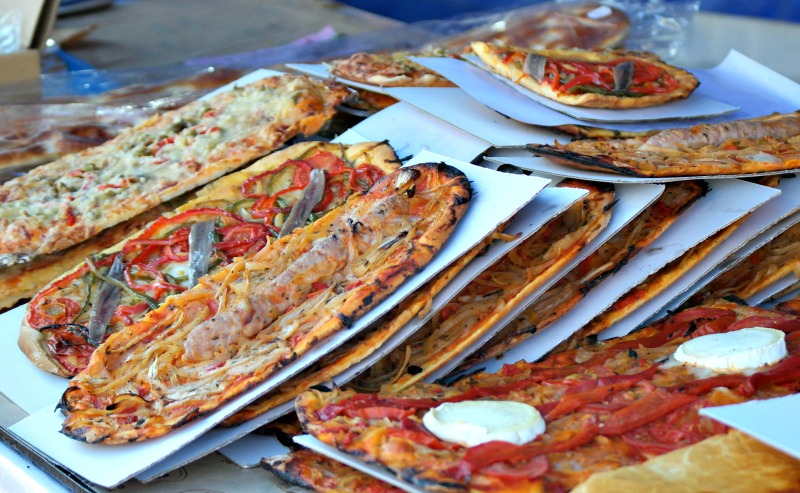 Mouthwatering breads and pizzas from the harbourside stalls.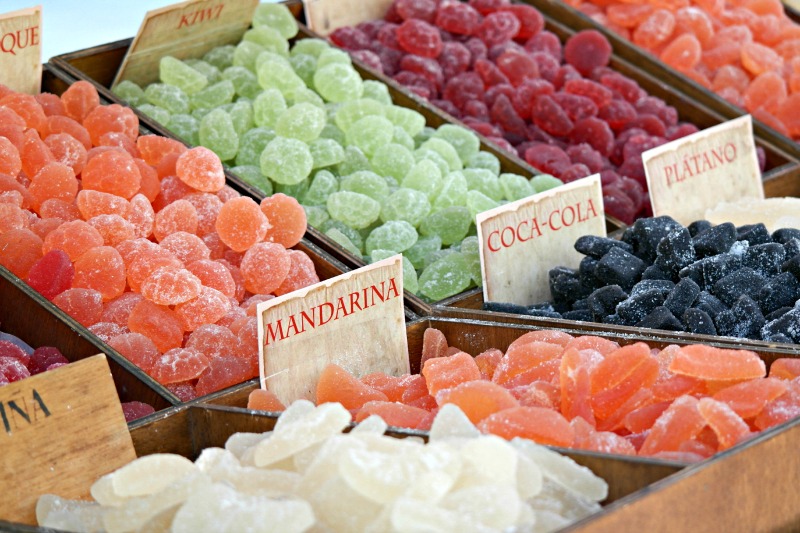 Jewel-like fruit jelly sweets caught our eye.
During the 16th Century pirates would invade L'Estartit, occupying the nearby Medes islands and terrorising the town. So what do the people of Catalunya do to remember such an awful time? Celebrate, of course! Every year, at the endof September the Festival of Pirates and Corsairs is held in L'Estartit, and the streets are filled with decorations, shows, food, and fun. You can even visit the Medes Islands, which are normally closed unless you are part of an organised Scuba diving tour.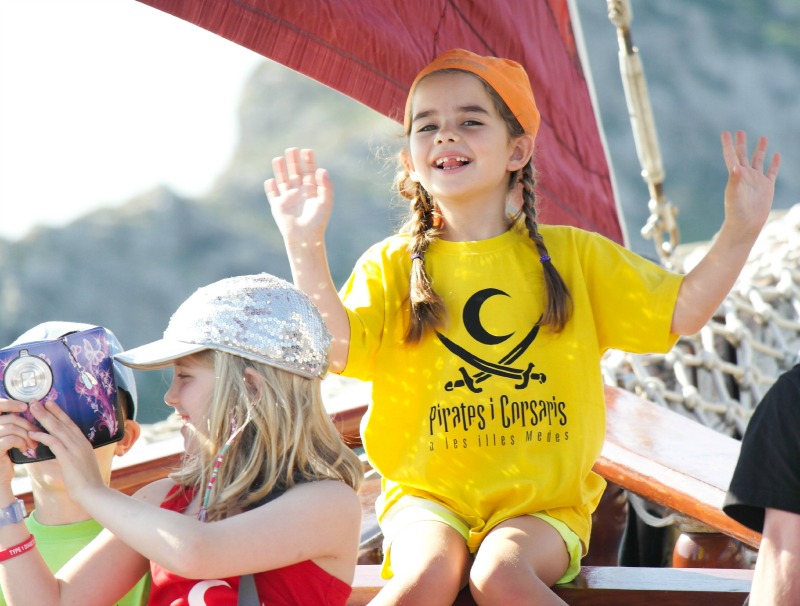 GG and her new friend from Mari's World enjoyed being pirates on board the beautiful El Corsari Negre for a lovely sail around the Medes islands, then it was back to L'Estartit to sample some of the entertainment put on by the town to celebrate the festival.
I love the little streets of L'Estartit. Not the brash tourist venues of some of the larger destinations, but a lovely pedestrianised area full of gorgeous ice-cream and colourful trinkets. We bought a bee last time we were here, which The Bug still has hanging in his room, but we were rather taken with the pirate this time:
And we can't ever go to Spain without GG buying one of these. Who doesn't need a colourful bracelet, right?
Now the food. I have to tell you, the food in Spain is my favourite in the world, and the Costa Brava restaurants do it so well. When I was a student I lived in Andalucia, and my University student flatmates had a maid. I thought this was rather extravagant, until I tasted her cooking. Those lunches (followed by the customary siesta before returning to classes) taught me how to cook and enjoy Spanish food, and the potato and onion tortilla is still a firm favourite of mine. I never do it as well as the Spanish though, and I devoured the simple, but perfect dish on arrival at our lovely Hotel Medes on the first evening. For more on proper Catalan cooking, check out my post on our vineyard cooking class, but for now, feast your eyes on this Octopus which Actually Daddy relished at La Gaviota in L'Estartit, and the biggest Paella I've ever seen at L'Entrecot, just up the road in Roses.
After a happy day of soaking up the festival atmosphere we headed back to our hotel for a quick dip in the pool. If you're planning a weekend trip to the Costa Brava (and you should), the Hotel Medes is the perfect base. Our family room was spacious enough for the four of us and very comfortable. It's just a short walk from the town and the gorgeous beach as well, so it ticks all the boxes.
The following day saw us heading over to Roses. A short drive away, Roses has another amazing beach, and we were sorely tempted to kick off our shoes and head into the sand, but we were scheduled for an altogether different kind of experience. Burricleta is an amazing way to take in a large area, and we covered 22km of town, beach and national park – on electric bicycles! You start by pedalling normally, but can change gears so that every time you pedal harder you get a little extra power to your push. Once  you get used to it, you can work up some pretty good speeds, and before you know it you've seen more in a morning than you would in a normal day. Even GG managed to get the hang of it, and it's definitely something I'd recommend trying. Burricleta are based in various locations in Catalunya, and will take you on a guided tour, or give you a GPS charted route to take on cycle paths, getting you as close to nature as you can on a vehicle!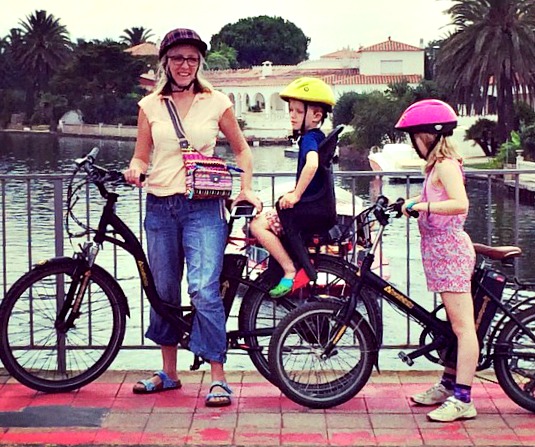 For more holiday ideas in Catalunya, check out how we managed a family holiday in the Catalan Cava vineyards without too much complaining from the children!
Disclosure: our trip to the Costa Brava was courtesy of the Catalan Tourist Board. All editorial, images and opinions are our own.