I've grizzled a lot about how humbug my teenagers have become about any hints of festivity until late December. Although it doesn't seem to apply to advent calendars, I have to tread lightly with the introduction of mince pies, and god forbid Mariah makes a break for it on the car radio until well after they've broken up from school. So this year I've been very focused on finding ways to get teenagers into the Christmas spirit, and one of the things I've found does go down well is a good Christmas lights event – but it has to have teen appeal. Here's a roundup of the best Christmas lights events for teens in 2023:
NORTH WEST
Christmas at Dunham Massey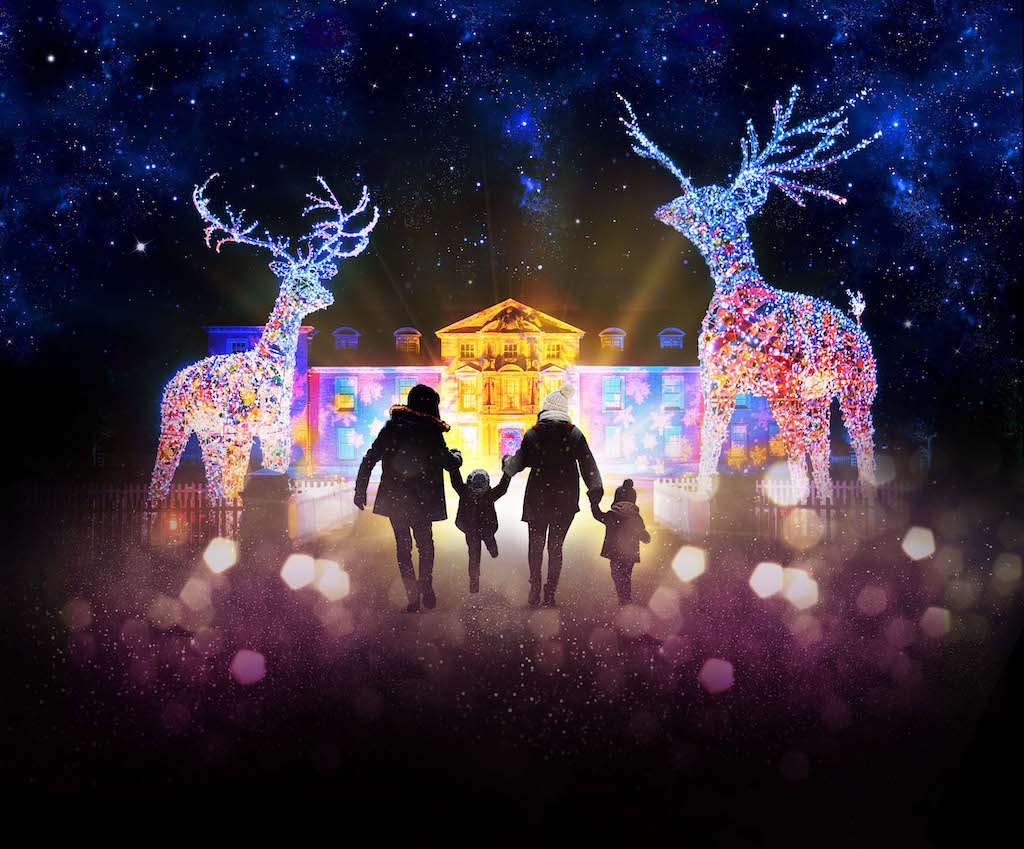 If you're in the Northwest of England Dunham Massey is a must-visit with family at any time of the year, but Colette from Going on an Adventure visited for Christmas and has compiled a really useful review full of tips for visiting with family. Colette's eldest has just started secondary school, so she's in the know on Christmas lights events for teens, and thinks the mile long light trail of Christmas at Dunham Massey would be a perfect experience for teenagers.
Her description of light tunnels, shimmering snowflakes and disco balls, neon string and lasers, lights reflecting on the water and flickering flames in the fire garden sounds like something even the most jaded people couldn't resist. Plus, Dunham Massey looks to have the best food options of all the lights events I've seen covered.
Dunham Massey Christmas Lights from £19.00 per adult.
Christmas at Heaton Park
New for 2023, Christmas at Heaton Park has everything you need for an unforgettable time with a family with teens. There are breath-taking seasonal lights, colour-changing orbs of light stretching out into the distance, larger-than-life flowers and neon strings that reach high into the sky. Wander through a laser garden filled with thousands of tiny beams of light and into a giant twinkling tunnel that surrounds you with sparkle.
Christmas at Heaton Park from £15
WILTSHIRE
Christmas at Stourhead
Stourhead is a Palladian house and garden described as a 'living work of art'. The curated trail features the stunning Christmas Cathedral, in which more than a thousand pea lights will be woven into the forest landscape. New features this year include a 'Sea of Light' stretching into the distance, larger-than-life crystals suspended in trees and Liquid Lake, which fills the air with all the colours of the rainbow.
Christmas at Stourhead from £15
CAMBRIDGESHIRE
Christmas at Wimpole
Wimpole Hall in Royston has two brilliant years of Christmas lights and is returning for a third in 2023. Visitors will discover huge feathers floating high into the sky, and a shimmering sea of light stretching into the distance.
Christmas at Wimpole from £15
KENT
Christmas lights at Leeds Castle
The magical moated Leeds castle is stunning any time of year but for Christmas 2023 it hosts a trail for the second year following the success of last year's inaugural event. Some of the new displays this year include sparkling chandeliers delicately suspended in the trees, a laser garden filled with tiny beams of light, a path of twinkling mirrored hearts and Feast of Light, featuring immersive, glowing strings filled with all the colours of the rainbow.
Christmas at Leeds Castle from £18.00
Christmas light trail at Bedgebury
Describing the Christmas light trail at Bedgebury National Pinetum and Forest Erica says she got quite emotional at this "Christmas Wonderland" experience. "It's more than just lights" she says, of swathes of woodland trees uplit with colour, and lit boats on the lake. I think a walk through Bedgebury on a cold evening, with stops for roasted marshmallows sounds like the perfect antidote to any adolescent malaise in the run up to Christmas.
Christmas at Bedgebury from £19.00
SCOTLAND
The Enchanted Forest
This is not technically a Christmas lights show, running in October and November, but I thought it worth including. Billed as Scotland's favourite sound and light show, The Enchanted Forest is award-winning, and a must see for families across Scotland. Set your imagination alight with dazzling visuals and innovative design, all choreographed against an original music score, while you explore the stunning autumn woodland setting of Forestry & Land Scotland's Faskally Wood near Pitlochry. Using the magnificent Faskally Wood as a natural backdrop, you will experience a sound and light show experience that is simply magical.
The Enchanted Forest – from £26.00
LINCOLNSHIRE
Christmas at Belton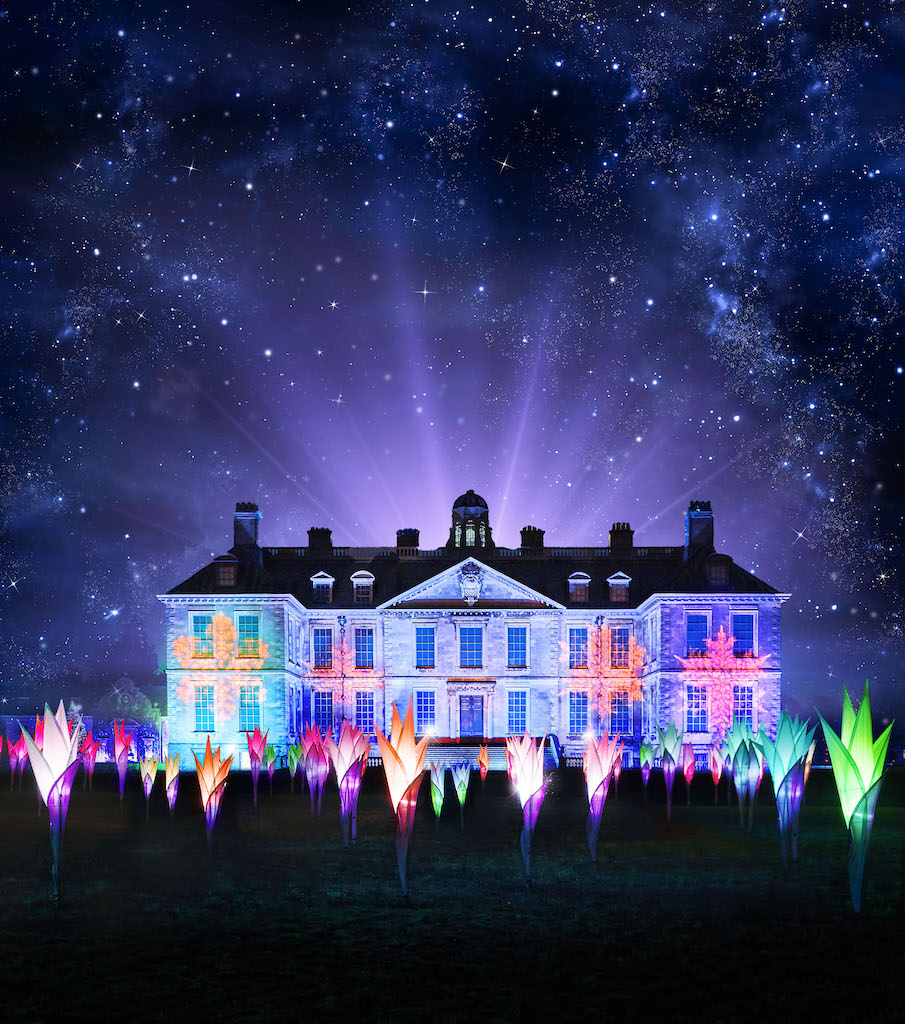 Look forward to time with family that even teenagers will enjoy, as you explore a magical trail of lights. Discover larger-than-life flowers, a jolly flock of glittering robins, and wander through rainbow coloured trees. Grab a seasonal snack from one of the hand-picked street food vendors who bring an indulgent twist to tempting treats on offer. Complete your walk under the stars with a perfectly festive spiced winter warmer, hot chocolate or toasted marshmallow and – all guaranteed to keep teens from complaining.
Christmas at Belton – from £21
NORFOLK
Christmas at Thursford
The fading light of the Winter's sun, starts the magic of Thursford. Your journey will progress into the Fantasyland Building, as you travel past the penguins and polar bears to the giant-sized teddy bears! Get ready to see how the elves have loaded Santa's sleigh, then past the busy elves hard at work in the toy factory using the wondrous wrapping machine.
We visited Thursford in 2022 to see the spectacular (and world-famous) Christmas show. It's basically a variety show, with music, dancing, comedy and other performers. I wondered whether my teens would find it a bit childish, but it's so professional that they managed the full 2 hours without complaining, and even said they "quite enjoyed it" – which, if you've got teens, you'll know is very high praise. It was my birthday though, so…
We did the Christmas lights trail before we went in, and it is good. The addition of a bar, food stalls and a vintage fun fair makes it feel even more Christmassy.
Thursford's Enchanted Journey of Light – from £22
OXFORDSHIRE
Blenheim Palace
With a Christmas market, food stalls, and a lights trail set to music Blenheim is more of a spectacle than a Christmas lights experience. For teenagers I think it probably ticks every box, with a bar and fire pits dotted along the trail, funfair rides, plenty of food options, and the house itself dressed up as the Kingdom of the Snow Queen. This is a big experience and that's reflected in the price, but I know my teenagers would love it – if I could pin them down to a date!
You can also get a sneak preview of what you'll get to see on Blenheim's Illuminated Trail here.
Blenheim Palace trail, market and house family ticket £150; illuminated trail only £84
SOMERSET
Longleat Festival of Light
Longleat has been running its Christmas Festival of Light for several years now, and this year promises to be as good as ever, with a theme of The Lion, The Witch and The Wardrobe. Travel to Narnia, then watch the Enchanted Christmas Tree Show before touring the safari trail as usual. Whilst my daughter is quite against any animal in captivity right now, I know lots of teens who still love to see the animals, so this is one way of combining the two experiences.
PEAK DISTRICT
Christmas at Chatsworth
Enjoy an interactive light and sound trail around the Chatsworth Garden featuring some of its best-loved landmarks, including the historic Cascade, Rock Garden and Maze.
The light trail will culminate in a spectacular animated light show that transforms the house into a giant advent calendar with 24 Christmas scenes emerging from 24 windows on the south façade of the house, each scene inspired by the decorations in the house and our extensive collections of art and artefacts.
LONDON
Christmas at Kew
If you've ever visited Kew Gardens, you'll know how impressive they are. Well imagine them at Christmas: a botanical world filled with seasonal cheer. With seven installations, Christmas at Kew is now firmly established as one of the UK's leading Christmas
experiences. The magical trail will showcases Kew Gardens in a whole new light, making the perfect festive winter evening.
It's grown up enough to visit and still feel the magic, even without young children, and teenagers will enjoy discovering one of the longest
light tunnels, dancing waterside reflections, glitter balls and trees drenched in jewel-like colour on your way to the panoramic Palm House light display. Pause at the mesmerising flickering flames in the fire garden and don't forget to glimpse Father Christmas along the way.
Christmas at Kew from £22.50
Winter lights at the Southbank Centre
Not a lights trail or event per se, but a festive accompaniment to the Southbank's annual Winter Festival. With street food and Christmas markets, plus a range of one off comedy and musical events, a day-into-evening trip with the teens to London's Southbank might be the perfect way to warm them up ready for Christmas.
Love Actually London Lights tour
Once upon a time, my kids were eager to watch a Christmas film every day of December as their excitement built. Now our pile of DVDs (Elf, The Santa Clause and Home Alone 1,2,3, and 4!) sit idle as I sob and they hang out with their mates instead (which is exactly what I want, but I'm allowed to miss them). Love Actually, however, is one of the very few films they will still watch, so I think a walking tour of the London lights, with added Love Actually highlights in the form of some of the locations where filming took place, could be a winner with teenagers. The tour lasts 2 hours, with stops for festive hot drinks.
Love Actually Walking Tour from £11.37
Winterfest at Wembley Park
Winterfest is an annual event in Northwest London. Rather than a Christmas lights event, it's more of a Christmas fair, with games and activities, great food and drink, and access to high street retail shops. There's something for everyone, and if your teenagers get bored with your company, there's plenty to distract them. The Winterfest light trail is free, but I'm confident that with teenagers you will need your credit card!
NORTHAMPTONSHIRE
Lap of Lights at Silverstone
Please note, the Lap of Lights is closed for 2023, but I'm leaving this entry here because they have promised to reintroduce it for 2024. I will update the post nearer the time. Scroll down for events which are running in 2023.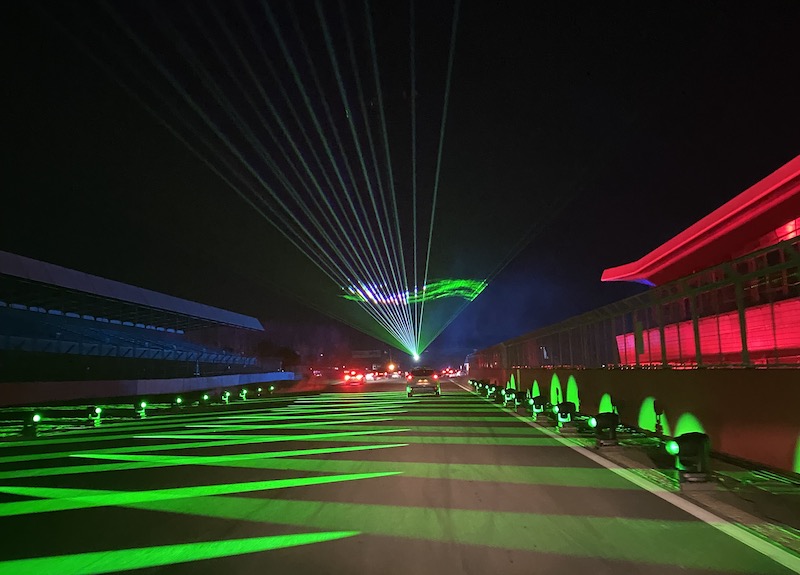 We were lucky enough to be invited to the opening evening of Silverstone's Lap of Lights, and I was so impressed by my son's immediate YES vote that I rearranged all our plans to make sure we could go. This is the second year Silverstone have run a Christmas lights spectacle, having started in Covid lockdown, and it's even better in 2021.
First of all, it's Silverstone. Quite aside from whether or not you follow formula one (and lots of teenagers do), I haven't yet met a teenage boy who isn't ultra-impressed by a cool car. Evan often does an owl-like head turn as we drive through town, and he knows the makes of cars he likes at first glance. Plus, he likes Forza, so cars are always going to get a positive response.
When you join the Lap of Lights, you'll already have spotted several racing cars on your way in, but what really wins over older kids is the fact that you're driving a lap of the actual F1 track, including the starting grid, as you view the lights. This year's installation is on theme of a trip around the world, with the Pyramids and Eiffel Tower in festive glory. You're even invited to deck out your own car in fairy lights to add to the experience for everyone.
Santa chats to passengers as you exit the lap, and I was impressed by his age-appropriate jokes – the old man really does keep up to date with children of all ages, including teens! To save blushes I won't tell you what he threatened to send Evan down the chimney, but it made me chuckle.
Once you're finished with the lights, there's more entertainment in the form of an ice rink created in the actual Silverstone pit, and live music and food in the bar upstairs, so it's a great family night out – they'll even give a free soft drink to designated drivers with every round.
This is now one of our favourite Christmas lights events for teens and I think we will go to every year; and the Christmassy element certainly slid Christmas past my teenager's nose – he even agreed to watch Nativity with us this year!
Silverstone's Lap of Lights £35 per car
I hope there's something on this list close enough for your family to try and tempt your teenagers into the Christmas spirit! And if you'd like more ideas, read this post on how to help your teen feel Christmassy when they're not in the mood.
For more ideas for Christmas lights trails see this post.