Last year I could not get my kids to join in with the Christmas spirit, no matter what I did. It might have been a need to rebel against other adults who'd transitioned seamlessly from Halloween into Christmas by replacing their rotting pumpkins with fairy lights, or just a general angst over the perception that Christmas is something adults do to make small children feel excited. Perhaps they just couldn't figure out where they were supposed to fit in now that they were too old to be enthusiastic about anything put on by their parents.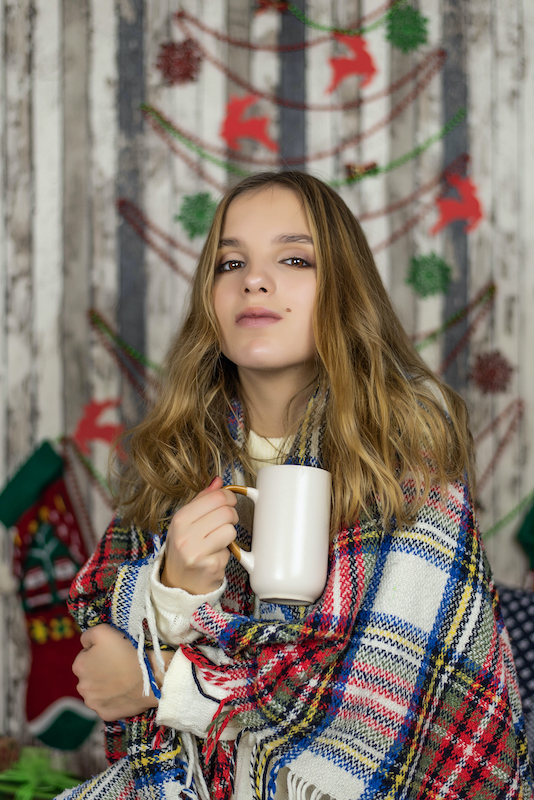 How to make teenagers feel Christmassy when they're not in the mood
Whatever it was, I was determined to stealth them into the Christmas spirit, so I asked other parents what they did – and guess what? None of their teenagers were in the mood for Christmas either! I figured it's a hurdle all parents of teens are looking to find a way over, so I thought I'd share their answers for you here.
This post contains affiliate links. This just means if you click on them I may receive a small commission. There is no extra cost to you, and it helps me to keep creating free content for my readers.
Get them to help you pick the Christmas tree
When my kids were little there was nothing they liked more than a schlep to the garden centre to choose our tree. They'd spot tree sellers at the market from mid-November and beg me to buy one, to which they were told that Mummy didn't want a twig by Christmas day so no, they would have to wait a little longer for festive cheer.
Oh how hindsight slaps a mum of teens in the face, right? Now my kids are too cool to be seen actually enjoying time with their parents I'd buy that tree and have it filling up the hoover before you could say "Fancy a mince pie?" I'd happily replace the bloody thing mid-festivities too, if it meant seeing that sparkly-eyed excitement all month long. Heck, I'd even do Christmas craft!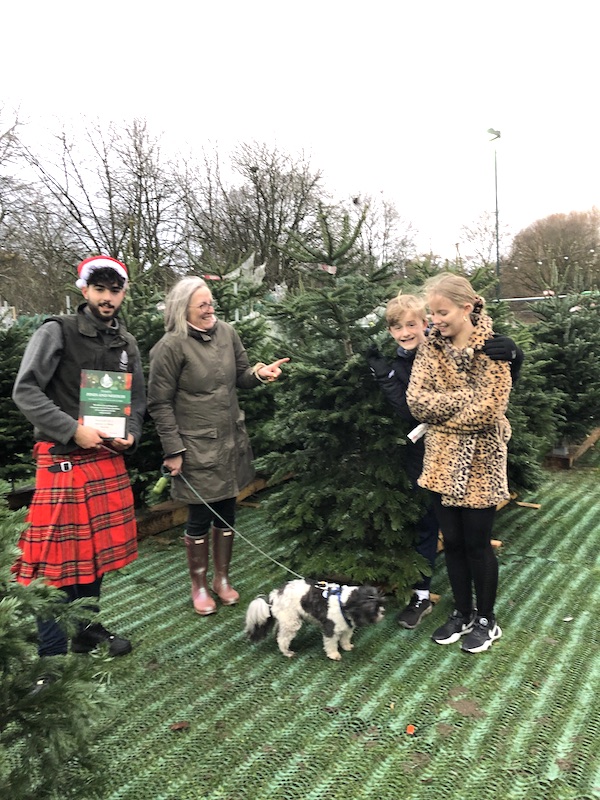 This year I forced them to come out with me to pick a tree, and I fully recommend it. Don't get me wrong, I was sneaky about it – my son likes a swim at the weekend, and my daughter wanted to meet friends, so I coincided picking them both up with a need to 'kill some time' in town ("Ooh Evan you need football gloves don't you? Let's drop into Sports Direct. Isn't it cold, let's have a hot chocolate in Café Nero, we can walk the dog at the same time. You know what? We're so close to Pines and Needles we might as well pick up the Christmas tree while we're here…" You get the idea.
We always get our tree from Pines and Needles (you can read more about their trees in this blog post review). We've found that they're really good quality, and the bonus for me is that after you've chosen your perfect Christmas tree, Pines and Needles will deliver it for you.
Did it work? Well take a look. Were they pleased to be out with Mum and Dad on a Saturday afternoon? Not especially. Did arguing over which was the best tree become a competitive sport? Obviously. And did that drag them into jokes and banter that soon made them forget their antipathy and decide to get with the Christmas tradition of annoying each other by their choice of bauble placement. Of course! Christmas – 1:Teens – 0
Make them the perfect Christmas hot chocolate
Ideally you'll pick your tree on the most Baltic day of the year – like we did – so that they come home freezing cold and in no mood to leave the house for the rest of the day. At which point you'll just happen to have the perfect hot chocolate recipe ready to melt them into the festive feels.
If you've never had a hot chocolate bombe they're SO much fun! Just pour hot milk over your choice of bombe and wait for the chocolate to melt to reveal a burst of mini marshmallows. Neither of them could resist.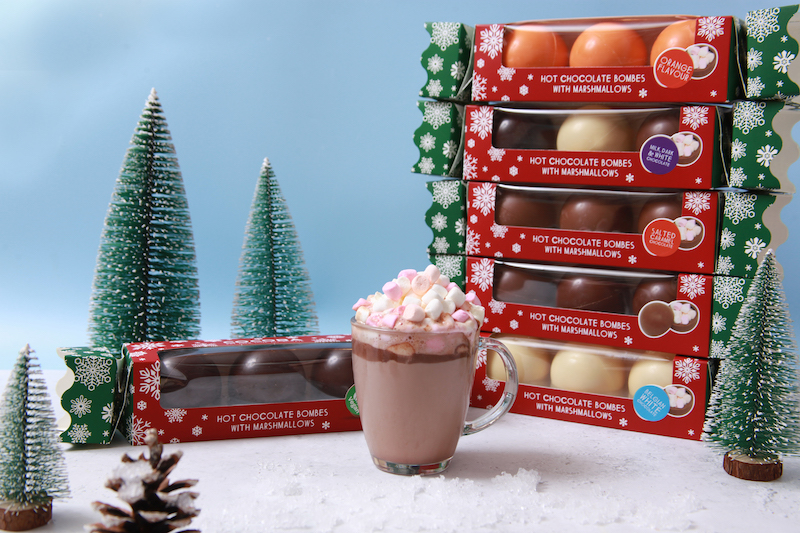 More ideas for getting teens into the Christmas mood
Let them break some rules
If they're old enough in your mind you might let them have a small glass of fizz or mulled wine while you decorate the tree. On the proviso that alcohol has to be consumed within your company, and whilst wearing a Santa hat, of course! One suggestion I got from another mum was to make cheese straws and eat too many to be bothered with dinner. Teens are so used to mum insisting on nutritious meals they'll be too gobsmacked to argue with this one and will just go along with it.
Join in with them
If you can't beat them, join them. Teenagers are used to feeling like their parents call the shots, but if you spot them in PJs in the middle of the day, why not break yours out too? Put on a Christmas movie and serve nothing but crumpets for tea. They will grumble that they've "seen this movie eleventy billion times and it's so cheesy" but I guarantee they will watch it. Just don't give them any I-told-you-sos and they'll never even notice that you won that one.
Bribe them
The best trick I learned last year was to start December with a Christmas duvet set. Okay, it cost me some new bedding, but how could they resist a duvet covered in huskies wearing Santa hats? An even bigger plus was getting them to change their own beds for the first time in… ahem.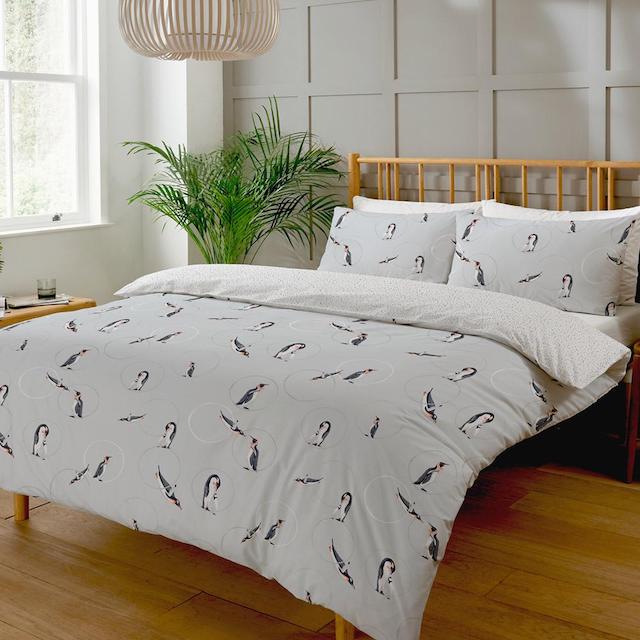 Today I heard of a family whose teenagers don't even want advent calendars any more (*shocked face*). Mine are both too keen on chocolate for that, but if that's your teen you could try gifting them a new string of fairy lights for their rooms instead. Mine always love a new bit of bric-a-brac for their rooms, and maybe the festive lights will have an impact on them each morning? Although maybe that's too much to ask for before noon!
If your teenager is at 6th form where there's a smart dress code, you could try gifting them a festive tie instead of an advent calendar. Apparently – although teenage boys all wear pretty much the same suit as everyone else in school (effectively creating a uniform) – it's standard to wear a novelty Christmas tie.
And add candy canes to the Christmas tree. Santa always puts candy canes on our tree when he comes on Christmas eve, but I'm thinking he won't mind if I beat him to it this year!
Start Christmas early
Open the Christmas chocolate tin early. I never like to start too early in December or I'm sick of Christmas food by the 24th. But sometimes needs must… While you're at it, crack open some Treeslets and Twiglets, and stick a Matchmaker in their morning coffee.
Make a gingerbread house: it's a baking activity that involves sweets and icing, plus it leaves the house smelling festive. How could it not make you feel Christmassy? And I've never met a child of any age who could resist taking over and showing me the best way to decorate the roof! And if baking's not your think, you could always use a gingerbread house kit.
Task them with making a Christmas quiz for all the relatives to play on Christmas day and don't give them any rules. They will relish planning to confuse Grandma so much that they won't notice they're actually looking forward to Christmas.
Plan a Christmas shopping day. Although this will depend on your teenager, I've found that my daughter is always up for shopping with me (probably because she knows she will convince me to buy her clothes), and we can get excited together at little things we find as we go. It's better not to ask my son; he once stood outside Sak's 5th Avenue with me and asked what I needed when I said I wanted to go in.
Christmas by stealth
Wait until enough of your neighbours have their lights up, then be far too busy to walk the dog. Hopefully by the time they come back they'll have blue icicle envy and beg to be allowed to put the lights up at their own house.
Make their favourite dinner and let them open one small present each. Once they've started, they won't want to stop.
Carry on regardless
One mum I know does everything as she used to, ignoring the eyerolls. She says "I still get my elf out, who brings their advent calendar and leaves their Xmas eve box like I have since they were tiny. They just humour me."
Hopefully that will get their Christmas spirit started. If not, pour yourself a Snowball, stick George Michael on, and wait for them to bring home their own kids so you can once again read all those Christmas books you've stored in the loft.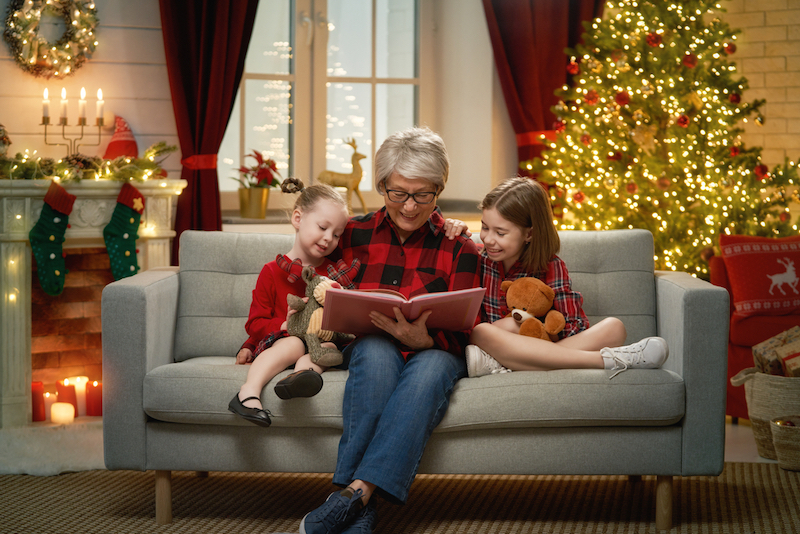 THANK YOU FOR READING
If you've enjoyed this post and found it useful here are some ways you can say thanks and support Actually Mummy:
Click here to buy me a virtual coffee.
Join our Teenage Kicks Facebook group which includes lots of advice and support for parents of teenagers. You can post your own problems and advice here too.
Click here to leave a review of the Teenage Kicks podcast.
Click here to sign up to our newsletter packed with tips, ideas and support for parents of teens.
Share this post with your friends.