Mummy hates waste. You name it – we recycle it. Last Sunday's chicken roast? Sandwiches. Then stir-fry. Finally, soup. We have been subjected to the weirdest menus in the name of not wasting leftovers. You know that rule that says you can only cook meat twice before it must be discarded? Well, Mummy doesn't. We've even once been served two-day-old bubble and squeak (with added bacon) sandwiched between a couple of pasta sheets, masquerading as a veggie lasagne. Our house is full of random buttons, screws and blue-tack remnants, and the tiniest snippet of paper has to go into the recycling bin. Thank goodness the question of how to recycle your Christmas cards is far simpler, way purer, and much less likely to necessitate a visit to A&E! Here are 2 examples of what you can do with an old Christmas card:
Thank you cards:
Now it is no secret that Mummy is 'allergic' to crafting – she is too much of a control-freak. However, her symptoms are way less serious than those attributable to waste. So, inspired by a post on Mediocre Mum about creating gorgeous cards using old wrapping paper, we decided to attempt simple decoupage with some of our old Christmas cards. First we cut some card to size, using fancy craft scissors (1). My silver pen (thank you Santa) added the required greeting. Next we cut out images from our favourite cards, and used double-sided sticky pads to attach them to the cards (2).
You will see that the reason she was able to cope with the crafting chaos was the distraction afforded her by carefully making a list of those family and friends who had graced us with a greeting this festive season (3). Just so she could be certain to return the favour next year. Control freak, see? An hour of creative endeavour for us, a sense of achievement for Mummy, and we had these to show for it:
Only problem now is getting round to writing them…
Gift Tags:
Gift tags were always an irritation in our house until we decided to make our own. Stick-on labels with not quite enough stick, rendering parcels completely anonymous under the tree on Christmas morning; teeny tiny tags with just enough space to write the recipient's name in code – not worth their own exorbitant price tags! Home made gift tags are completely free, much larger, and stay put. Simply cut out your favourite designs from this year's Christmas cards (making sure they are not printed on the reverse!), stamp out a hole with a hole punch, and attach some ribbon or string, and you've got your gift tags for next year!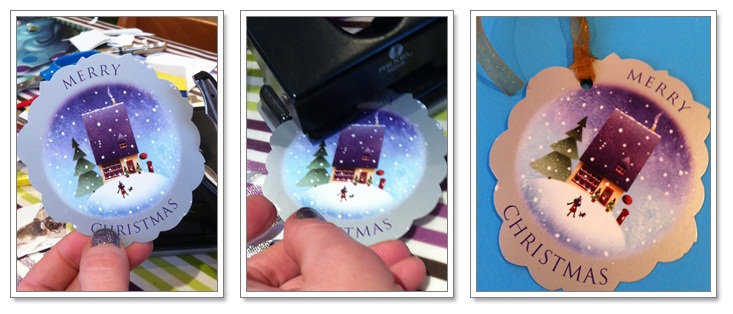 Of course, they will need to be placed carefully in the box, with next year's Christmas card list meticulously written out ready for Christmas 2013… 😉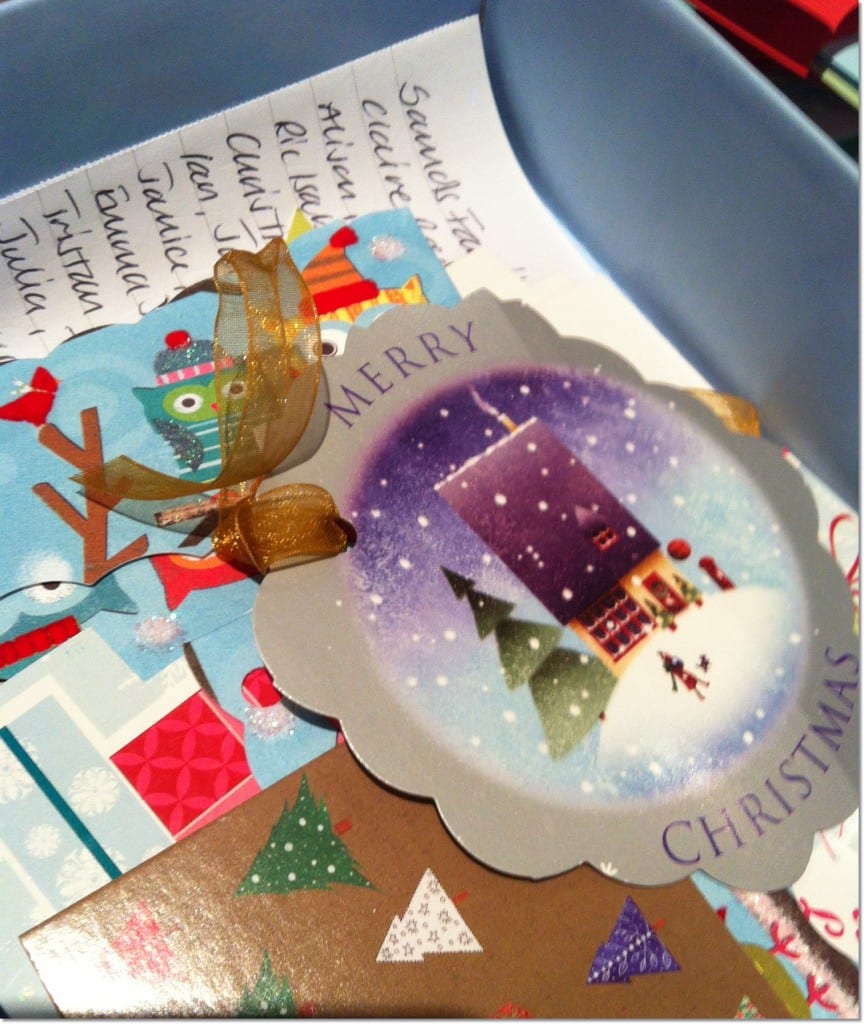 You might also like this post on Christmas crafts for older kids. Or maybe next year you could make your own Christmas cards!