It's one of France's most visited attractions, and has been voted the number one attraction in Europe by Tripadvisor, but it's unlikely you'll know about Puy du Fou unless you've been advised to go by someone you know. I'm going to be that person for you, and I promise you you're going to thank me.
I've written a review of Puy du Fou before, after a press trip I took in 2017. When I got home I think I shocked my family a bit because I couldn't stop talking about this medieval theme park, and how much I wanted to take them to see the incredible live shows that make up venue's the entertainment. So as soon as we got the chance – during our recent stay at Domaine des Ormes in northern France – scheduled two days to make the most of what the park has to offer. If you're not convinced yet, read on, then go through my list of Puy du Fou reviews at the end, so you can make up your own mind about visiting.
If you need a car to get from your location to Puy du Fou we recommend Discover Cars for sensible car hire at realistic prices. (Affiliate link)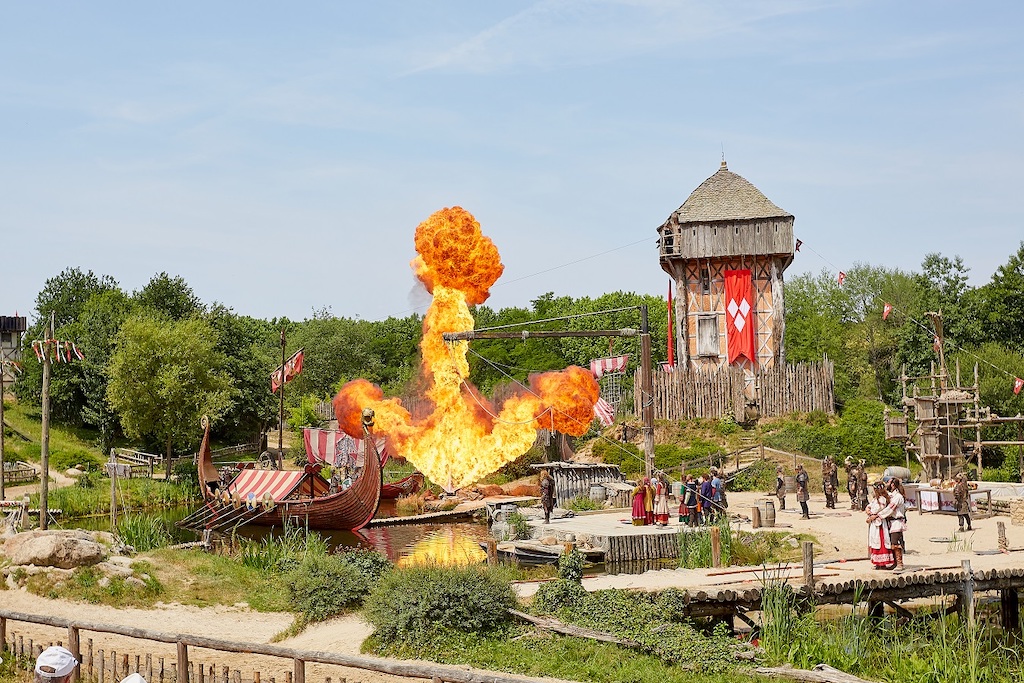 What is Puy du Fou?
Puy du Fou (pronounced pwee doo foo) falls under the hat of theme park, but it's not what you'd expect from that term. There's not a rollercoaster in sight, and in fact, the only ride is a small children's carousel in the town square of the Bourg 1900 themed area. But don't let that put you off. It's a medieval themed entertainment venue where you will watch the most spectacular shows you've ever seen. I know that's a bold statement, but I'm prepared to stand by it. It's truly jaw-dropping and emotion-inducing. It even delights teenagers, which you'll know (if you have one) is no mean feat.
Basically, you'll spend your time there going to see shows, in both indoor and outdoor auditoriums, including incredible night shows that take place on and under water. I know, it makes no sense, and that's the beauty and thrall of it all. Read on and I'll explain.
Puy du Fou shows
In terms of an itinerary for Puy du Fou, it depends on how much walking you want to do, and how fast, as well as how much down time you'd like during your stay. What I would say is that you can't do it justice in a day; 2 days is manageable, and I've listed some hotels at Puy du Fou further down this post, including a review of the Isles de Clovis that we stayed in. Below is a list of the most important shows to see (in my opinion); I've noted where a show might be too much for younger children, and what my teenagers found most interesting.
Puy du Fou bird show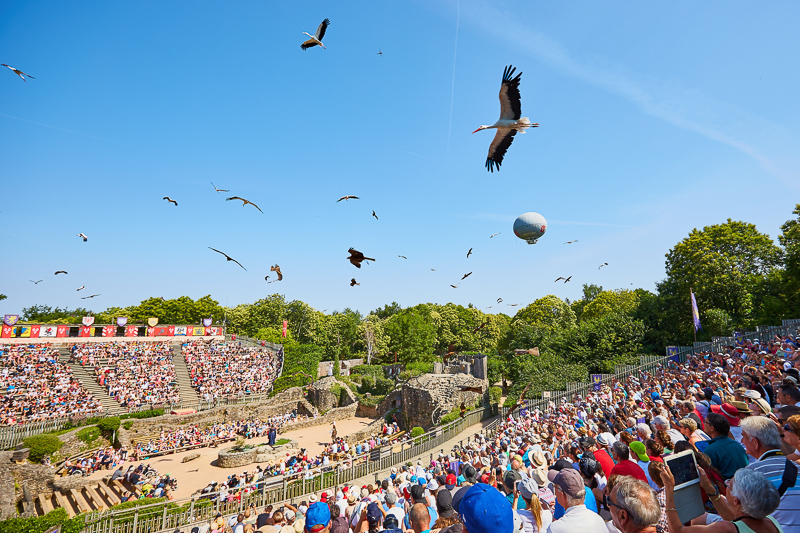 Le Bal des Oiseaux Phantômes is a bird show like you've never seen before – I guarantee that you'll never again want to watch a handler, a couple of owls and a hawk at a UK attraction. The actors tell the story of a princess's memories from her childhood in the castle, creating characters of the 300 plus birds of prey that fly around the amphitheatre. Impressive falconry displays were the least of the excitement though, as a bald eagle flew close enough to touch our heads, before swooping off to join vultures, kites and owls as they entered the arena from a giant hot air balloon in the sky – so many that we didn't know where to look.
I was emotional both times we saw the show – the second viewing was requested by Jason and Evan, my 14 year old, because it was so good. Plan extra time to do the same – it's quite likely at least one of your party will want to see this more than once. Take a look at this video for a small taste:
Puy du Fou Vikings
This was the show my teens liked most after the birds. The story depicts a battle as Vikings ambush a village wedding. The special effects are astounding, with actors emerging on boats rising from under the water, and ships ablaze with fire. But I think the selling point for my kids was the animal participation. From owls refusing to let attackers get away to pigs running amok, and wolves and horses doing their bit to cart off the bad guys, Les Vikings has wow factors in every moment and wherever we looked was another jaw-drop moment.
Les Chevaliers de la Table Ronde
This classic knights of the round table tale has yet more "how did they do that?" moments that kept us entertained beyond the fun of the action and the story. It's the second time I've seen it, so I was prepared, and I still didn't notice the horse arriving dripping wet from under the water until it was too late to see where it came from! Oh well, I'll have to go back a third time!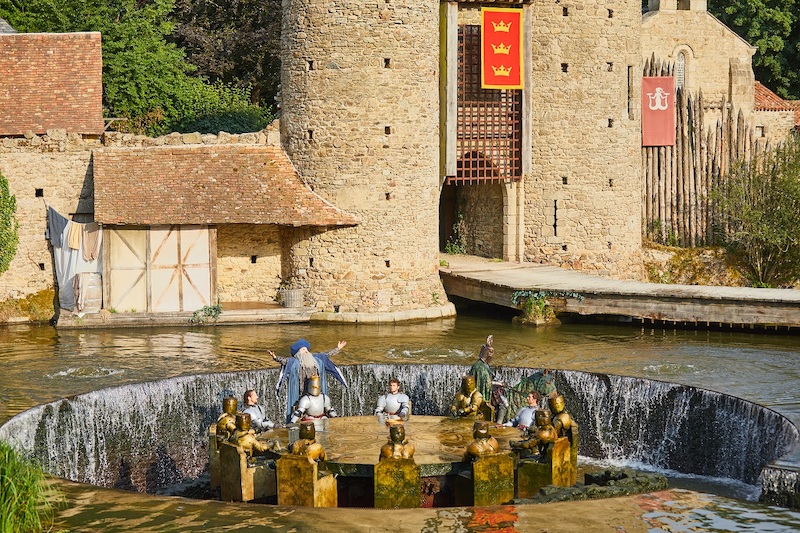 Mousquetaires de Richelieu
This show was absolutely mind-blowing for its size and spectacle. What starts as front of curtain performance with three characters, ends with a frankly giant indoor stage reveal that showcases horses, jesters, sword fights and flamenco dancers full of colour and action. If that wasn't enough, it gradually dawns on you that the stage is filling with water, with the entire cast drenched in water by the end of the performance. We were left wondering how they get everything dry again in time for the next show!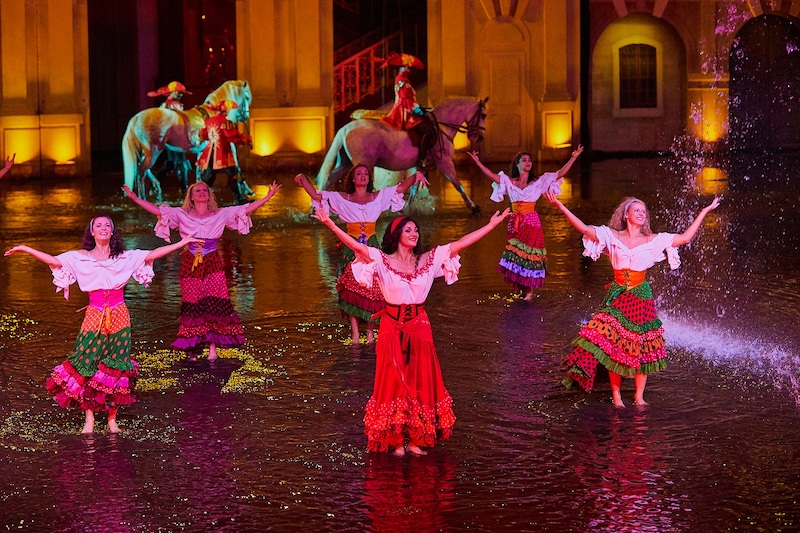 Puy du Fou Dernier Panache
We thought we'd grasped the extent of the spectacle after four shows, but Le Dernier Panache had even more tricks up its sleeve to astound us. It tells the full history of the area through multiple stage shows – each as impressive with special effects and sets as the last – by literally taking the audience to the stage each time. Once you're seated in the massive auditorium, the entire audience gets moved around the stages for each new chapter of the story. This time the stage floods with ocean waves – honestly I know you'll think I'm making it up at this point, because – how?!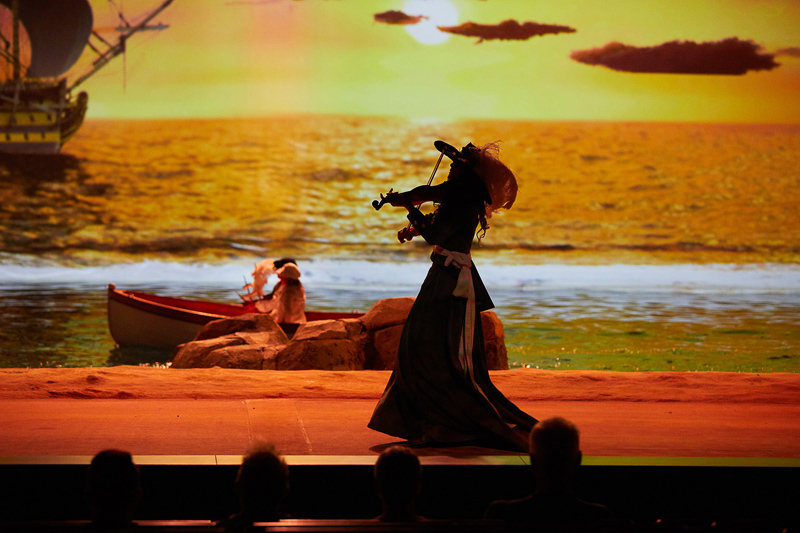 Le Signe du Triomphe
Probably the biggest of all the daytime shows at Puy du Fou, Le Signe du Triomphe takes place in a Roman amphitheatre, where gladiators are pitted against lions and tigers, and chariots race to victory, complete with incredible stunts. We didn't see this show on this visit as Maddie is uncomfortable with wild animals in performing roles, but I did write about it in my original Puy du Fou review, if you'd like to read more – it is one of the most impressive shows at the park.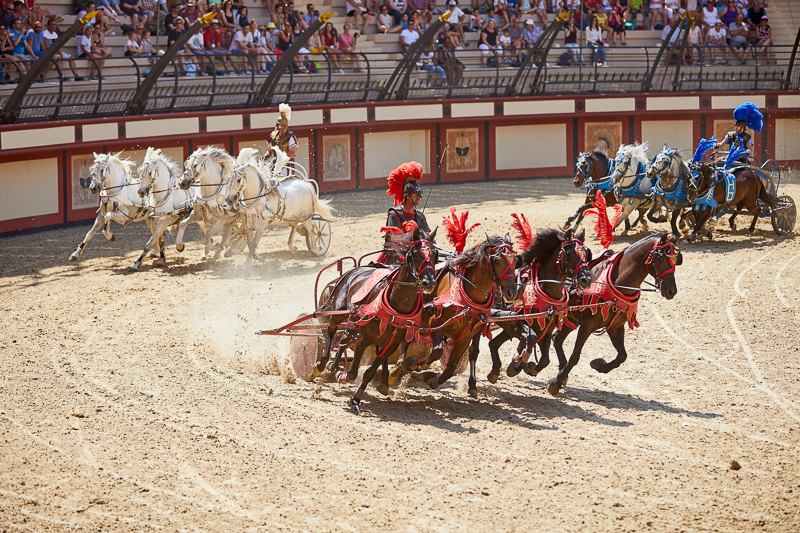 Night shows at Puy du Fou
The fun doesn't stop when dark descends. In fact the park's developers seem to have viewed the night as a challenge, and they've well and truly risen!
Puy du Fou Cinéscénie Puy du Fou night show
Of all the Puy du Fou reviews online everyone of them raves about Cinéscénie. If you're lucky enough to visit when this show is on it's a must. There's an extra cost, and it does have to be booked separately, but it's well worth it. Performed by more than 3000 actors and volunteers from the local area, plus hundreds of animals that know how to play dead and walk on water (not kidding), it's the biggest night time show in the world, and was where Puy du Fou began. Children from the local area grow up auditioning to be part of Cinéscénie and it's as much a part of the local calendar as it is a tourist attraction.
I'm not even going to try to describe Cinéscénie because it's not possible. It's the only thing I've seen that justifies the term "see it to believe it." I'm actually still not even sure I believe what I think I saw; that's how spectacular it is.
Les Noces de Feu
Brand new in 2021 Les Noces de Feu is a story of a wedding, complete with a horse-drawn carriage, an organ, piano and violins to dance to. So far so normal, but this show takes place on the lake, with performers emerging from underneath the water, seated at the piano, or dancing in fairy-lit dresses. Stunt performers emerge from the water on tall podiums, to dive off and back under to who knows where – we don't see them again once they're immersed! By this point I was so past the point of incredulity that nothing would have surprised me, but I was captivated by the beauty of the colour and lights nonetheless. The kids loved it too – a perfect ending to the day.
Puy du Fou facts
Are Puy du Fou shows in English?
All the shows last 20-40 minutes, and are repeated several times a day, so you'll have plenty of time to plan your itinerary and walk between the venues. The shows are in French (or Spanish if you're at Puy du Fou Toledo), but you can download the Puy du Fou app and listen to a translation in real time. Jason did that, and the kids started the same way, but soon gave up when they realised that the live action and music is enough of an experience without understanding the words of the actors.
Where is Puy du Fou France?
Puy du Fou is the perfect 2 day visit to make whilst staying on a longer holiday on the beaches of the Vendée, on France's western coast. Alternatively, it's an hours drive from Nantes airport, 4 hours from Paris and about a 3 hour drive from St Mâlo, so it's perfect to combine with a stay in Brittany. There are free car parks at the entrance to the park if you're staying off-site, and parking is free at the Puy du Fou hotels. There's also free day parking for camper vans, and water, electricity and waste disposal are available for overnight camping at a cost of €12.50 per night, so staying at Puy du Fou can be really affordable.
Puy du Fou in Google maps:
Is Puy du Fou all-inclusive?
Once you've paid the entrance fee to the park all the shows are included, no matter how many times you see them. The only extras are food from the various kiosks and restaurants, and the hotels if you're staying overnight. One thing to note when you're planning your Puy du Fou itinerary is that the show times vary every day, so you'll need to pick up a new Puy du Fou map every morning showing the times for that day.
When is the best time to visit Puy du Fou?
Puy du Fou is open from April to November, but if you want to see Cinéscénie you'll need to pick your times carefully, as it only runs during the summer months, and then only on some weekends. Check the website to see Puy du Fou availability and book. The park opens at 9.30am and closes at 22.30, except on Cinéscénie nights, when it closes at 19.00. If you're combining your visit with a longer holiday in the Vendée or Brittany you might also want to consider the weather. Whilst it can be hot in the summer it's unpredictable, and you should expect fairly British weather outside of high season. Shows go ahead whatever the weather, and you can buy Puy du Fou rain ponchos (really good ones!) for a sensible price, so don't let that put you off.
How much does Puy du Fou cost?
Booking in advance will save you up to 15%, with 2022 tickets starting at €39.00 for a day's visit. There are reduced prices for children under 13, while children under 3 go free. Cinéscénie is an additional €29, though there are reductions for buying both together, and discounts on a large family pass. Check the Puy du Fou website for up to date prices.
Puy du Fou Hotels
There are six hotels at Puy du Fou France, each designed distinctively to represent a period of the parc's medieval history. You'll find every quirky style you could imagine, from the grandeur of castles to a royal 'campsite.'
Whichever hotel you choose, you'll find the Puy du Fou accommodation largely similar, with plenty of space, an en-suite shower and bathroom, and separate toilet.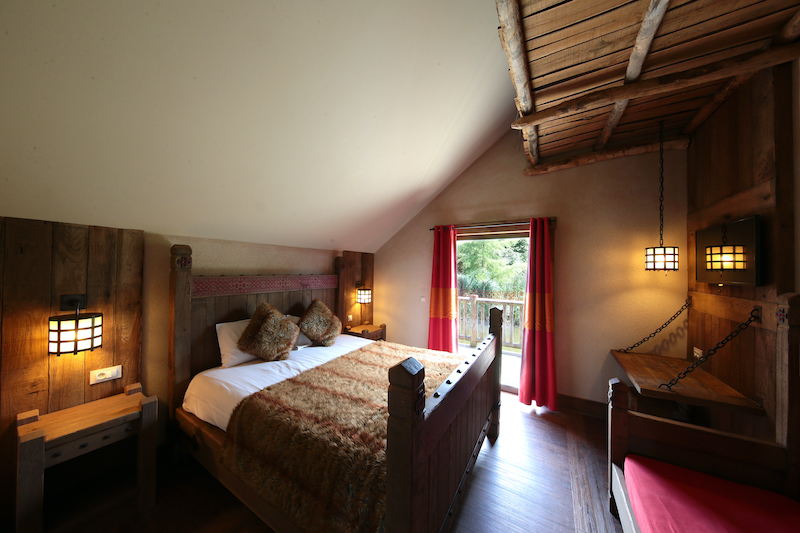 We stayed at Les Iles de Clovis, a Viking themed village of huts over the water. Just two minutes walk from the park, it was a very peaceful location, with everything we needed for an overnight stay, including a buffet style restaurant for dinner and breakfast. The rooms are very comfortable, with a large double bed, and solid bunks that would easily sleep an adult, separated from the main room by a curtain. There's no noise coming from rooms either side, so we all slept very well indeed.
You can also choose to stay in the grandeur of a chateau in the style of Louis XIV at Le Grand Siècle, around the Mediterranean gardens of La Villa Gallo Roman, in the fortress of La Citadelle, or in one of the plush suites of the Logis de Lescure. Rooms range from €69 per person per night to €80, depending where you stay.
Where to eat at Puy du Fou
Puy du Fou restaurants
All of the hotels feature their own distinctive style restaurants. Most are buffet style, with L'Atrium providing table service. It's worth eating in your hotel restaurant for one night, but if you're there for two, definitely venture out to visit one of the standalone restaurants on the park, or even take in the dinner show at Café de Madelon. You can find out more about this, and other park restaurants in my original review of Puy du Fou.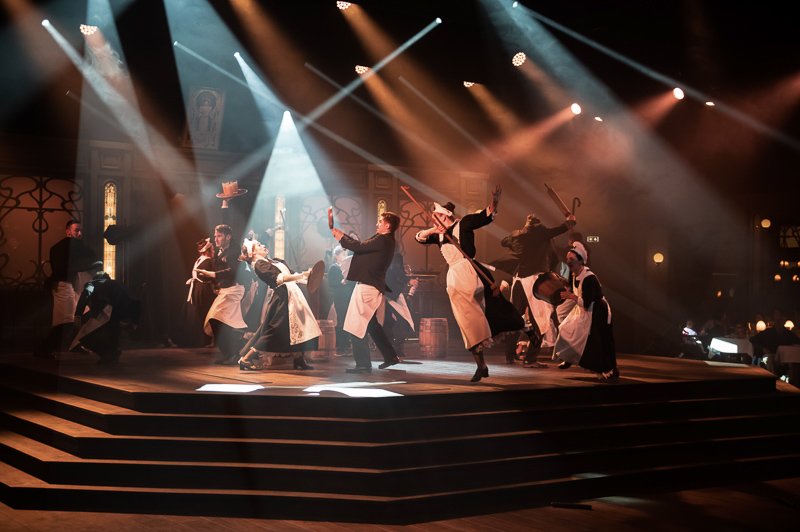 Puy du Fou takeaways and cafés
There are plenty of less formal places to eat around the park, including the best veggie burger my daughter has ever eaten at the Rendez-vous de Ventre Faims, in the old forest area. There's also a rotisserie, a panini shop, waffle stops, and lots of venues offering various local specialities. I'd advise wandering and taking your fancy as you go.
There's also no restriction on what food you can bring into the park, so if you wanted to reduce costs you can bring a picnic for both lunch and evening. There's nowhere on site to refill water bottles, but if you do choose to eat at one of the restaurants you'll get water on your table so you can refill from there.
More Puy du Fou reviews
These Puy du Fou reviews are also worth looking at for more on taking younger children, and tips to make the most of your time there. These bloggers all have children of different ages, so they will help with your research: