Advertorial content: we were gifted accommodation and travel to Domaine des Ormes by Al Fresco and P&O ferries. All other costs were met by us. Words and images are all our own. This post contains affiliate links, which means I may make a small commission. There is no additional cost to you.
Last October half term holidays we did a family trip with Al Fresco Holidays to Domaine des Ormes, a camping parc in Brittany, northern France. We do a lot of these kind of trips with the kids, and we've found they're ideal for any age. When they were little they loved the parcs with pool slides and aqua parks, and now they're older they're able to take advantage of the more adventurous activities. Plus, teenagers are great company, and aren't averse to a bit of sightseeing, so I thought this time I'd write about all the things we were able to see and do in Brittany using Domaine des Ormes as our base.
First though, a shout out to Domaine des Ormes itself: given that this was northern France in October we weren't hopeful of good weather, so it was important to us that we were somewhere that didn't rely on sunshine and 30 degree heat. We usually go to the south of France to guarantee weather – even in the summer – so we knew not to count on it. Domaine des Ormes didn't disappoint. Read on for all the things to do on-site, as well as off!
Things to do at Domaine des Ormes
High ropes and zip wire: if you've ever been to Go Ape in England this is the kind of experience you'll get at Domaine des Ormes. If your kids love climbing, zip wires and daredevil balancing they will love a session on the parc's high ropes. We saw lots of people up high in the trees and it looked like it would tick lots of boxes for kids and adults alike.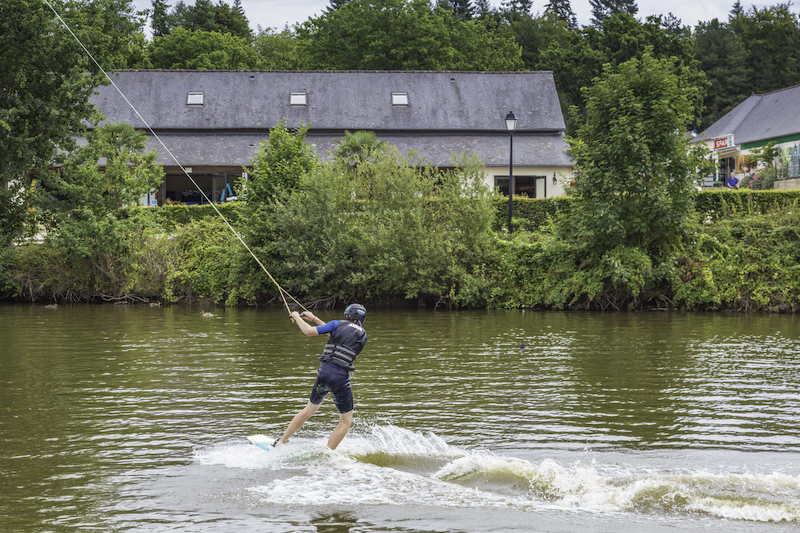 Wakeboarding: the cable tow at Domaine des Ormes means teens can get the thrill of wakeboarding or water skiing without needing a boat. Wetsuits are available for hire and the lake is really clean.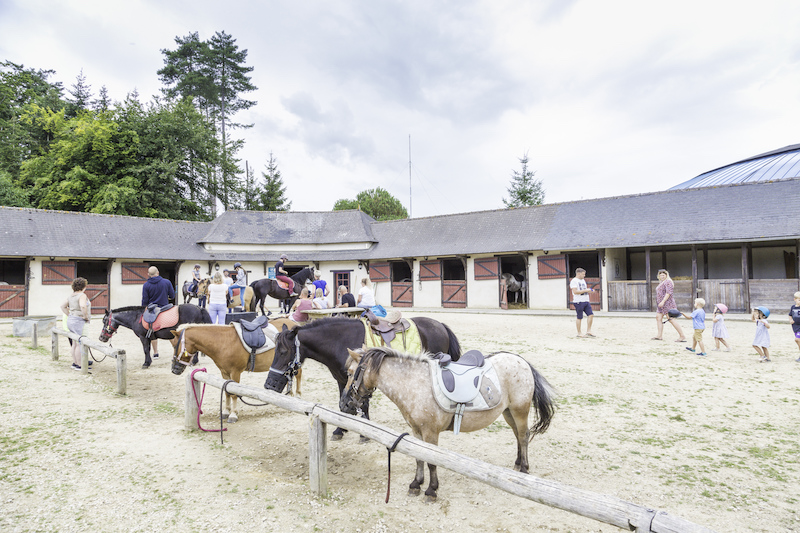 Pony rides: there are ponies and horses of different sizes at Domaine des Ormes, capable of taking any age of child for a ride. Lessons are available, or your child can spend time just enjoying the feeling of a walk on four hooves!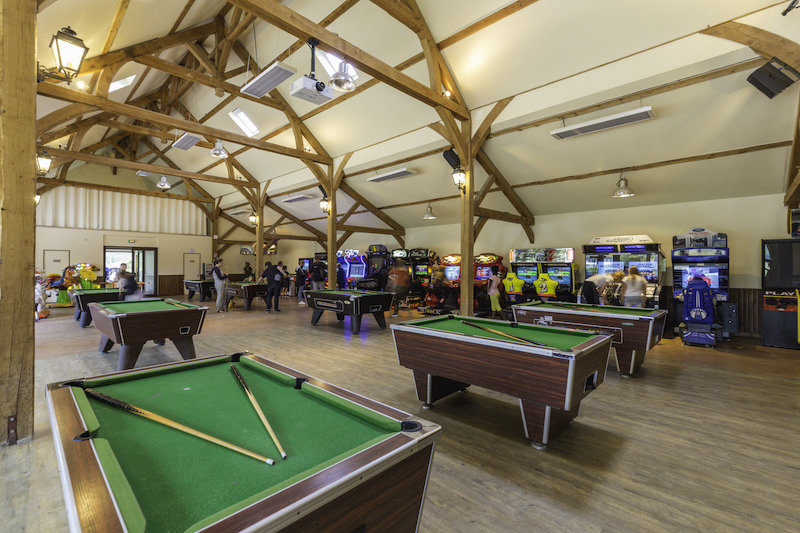 The games room: the games room at Domaine des Ormes is the perfect place for teenagers to hang out away from their parents. Safe, you know where they are, and they get some freedom, it's ideal for families with older children
In addition the parc has am 18 hole, par 72 golf course, a driving range, and a fishing lake, so if your teenager has a golf or fishing interest they are likely to find plenty to occupy their time at Domaine des Ormes.
Boating on the lake: there's a really big lake at Domaine des Ormes, so as well as the fishing there's plenty of space for guests to take out one of the colourful pedalos.
Swimming pools at Domaine des Ormes
We knew that Brittany needed indoor pools to enjoy, especially outside the summer season. This was one of my top concerns when we booked with Al Fresco and I was completely reassured. And let me reassure you too – the pool complex at Domaine des Ormes is spectacular. The Dome has been recently renovated and it's nothing short of majestic.
With a wave pool that operates on the hour, a lazy river that encompasses an outdoor section, a splash park for toddlers, and slides, jets and fountains, we could easily have spent several days just chilling out amongst the gorgeous indoor palms whilst our 14 year old kept himself busy in the water.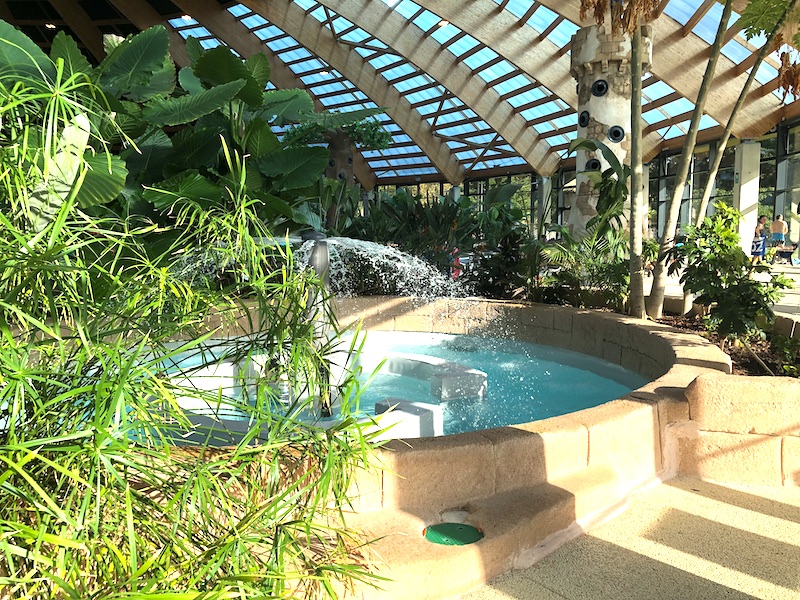 Whilst the Dome would suffice all year round, in high season there's also an outdoor pool complex, with toddler pools and an aqua park that's perfect for those wanting to catch some sun rays.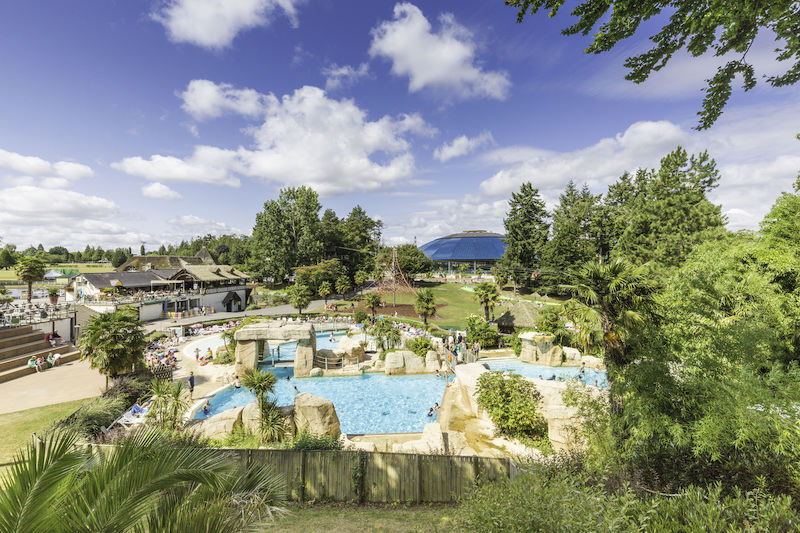 There are also two pools available at the golf clubhouse and restaurant that are also available to guests, so if you're the type of holidayer who loves to do a few laps away from the younger swimmers (ahem) these are perfect for you.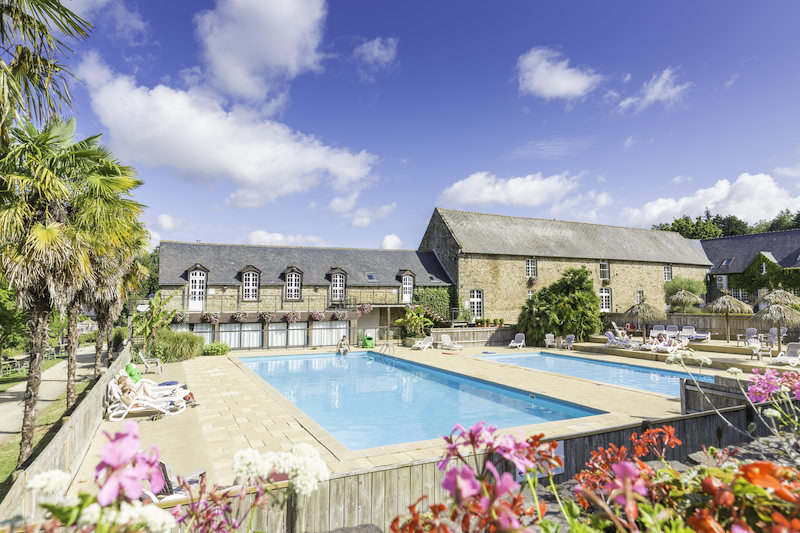 Food at Domaine des Ormes
Talking of the clubhouse, there's a very good restaurant there which is lovely for a treat. The prices are reasonable for the type of venue, and although it's quite meat heavy (to be expected in France!) the traditional dishes really do give you a flavour of good French cuisine. You'll need to book in advance for this, and your Al Fresco rep can organise that for you at the main reception.
There's also a really good pizzeria serving various takeaway items as well as delicious pizzas to take back to your lodge or mobile home. It's right next to the bar, which overlooks the outdoor pools, lake and play equipment, so it's the best place to stop and grab dinner after a long day of enjoying the parc.
And close to the clubhouse you'll find the on-site shop, which stocks the basics, as well as fresh bakery for breakfast every morning. We'd recommend a trip out early on in your stay to the Super U in Dol de Bretagne. We've found that not only does a hypermarket trip stock you for the week, it's also a day out in itself! The kids always find dozens of things that aren't available in the UK to make their holiday even more fun – it can't be just our family that has Spiderman glasses that once contained mustard, surely?
Places to visit from Domaine des Ormes
Talking of which, we had some fantastic day trips using Domaine des Ormes as our base. If you're staying on the site there's lots to do, but you'll really benefit from hiring a car to make the most of the region. We recommend Discover Cars for affordable car hire in France.
St Mâlo
St Mâlo is the main port of Brittany, and as you'd expect, it's full of boats, and the port is busy with ships. That doesn't detract from its charm though, especially because the town is walled, so the majority of its shops and restaurants are inside the gates. We adored it for its classic French charm and cobbled streets, pretty bars and gorgeous food. If you visit you must try the Grand Mère Augustine for hearty Brittany specialities like galette, every variety of crêpe, and tasty moule frîtes. Their hospitality was wonderful, and the menu coped well with a vegetarian, which is no mean feat in meat-loving France!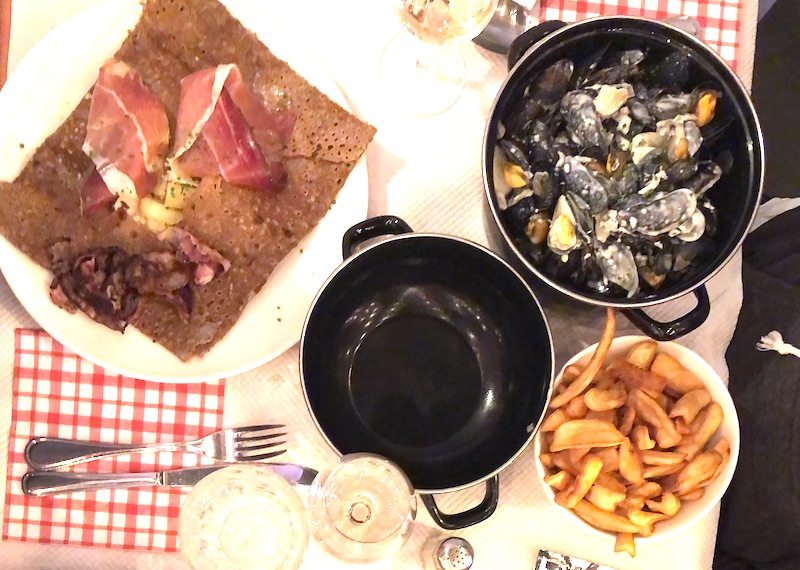 Whilst there you will see plenty of patisseries selling the local speciality Kouign Annam. I have one piece of advice here. Buy it. Buy the biggest one you can and eat it for dessert, with leftovers for breakfast the next day. I googled it and came up with something that sounded like flaky pastry steamed in butter and syrup, and even that description doesn't do it justice. Not good for your heart, but very good for a soul on holiday!
Surprisingly for a port city, the beach at St Mâlo is lovely and sandy. With rock pools dotted around the bay it's perfect for families who like to discover the wildlife but also good enough to enjoy a swim and hang out on the sand. We did a blustery walk around the city ramparts, but on a hot day I'd gladly spend a few hours enjoying the beach and the views.
There's plenty of parking in the public car parks, with reasonable prices, just a short walk from the centre. If you go on a Sunday parking is free all day.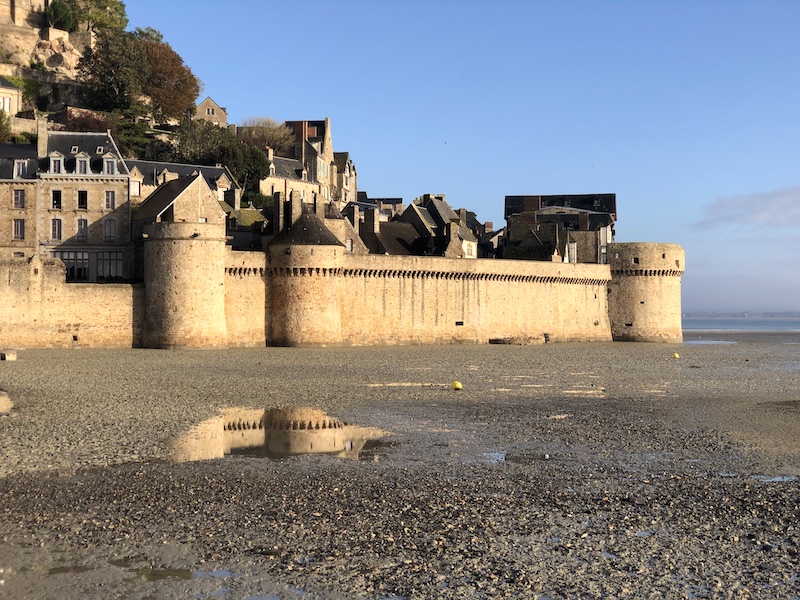 Le Mont St Michel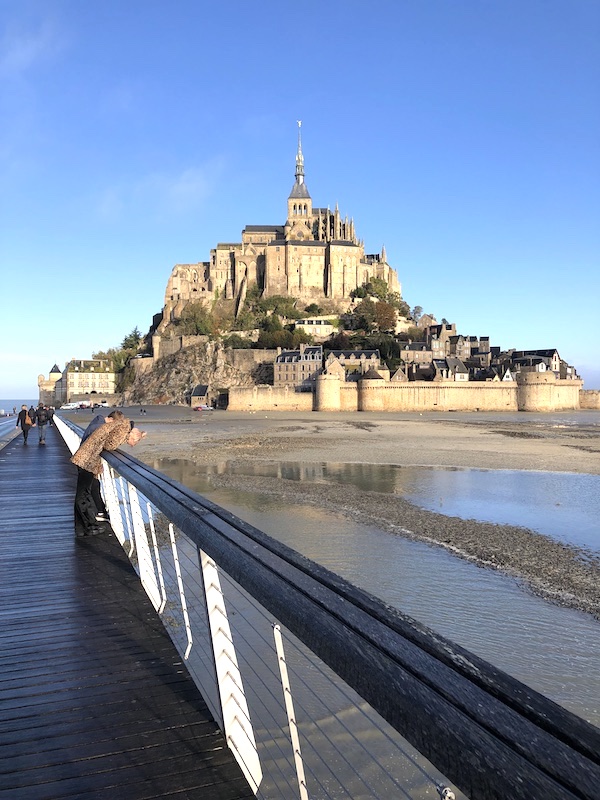 Rising out of the sea, Le Mont St Michel is the most touristy place you'll visit in Brittany or Normandy, but it's worth the trip, even with teenagers. You'll need to park outside the city, where you can catch a very efficient shuttle bus directly to the city, or hop off at the boardwalk and take in the lovely views as you walk towards the island. Topped by its imposing abbey, it's quite a site!
Once there, you'll walk through the winding streets full of overpriced shops (don't be tempted!) and up countless steps to the top, stopping to discover the history of the monks who built the abbey along the way. You'll need a ticket to enter the abbey, and I'd say it's worth it, just to soak up the atmosphere – and to catch your breath before the descent! Then you'll wind your way back down, and around the ramparts before stopping for a Formule or Plat du Jour in one of the pretty restaurants overlooking the bay.
We found that Le Mont St Michel is perfect for a morning visit, leaving us plenty of time to come back to Domaine des Ormes for a swim before dinner in our mobile home.
A day out in Dinan
Dinan is one of the prettiest towns in Brittany, with charming cobbled streets winding down to a picturesque port lined with restaurants, art galleries and craft shops. You can walk the length of its 1.8km ramparts, starting from the 13th century castle, and if you're there in July you can join in with the Fête des Remparts – that's how important these well-preserved walls are to the people who live here!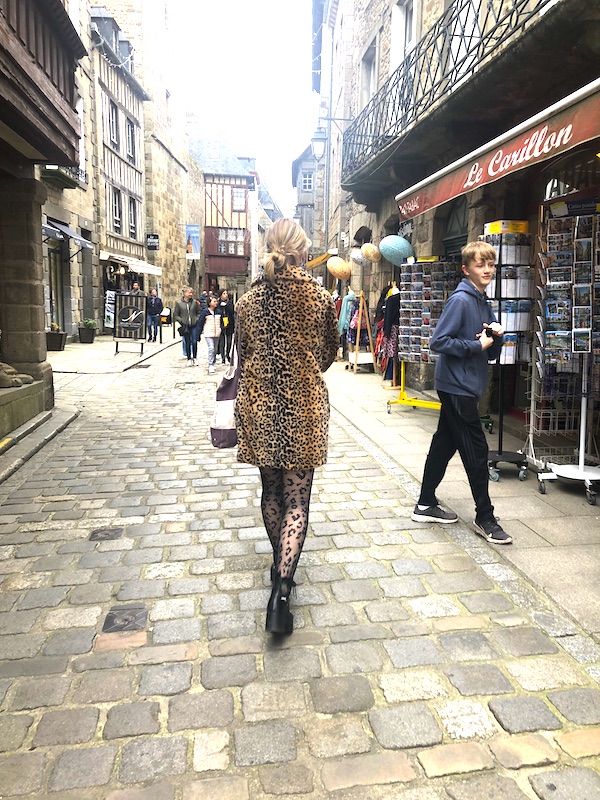 Thursday mornings are a good time to visit, as there's a market at the Place de Guesclin, but you'll find it easy to while away a few hours just wandering the streets and popping in and out of shops. Don't miss the pedestrianised Rue de la Cordonnerie, also known as 'thirsty street' because of its nine bars!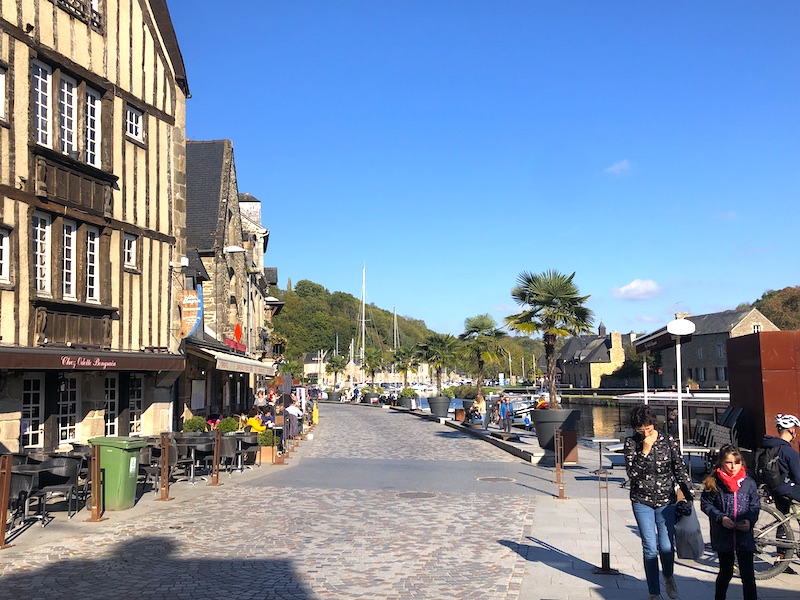 Visit Puy du Fou
Puy du Fou is a two and a half hour drive from Domaine des Ormes, which makes it a perfect trip whilst staying in Brittany. You can't do it justice in a day though, so book an overnight stay in one of their quirky hotel rooms to get the most value out of your time. We set off from Domaine des Ormes at 7am mid-week during our stay, and came back in time for dinner the following evening. It was the perfect trip using the parc as our base.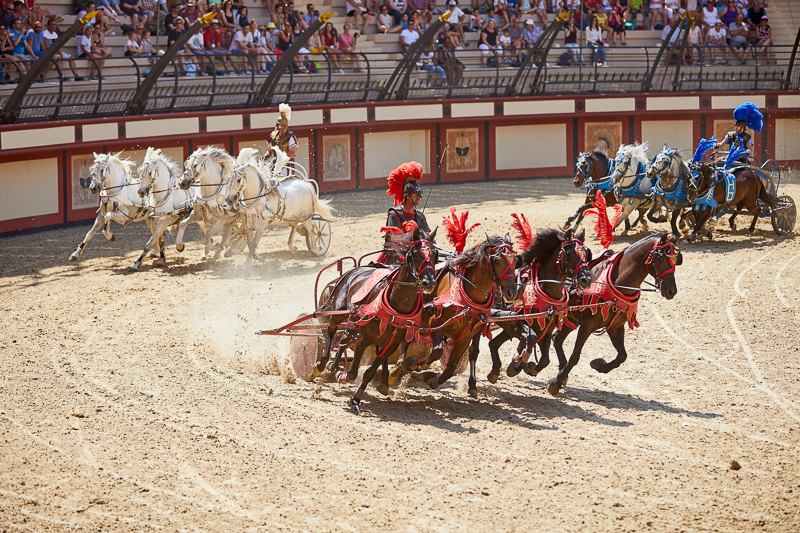 Puy du Fou has been voted the number one attraction in Europe and there are SO many reasons why. This medieval theme park has no rides, which initially gave my teenagers some concerns, but tell your kids to have faith! The 26 live shows depicting this period of history in France are quite literally jaw-dropping, and no description will ever do it justice. I've tried in this review of Puy du Fou France (there's another park in Spain), in case you want to find out more, and I've also written this 2 day itinerary for Puy du Fou with teens.
Travel to Domaine des Ormes
Here's where location is everything. When we travel for our usual summer parc holiday in France we have to stay over en-route. It's a 14 hour drive even for us in the south of England. The bonus of Brittany is that we could take a P&O ferry from Calais (1.5 hours) and then it was a 5 hour drive to our site. We were relaxing with a glass of wine before dinnertime, and able to grab one of the parc's delicious pizzas for dinner, without feeling like it had been an arduous day. If you can travel from St Malo, even better: it's a longer ferry trip, but you can book an overnight cabin, and be at your site in time for a late breakfast.
Staying at Domaine des Ormes during Covid travel restrictions
The Al Fresco staff couldn't have been more welcoming, and there was always someone available to help us with restaurant bookings, or information on the local area. The Domaine des Ormes staff were really helpful too and all spoke English, which was reassuring for me when I needed help with my 14-year-old's Covid tests. I'd been quite stressed about making sure we met all the requirements, but the Al Fresco team guided me through the tests and forms I needed to complete both to leave the UK, and get through French customs. Once in France Evan – who'd only had one vaccine at the time – needed to complete a Covid test every 72 hours in order to be able to enter restaurants and other public attractions. I had thought this would be stressful, but in the event the Al Fresco team, and the staff at the Domaine des Ormes reception helped me make sense of all the necessary bookings, and everything went smoothly.
I'm also really impressed with Al Fresco's Covid promise, which gives really good last-minute flexibility at no extra cost.
What I would say is that you really do need a car to allow you the freedom and flexibility of where to go for a test. However, we were told that had we stayed on the parc, Domaine des Ormes didn't require us to take any extra tests whilst we were in France. All in all, a stress free half term holiday that was much needed after 2 years without a good break.
BOOK DOMAINE DES ORMES WITH AL FRESCO HOLIDAYS
Al Fresco Holidays offers a seven-night holiday at Domaine des Ormes on the 7th May 2022 from £229.60 (discounted from £284.20) and based on a family of up to seven sharing a two bedroom Comfort mobile home. (OFF PEAK)*
Al Fresco Holidays offers a seven-night holiday at Domaine des Ormes on the 13th August 2022 from £1600.55 (discounted from £1684.20) and based on a family of up to seven sharing a two bedroom Comfort mobile home. (PEAK)*
*See terms and conditions
All parks have a range of entertainment and facilities. Travel by ferry or flights can also be arranged by Al Fresco Holidays.
For more information or to help find the perfect park and to book, please visit www.alfresco-holidays.com or call 0161 332 8900
Al Fresco Holidays is one of the largest mobile home operators in the UK, with over 17 years' experience as European specialists in mobile-home holidays, offering a wide range of the best quality 3-5 star camping resorts.
Park Introduction
DISCOVER THE BEST OF BRITTANY FROM THIS LIVELY SITE
This exceptional, well established park is set within picturesque 18th century château grounds for an authentic Brittany stay. A wide range of sports activities and facilities are expertly placed within the traditional grounds, including bars, restaurants and a nightclub alongside a fantastic animation programme. Domaine des Ormes' main draw is its fantastic dome-covered indoor waterpark and outdoor pools, featuring a wave pool, lazy river, water slides and Jacuzzi – making for memorable family-friendly pool days.
You can find out more, and book with Al Fresco Holidays below: