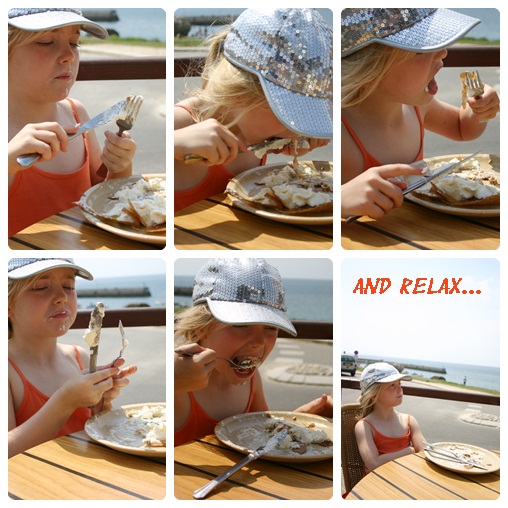 Devouring a plate of "Citron Chantilly" (that's lemon and sweet whipped cream to the likes of you and me) didn't take me long, and the Bug wolfed down his Apple and Caramel version with equal gusto. But whilst M&D enjoyed their savoury versions (galettes, if you need to know) they marvelled at the 199 possible compositions of this mealtime staple and dessert treat of Brittany on offer at the Crêperie Mariniere in Trévignon.
But the food in Brittany is not just about these gorgeous pancake confections. Oh no no no no noooo…… There is more! And here is just a taste:
Moules-frites and Fondue washed down with Brittany cider. The most dazzling array of ice-creams you've ever seen. And every flavour of precious Macarons. It's a wonder Mummy came home at all!
Disclosure – we consumed all this lush fayre whilst on our Siblu holiday. Siblu sent us on a holiday to Domaine de Kerlann in Brittany for the purposes of review, but our appreciation of French food is totally unbiased!