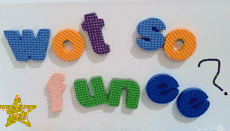 This week Wot So Funee? is all about spelling in the Actually Mummy household; specifically, the differences in ability between me and the Bug at our different stages of the literacy journey. It is also Mummy's first attempt at a Vlog, which is quite funny in itself! Spot the edits 😉
Now Mummy tells me that I was equally as bad at putting together words when I was the Bug's age, but I find that difficult to believe, don't you?
Now go ahead and link up your own #funee posts with the linky tool below. Then go visit the other entries and share the giggles! Steal my badge, and leave me a comment after you have linked. If you're new here check out the Wot So Funee? main page then come back and join in the fun! I love you all!
Powered by Linky Tools
Click here to enter your link and view this Linky Tools list…
Please don't feel compelled to Vlog yourselves (although if you do there is an excellent 'how-to-Vlog' post at Mammasaurus).