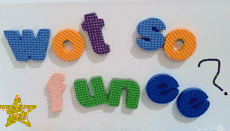 This week Wot So Funee? is on it's travels to the lovely blog of Jenny Matlock who asks us to choose something to represent a letter of the alphabet. Good job today wasn't F or we would have been mainly giggling at the Bug! No, today's letter is H. "Wot is funee about the letter H?" we asked ourselves. Then we remembered the Black Hole. So for us:
H is for hole
If you have not read the story of the black hole, take a look (it is quite possible that it is the funeeist post I have ever written), but it boils down to a bad dream the Bug once had, about being chased by a black hole. Mummy always helps us create an alternative image of really bad dreams so that they don't bother us again. I filled the Bug's black hole with candy floss, hence the pink: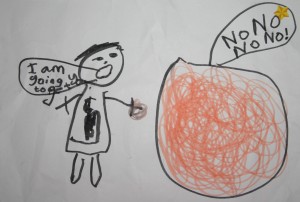 That black hole scarpered and was never seen round our way again. You got any dreams that need turning around? Just email me and I will sort them out for you and post your picture up here. Guaranteed or your virtual money back 😉
Now, for those of you wanting a Bugism, here's a quick #funee before we go. Often in shops the Bug is entranced by all the colourful things that just have to be touched. This happened the other day:
Bug: Ooohhhh I looooove those Mummy!
Mummy: Really? What are they?
Bug: I dunno……
So H is also for Huh?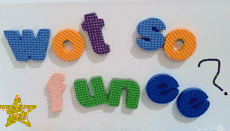 If you would like to join me in a funny post link yours up by clicking on the linky tool below. Steal my badge, and visit some more #funee bloggers. If you're new here check out the Wot So Funee? main page for more details on how to join in. Feel free to add any funny post you want to share. Just include a link back to this post or paste the #funee badge into your own.
Click here to enter your link and view this Linky Tools list…
I am also linking this post to Mummy Mummy Mum's Friday Funny.