Working from home is my comfortable place. I'm an introvert; I may put myself out there in bright colours, and I'm not afraid of the limelight, but deep down I get my energy from quiet time alone. So lockdown should be my friend, right?
Well, sort of. I loved the first lockdown – time with my family, space to really think about my business and plan the big changes I'd been putting off for decades. But now we're onto lockdown 3 the joy of that time has worn of and honestly? I'm bored.
What I do when I'm bored
Do you ever find yourself scrolling at the end of the day without an objective other than to change the scenario? I seem to make it till 4pm at my desk and then lose my focus. Which is when I dive into Instagram and start daydreaming about the beautiful beaches I'll laze on when we're allowed to travel again.
There's been a lot of travel daydreaming recently. I've made a travel bucket list on Pinterest and it's growing daily as I swoon over pretty plazas and turquoise seas. More realistically, I've also signed up to waiting lists for hot tubs to install in my back garden. Both my next door neighbours have one and I'm feeling left out, but they're never in stock when I look – I think it must have been the top purchase of 2020!
Why Lottoland is my new guilty pleasure
All of these things will cost me money, so aside from working as hard as I can around my family commitments, I've taken to daydreaming about what I would buy if I won the Lottery.
I've been playing the Lotto on Lottoland recently, and although I call it my guilty pleasure there's really no guilt involved. I'm one of those people who doesn't like spending significant amounts of money unless I really have to, especially since lockdown has hit our finances. And so my hot tub goals stay firmly in my dreams.
Until now? With Lottoland you get 5 chances to win £1 million for just £1 spend. That's 5 chances to be a millionaire every week, for £1 a week – for me it's a no-brainer. I never assume I'll win the lottery, but if I can give myself 5 chances a week in return for a coin that's hanging around in my pocket then it's got to be worth a try, right?
So what would I buy if I won the Lottery?
Gorgeous holidays and lesser-spotted hot tubs are top of the list, clearly, but here's what I'd treat myself to if I didn't have to consider a budget:
1. A new kitchen and bathrooms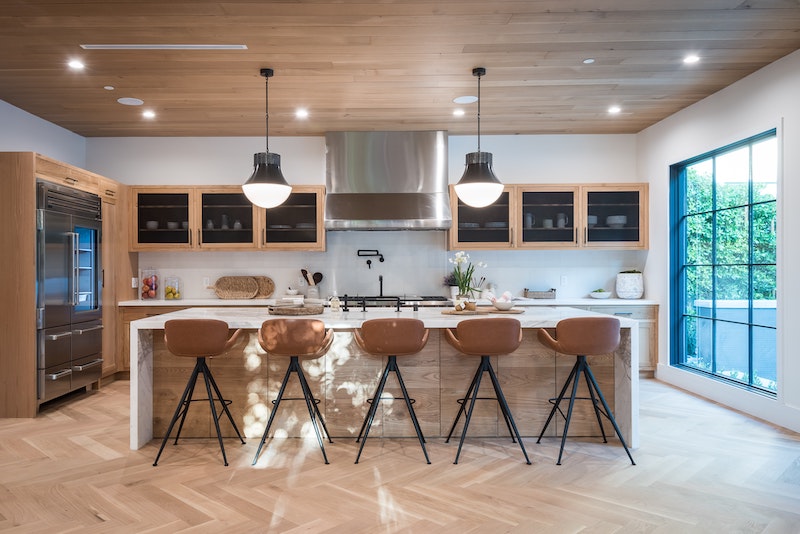 Photo by Watermark Designs on Unsplash
We've been in our home for nearly 12 years now. I'm happy in it – it's where I raised my children, it's opposite a brilliant school, and we have brilliant neighbours (apart from them snapping up the last hot tubs of 2020). But it's jaded. A 12 year old kitchen unit starts to look drab, and the shower valves are stuck on 'warm.' Thanks limescale.
I want something elegant, with lots of space, and bifold doors opening onto a deck. In fact, I might blow the whole budget and do an extension!
2. A summer house
Our garden is a bit of a mess. In my dreams I'd like to overhaul the whole thing, but top priority would be a garden room where I could work. I work from home even out of lockdown, but it would be nice to feel like I was leaving the house to 'go to work,' and locking up to come home each evening. Perhaps then I'd actually stop work instead of allowing it to bleed in to my evening.
I wouldn't be greedy with my new summer house though. I'd kit it out with a TV and gaming station, a sofa bed and maybe even a pool table. Kids get bigger and so do their mates, so it would be nice to have a space for the teens to hangout in that's away from me, but close enough to keep an eye on.
If you know, you know…
3. Shoes
My mum tells a story about how she left me outside the curtain of her changing room when she was trying on a dress in a shop. When she emerged, it was to find 4 year old me proudly stomping around the shop in another woman's high-heeled shoes.
I've had the same obsession ever since. My mum always bought me Hush Puppies (good for my feet apparently). So when she went on a weekend trip and left me with my dad, I took him shopping and convinced him to buy me kitten heels. Dads stand no chance with their daughters, so I ended up with not only the blue suede shoes of my dreams, but also a pink mini kilt and knee-high pink socks to match. In my defence, it was the eighties.
4. A walk-in wardrobe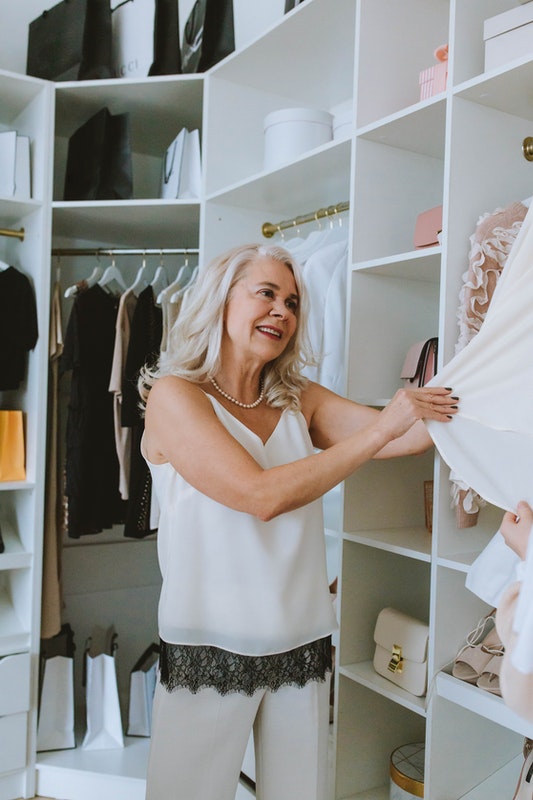 Photo by Anastasia Shuraeva from Pexels
For the shoes, mainly. Remember Carrie in Sex and the City, when Big builds her the giant shoe closet? That scene is etched on my memory, and will be until I have one just like it. Full of shoes. I don't think I'm alone in this daydream…
5. A retirement home
I nearly said holiday home, because my dream space is on the beach, but it would be more than that. It's where I want to live as I grow old. I can picture it in minute detail. It's sleek and modern, with a glossy, elegant kitchen diner, and a living space that opens onto a massive deck. Which is where my hot tub is, obviously.
I'll spend my days sipping Pump Street hot chocolate or Sauvignon Blanc in between long walks on the beach with my dogs (also an expensive purchase – honestly if you could see our vet bills right now your eyes would water!)
It's a goal I've had ever since I did a vision board workshop. Every magazine image I ripped out to stick on my board painted this picture in very clear terms, so I'm thinking it's the most likely of my dreams to actually happen – even if I don't win the lottery.
An introvert's bucket list
Looking back at my list, my first statement jumps out as the truth. All of these dreams are about creating my ideal space at home. (Well, maybe not the shoes, but seriously, I could happily sit in my shoe closet and play with my shoe collection – it's not about taking them out!)
And there's my daydreaming done for today. It feels good to get it all down in black and white – maybe that's how it will eventually come true?
What do you do to fight boredom at home? I'd love to hear what you daydream about.