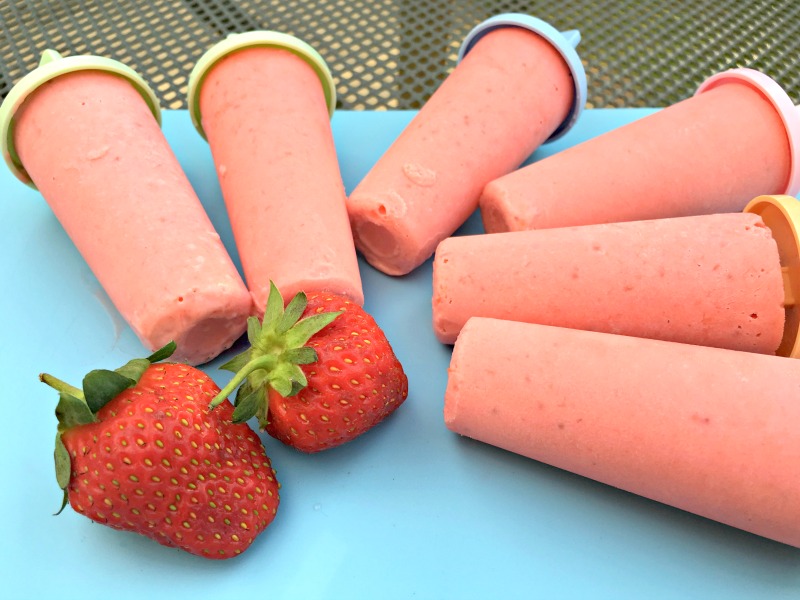 Early in the summer, during the strawberry season, we tend to pick a lot of strawberries. Mostly because English strawberries have an awesome flavour in the summer – nothing like the imported varieties we eat year round. My youngest actually commented over breakfast one morning that one particular specimen was the best strawberry he'd ever tasted! Inevitably though, we get a bit carried away in our quest for ever more perfect strawberries, and come home from the fruit farm laden with more fruit than we could ever eat in the time it stays fresh. Which is where the freezer comes in. We've made strawberry mojito sorbet, and created a frozen strawberry mocktail with berries slightly too soft to enjoy on their own. But we still had some left over, and no patience for jam, so strawberry ice lollies were next on the list.
Strawberry Ice Lollies Recipe
A classic mocktail take on the strawberry ice lolly
These frozen treats are delicious, and make a much healthier strawberry dessert for kids than all the commercial ice lollies, due to the addition of puréed fruit. We experimented with the quantities of sugar, and added some cream for a fuller taste (if you need a lower fat version try this BBC Good Food recipe). If you wanted to add a little rum for the adults that would work, for an authentic strawberry colada flavour – just make sure you know which is which before you serve them!
Strawberry Colada Ice Lollies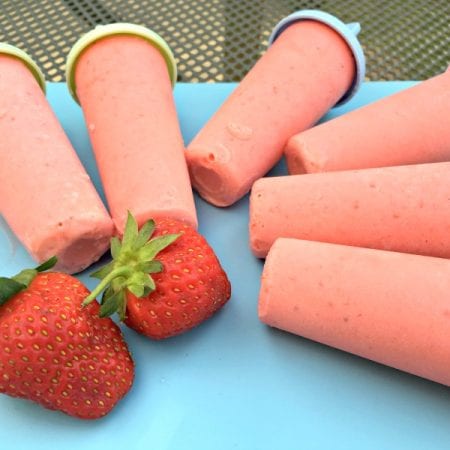 Creamy Strawberry Colada Mocktail Ice Lollies
A luxurious frozen dessert take on a classic strawberry mocktail
Ingredients
450

g

ripe strawberries

hulled

100

ml

coconut cream

200

ml

double cream

50

g

icing sugar

juice of half a lime
Instructions
Put all the ingredients into a blender and whizz to a smooth puree.

Optional: push through a sieve to remove strawberry seeds

Pour mixture into lolly moulds (makes around 10 lollies)

Freeze for at least 2 hours

When ready serve, run mould briefly under a hot tap to loosen.
More quick and easy frozen dessert recipes
Check out our other ice-cream recipe treats; we have lemon meringue, salted caramel Twix, passion fruit and white chocolate, and a yummy banana ice-lolly with chunks of Crunchie bar! And if you still have leftover strawberries, you'll find more strawberry ideas here.
PIN FOR LATER