After loving our Strawberry Mojito mocktails, I got a bit excited about what else I could do with the recipe. We may have been a bit over zealous at our local fruit farm this week, and had rather a glut of gorgeous strawberries beginning to soften in the fridge. So, never one to waste food, and bearing in mind that July is national ice cream month, I had the idea for a strawberry mojito sorbet.
We have the Smart Scoop ice cream maker from Sage by Heston Blumenthal, and we've made loads of lovely ice cream recipes, but I'd never tried sorbet in it. It's probably me, but whenever I've tried to make sorbets in the past, it's always turned out crunchy and icy. The Smart Scoop comes with some suggested recipes, so I decided to adapt the instructions for a basic sorbet and turn it into an iced mocktail!
Now, if you've made sorbet, you'll know that it usually contains egg white, and most of the Sage recipes are based on this method. But Heston's recipe uses fruit sugar instead, using it to boil up a syrup, and adding just puréed strawberries and some vodka. Obviously, I wanted a non-alcoholic sorbet, so I went with the mojito twist and substituted the juice of half a lime. But – and don't anyone tell Heston this – I totally failed to read the recipe, and missed that I had to turn the fructose into a syrup. I'm ashamed to admit I just whizzed up my strawberries, lime juice and sugar in the blender with a few mint leaves, and stuck it all in the Smart Scoop. I'm delighted to confirm it worked!
So, here's the recipe for the easiest sorbet you'll ever make – and possibly the most delicious!
Strawberry Mojito Sorbet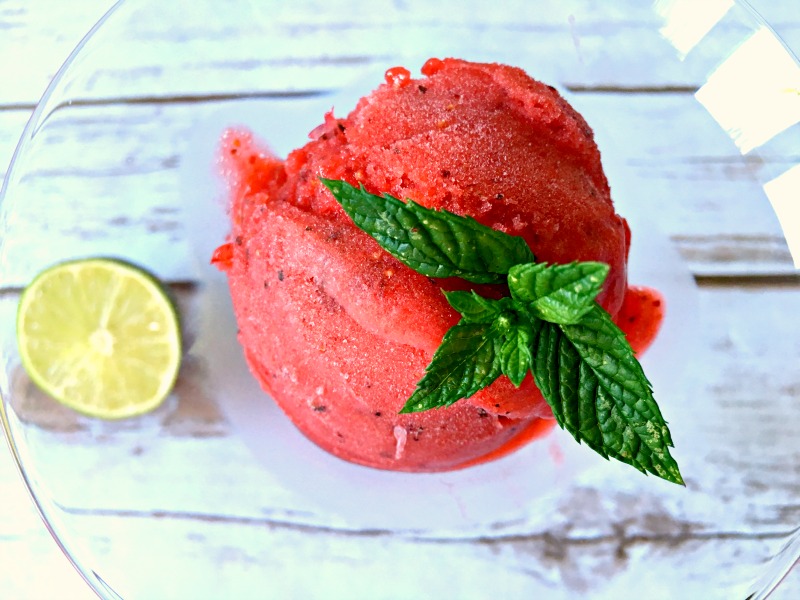 Strawberry Mojito Sorbet
A delicious frozen take on the classic cocktail - perfect for summer desserts.
Author:
Actually Mummy...
Ingredients
100g fructose
300g very ripe strawberries
leaves from 2 sprigs of mint
juice of half a lime
Instructions
Blend the strawberries with the lime, mint and fruit sugar to a puree
Pour into your ice cream maker and set to a soft sorbet
When the cycle finishes, spoon the mix into a plastic container and freeze for at least 2 hours before serving
Remove from freezer for 10 minutes before serving
It really is amazing – creamy and smooth, but tangy and refreshing. And now I know how perfectly it turns out I'm planning a mango version – who knows, maybe I'll even put rum in that one!