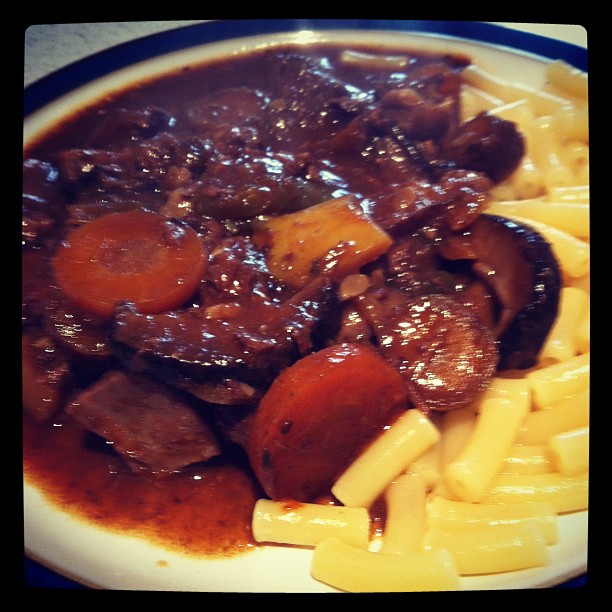 This weekend Mummy served this slow-cooked smoky beef casserole instead of roast dinner. I was inclined to kick-off, because Sunday roast is my favourite meal of the week. But I found myself sneaking into the utility room to check on the slow-cooker, because the smells wafting out were just so tempting. Once again, Mummy cooked for about 10 minutes and then produced this rich, smoky-scented dinner about 8 hours later!
Serves 6: this recipe has been created by us, using the WeightWatchers ProPoints system. It is not a WeightWatchers recipe.
You will need:
8oog lean casserole steak, cubed
20g plain flour
tbsp smoked paprika
300ml beef stock (from a cube)
200ml red wine
30g porcini mushrooms
200g chestnut mushrooms, sliced
1 serving each of red, yellow and green veg, cubed – we used tomatoes, pattipan squash, and green pepper
6 cloves garlic, peeled
sprinkling of dried, mixed herbs
salt and pepper
2 tbsps worcester sauce
Put the slow-cooker on high to warm up. Cover the porcini mushrooms in about 200 ml of boiling water and leave to soak for 20 minutes.
Mix together the flour and paprika, then toss the beef in it to coat. Spray a large frying pan with low calorie spray, and brown the meat in batches, removing each batch to a plate. Do not overfill the pan or the meat will steam, and you want a nice brown crust on each piece.
Put all the vegetables, with the garlic, herbs, seasoning, worcester sauce, porcini, and soaking liquid into the slow-cooker pot. Layer the browned beef on top. Pour over the stock and red wine, cover and place into the slow-cooker.
After about an hour, the casserole should be bubbling. Turn it down to low, and leave for up to 10 hours, but it should be ready after 6 hours if you need it. If the casserole seems too watery, simply transfer to a large pan and bubble on the hob until the sauce is reduced and thickened.
We served this with Tilda steamed brown basmati rice, half a pack per person, for an extra 5 ProPoints. The leftovers were even better a couple of days later, with a jacket potato.