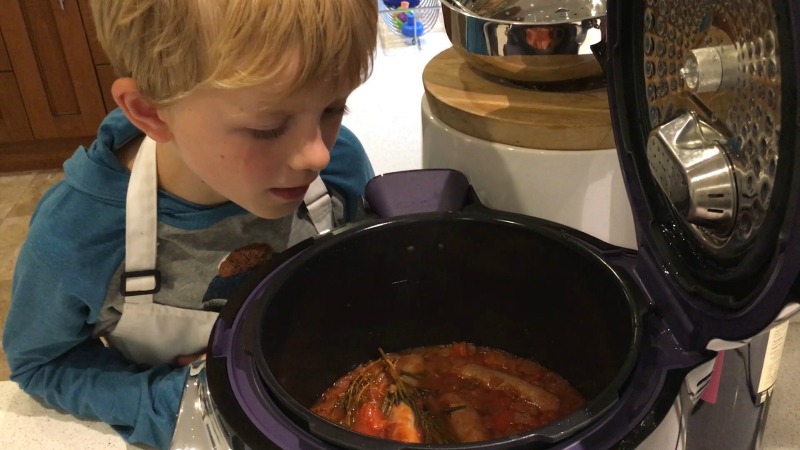 If you follow our social media accounts, it will not have escaped your notice that we have a new kitchen gadget. I have waxed lyrical about the Cook4Me by Tefal, to the extent that several of my online friends have gone straight down to Argos to buy one for themselves. Still others have added the intelligent multicooker to their Christmas list. I'm pretty confident that it will live up to expectation, and very excited to have one to give away today. I'll be reviewing the Cook4Me fully next week, when you will find out how we got on handing the kitchen over to GG and the Bug for a week, to prepare all our meals.
Easy Sausage and Bean Stew Recipe
In the meantime, I'm sharing one of the recipes my 12 and 10 year old made for dinner in the Cook4Me – Sausage and Bean Stew, a hearty meal that's perfect for families on a cold, dark evening. It will also keep warm for as long as you want without suffering, which is always a plus for a busy family with lots of after-school activities to fit in. All I did was a little bit of veg chopping, for safety, then the kids did the rest. There's wine in the stew too – perfect excuse for mum to pour a glass and put her feet up.
Easy Sausage and Bean Stew
Heartwarming comfort food so easy the kids can make it
Equipment
Tefal Cook 4 Me or

Pressure Cooker or

Slow Cooker
Ingredients
2

tps sunflower oil

8

good quality pork sausages

100

g

1 large chopped onion

100

g

1 diced red pepper

400

g

can of mixed beans

drained

400

g

can chopped tomatoes

100

g

2 large carrots, diced

2

sprigs fresh thyme

2

sprigs fresh rosemary

150

ml

red wine

1

tsp

sugar
Instructions
Pour the oil into the Cook4Me, if using, otherwise heat in a large saucepan

Brown the sausages for a few minutes, or follow the instructions on the Cook4Me

Add the onion and pepper and brown until softened

Add all the remaining ingredients. In the Cook4Me, this dish will cook for 9 minutes and be ready to serve with some rice, noodles, yummy roast potatoes, or a chunk of crusty bread. So pour yourself a glass of wine (squash if you're under 18) and set the table!

In the saucepan, cover and simmer for around 20 minutes, until thickened and ready to serve.

Season and serve straight away.
Notes
If you don't have the Tefal Cook4Me, you could use a pressure cooker in a similar way, or cook for 5-8 hours in your usual slow cooker.
The Cook4Me from Tefal
I promise, it is probably the easiest kitchen device you'll ever use. In fact, it's so simple that you will actually leave them to it at least once, and let your kids serve dinner: wait till you see the Chinese 'Fakeaway' they cooked. Check out the #ChefsOfTheFuture hashtag next week to see more films of the recipes the kids made for us during the challenge.
We were paid by Tefal UK for our time and video footage for the Chefs of the Future films.
More winter warmer recipes you might like