It's the Easter holidays. Vast quantities of chocolate have been eaten. A lot of time has been spent on the sofa – a LOT! The children have seen more of their various screens than they have of their family, and it's starting to show. That's when – whatever the weather says – it's time in my book to get outdoors. I know it really hasn't been the best climate to frolic in the long grass – when is it ever in the UK?! – but there are ways, and with a puppy arriving here tomorrow (I KNOW!!!!) my kids needed to get used to the idea that we go out. Rain, snow or shine.
Over Easter we're working with Joules to try and fit in as many of their JoulesLetsExplore challenges, getting kids away from their screens, and into the fresh air, because we know how much better everyone feels once we've made the effort. Joules kitted us out in practical, warm clothes from their range and sent us off to try some really fun activities that get kids of all ages – yes, even my teenager – motivated to be outdoors and spend time with the family.
Maddie is wearing Joules Coast waterproof jacket, Monroe skinny jeans in fresh blue, and Solena leather trainers; Evan is wearing Ted denim jeans in Sand, t-shirt with contrast pocket (not seen) and Dale sweatshirt (shoes are his own); I am in skinny jeans (as before) in blue/black, Westbourne leather Chelsea boots in rose gold, and Newdale quilted jacket.
5 Tips to get your Kids Outdoors
1. Visit a farm
When my kids were young they loved nothing better than a day at the farm, and Easter is the perfect time to go, with new lambs and chicks to see. This year though, we were invited to Palace House in Newmarket, to see exactly what goes into making a racehorse – Evan was fascinated with the horse exerciser above, and was a whizz on the racehorse simulator – I think we may have the makings of a jockey!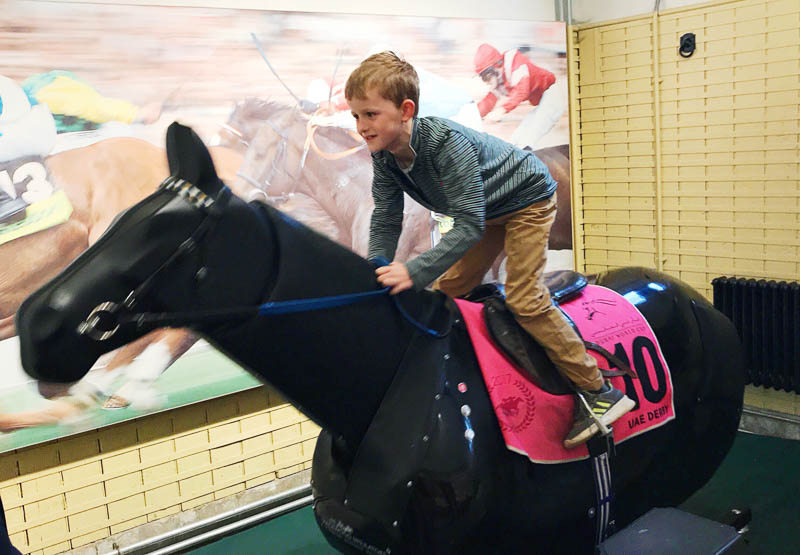 2. Paddle in the sea
Next up was Felixstowe to visit Grandma. It doesn't matter what the weather is like, my kids cannot resist the beach. I remember being exactly the same when I was their age, insisting on having my swimsuit at the ready for a dip. Mine didn't go quite that far, but the lure of the North sea still got them in.
3. Have a picnic
Of course, once you've been in the sea, hunger descends almost immediately, but if you think it's too cold out for a picnic, all it takes is a bit of thinking outside the box. Steaming hot chips wrapped in paper, and overloaded with salt and vinegar from the seaside stalls, with an added sprinkle of sand is always – I think – the best way to eat them. Even better if you can find hot sugared doughnuts!
4. Climb a tree
Show me a child who doesn't love to climb a tree! Maddie has gloried in alarming her dad from a very young age, always streaking straight to the top as if she were born to monkeys! He stands at the bottom and nags, fearful of consequences, but she won't listen, isn't afraid of heights, and won't come down till she's good and ready!
5. Build a den
Likewise, I have never met a child who doesn't love to explore nature, scuffing around in the woods, picking up sticks (they'll have a willing ally in the dog, I suspect), so what better than to build a den? Especially if it's raining. I set mine a challenge to make a waterproof shelter in the woods:
Joules have put together a list of 25 activities to get kids enjoying the outdoors over the school holidays. Find more ideas here, and share your pictures on social media using #JoulesLetsExplore. You could be in with a chance to win a £200 gift card to spend at Joules.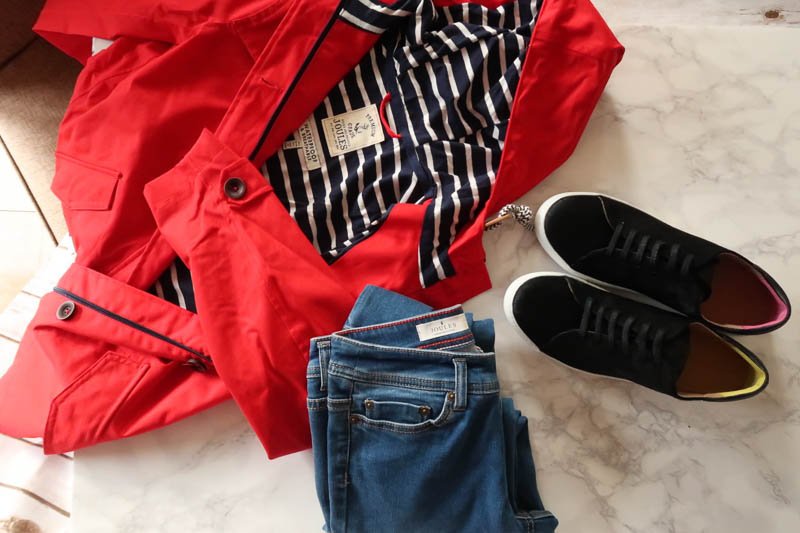 *Our Joules clothes were given to us free of charge for the purposes of trying out the #JoulesLetsExplore challenge list. All imagery and opinion is my own.