Two Fridays ago, myself and the lovely Tanya from Mummy Barrow were guests at a rather special dinner. Both of us love nothing more – after a crazy hectic week of teenage parenting and work – than a takeaway with Netflix and Twitter in our slippers on a Friday night, but we'd been given a gig we couldn't turn down: backstage social media coverage of the Ronald McDonald House Charities Gala dinner.
The dinner had a 'Lumière' theme – bringing light and hope to families in need.
Entertainers at the Gala dinner
"The what??" you ask. I know – I did the same the first time I heard about @RMHCUK, but keep reading; it will blow your mind. I'd spotted them on Instagram after a fellow blogger Harriet mentioned she'd visited them. I was so moved by what this charity does that I followed and commented. They got in touch direct and invited me to visit, and so began my support of their fabulous cause.
If you've ever visited McDonalds (erm, hello?!!)  you may have caught sight of the little money boxes by the tills, as I had. You'll possibly have put your spare change in there, assuming it's going to a good cause, and needing to empty coppers out of your pockets. I have too. You may not have known that those coppers go to create £3m a year to support families going through hell when their children end up in hospital for the medium to long term.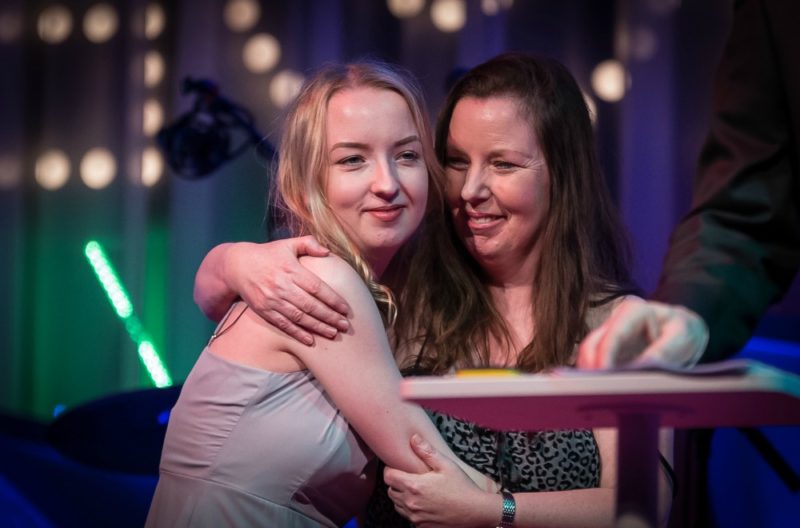 Julie and daughter Annabel
Julie (above) is one such mum. Her daughter Annabel had just started her A-levels when she suddenly became unwell with a crushing weakness that gradually travelled upwards from her feet, leaving her immobile, and unable to breathe for herself. She sat next to me at dinner, and I'll admit I struggled to to stay composed as she told me how Annabel's illness devastated her family. In fact, every time I re-read that sentence my eyes start to swim again! Her brother had just started a scholarship in the USA, and they didn't want to worry him, but things were touch and go for Annabel more than once. She was diagnosed with Guillain-Barré syndrome, and spent 3 months in hospital over a hundred miles from home.
How do you even begin to imagine coping with that situation as a parent? I've lived out of a hurriedly-packed holdall, on a camp bed for two nights when Maddie was in hospital, and it was dreadful. As a mum you're devastated for your child, scared, and in need of care yourself. Yet you have to grab sleep in an armchair by your child's bed, live on biscuits and coffee, and go unshowered for days. Hospitals just don't have the space or the resource to cater for the families of their patients. Which is where the Ronald McDonald houses come in.
How Ronald McDonald House Charities helps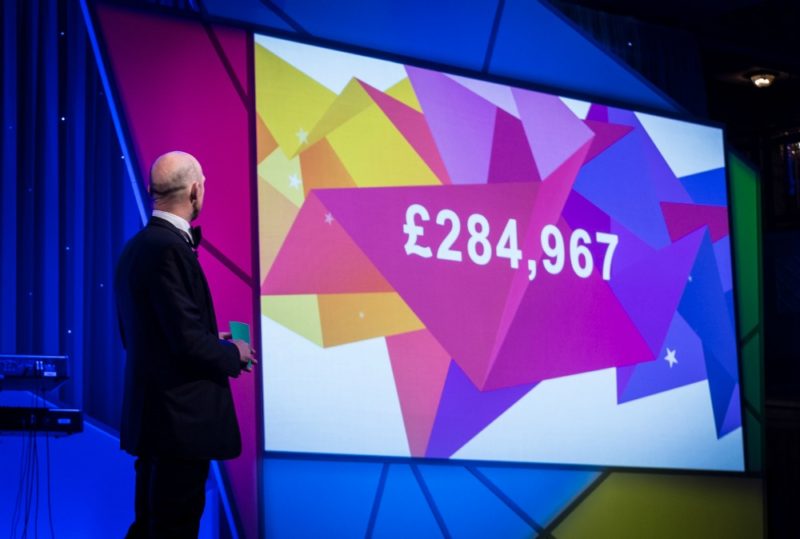 Host Matt Dawson – whose child suffered meningitis – announces the total raised
Close to the hospitals, the houses provide a home-from-home for parents and siblings while their children are being cared for. Being able to stay close to their children, but still be together as a family is a vital lifeline for so many parents. Ronald McDonald House Charities has had the support of McDonalds since the charity was founded in 1989, and as well as public donations, the money is raised by McDonalds staff from sponsored events and other initiatives the company takes part in. The Charity gives hope and respite to families during some of the hardest moments of their lives. Here are just some of the things they do:
£25 pays for a family to stay a night in a home-from-home close to their child's hospital
£5 gives hospital staff a direct line to a child's parent so that frightened patients can have quick contact with their mum or dad
Fully equipped kitchens and bathrooms mean families can cook and eat proper meals, shower, and sleep in a decent bed while they're away from home. There are laundry facilities too.
Playrooms and gardens mean that siblings have a space to be normal children while they wait for their brother or sister to get better
Staff do everything possible to allow life to carry on as normally as possible: we heard about a 6th birthday party being thrown for a patient's brother, and a wedding brought forward and organised so that a terminally ill child could be a part of her parents' big day.
The average stay at one of the houses is 16 nights, but it can be much longer, with one family staying over 2 years waiting for their child to get well. Imagine having to manage that when you live several hundred miles from the hospital. Annabel's consultant told us how he was inspired to get involved by his own father, who spent almost 2 years in a hospital as a 10 year old. His parents could only visit for two hours once a fortnight. No child – and no parent – should have to be in that situation.
The sponsors on the night were incredibly generous, and host Matt Dawson was able to unveil the total raised, which smashed the original target. That's great news for families who could do with just one thing less to think about when the worst has happened.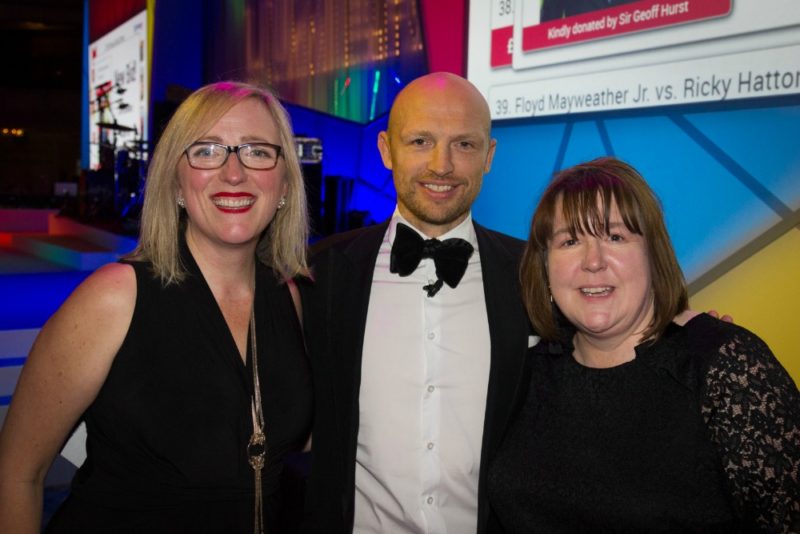 It was a huge privilege to be able to bring that news to our Twitter and Instagram followers, and so many of you got in touch to say how much Ronald McDonald House Charities had helped you in the past, from premature babies spending their first few months in hospital, to difficult diagnoses spanning several years of treatments. I am a firm supporter of just one charity – as the mother of a type 1 diabetic, all my charity focus goes to JDRF, who have the best chance of finding a cure for my daughter – but I can tell you that the Ronald McDonald Charity Houses would absolutely be my choice if I didn't have something so personal to me.
After all, as parents, we all need to know that someone has our backs, right?
If you'd like to get involved, or donate, visit the Ronald McDonald House Charities website. But whatever you do, please follow @RMHCUK on Twitter and Instagram and help spread the word to more families.
Glammed up for dinner! Not your average Friday night…