If you're looking forward to getting out of the country over the Easter holidays we wish you a lovely trip (you don't have room for me in your case do you? I'm craving a hot beach and cool cocktail after all the snow!) If not, and you've got children at home for the school break, this post is for you.
Filling the school holidays with a Family & Friends Railcard
With a Family & Friends Railcard you get 1/3 off most adult fares and 60% off kids' fares throughout Great Britain. You can use your Railcard for any trip, and travel with up to 4 adults and 4 children, so if you have a large family, or friends who like the same stuff as you, it's a winner. We have no plans to be away this Easter, and two weeks in the house with two children just isn't an option I want to consider, so getting out and about is going to be an essential way to break up the holiday and keep everyone on speaking terms!
Family & Friends Railcard asked us to plan a day out with the kids to see how simple it is to travel with children and have fun during the Easter holidays. When you travel by train you can also get discounted entry to lots of attractions with Days Out Guide. So, if you've always fancied visiting Warwick Castle or the London Eye, having a Family & Friends Railcard, and travelling by train, could save you quite a lot of money! We chose to visit Cadbury World, where you can get 30% off when you travel by train with Days Out Guide, and we boarded the 09.13 from Milton Keynes to Birmingham New Street last Saturday – one of the coldest, snowiest days of the year!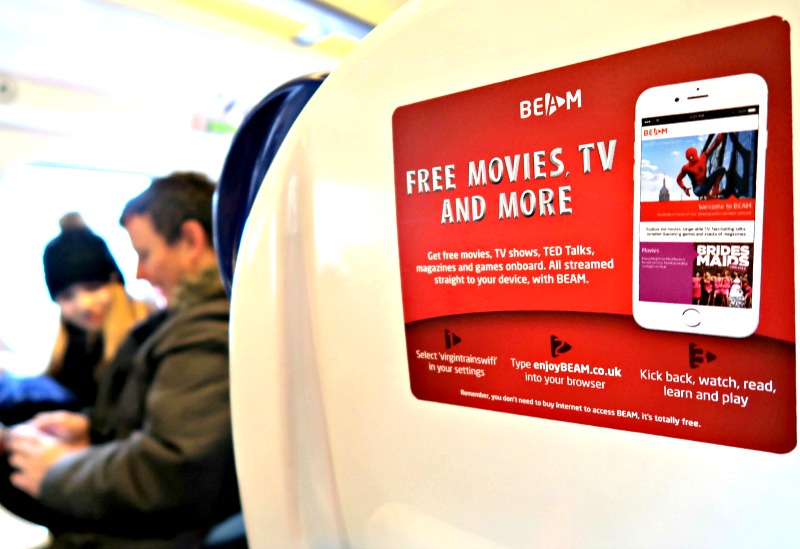 You can use your Family & Friends railcard on any rail network. We'd chosen a fast train to Birmingham, so we were on a Virgin train. I had all sorts of plans for family games and breakfast (you can reserve seats in advance on inter-city trips) but my crew had other ideas! Jason swiftly logged on to Beam on the WiFi, and then it was a fight to see who could get the coveted seat next to Daddy. The trip went in no time! Next was a quick platform change and a short ride to Bournville, where things had a decidedly purple feel to them, as you can see from my Instagram stories of the day!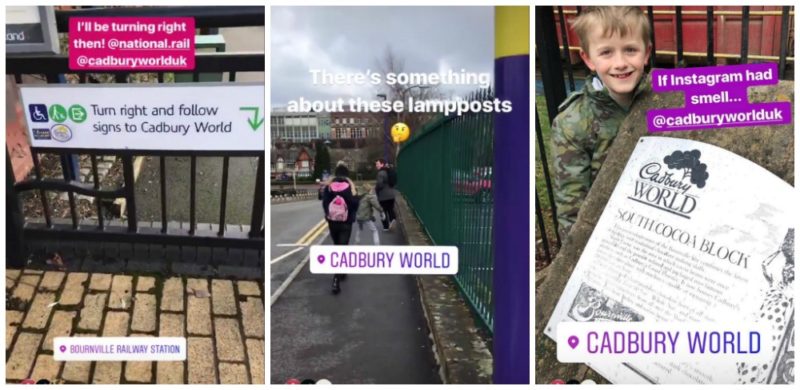 Visiting Cadbury World
Seriously, I have never smelled anything so chocolatey as the outside of that factory! Even the inside didn't come close. And there was a LOT of chocolate in there. Cadbury World is a self-guided exhibition tour where you get to discover an assortment of chocolatey zones. If you've never been, here's what you get on a visit to Cadbury World:
2 bars of chocolate EACH as you enter the attraction
A self-guided tour of the installation telling you the history of Bournville, Cadbury, and the making of chocolate. It's actually fascinating – did you know that chocolate was originally prescribed by doctors to their patients? It's the glass and a half of milk that swung it!
A 4D Chocolate Adventure – it's more of a show than an experience but it's fun, especially for the children.
A fairground style ride that reminded me of It's a Small World all about the making of chocolate
A chocolate making demonstration, plus an opportunity to practice your piping skills with liquid chocolate (2 more bars of chocolate get added to your stash here)
There are also some fun interactive things kids can do as you progress through Cadbury World, including a virtual wrapping of a Creme Egg, and some manoeuvres to virtually grow a cocoa plant from seed to pod, learning about the climate and tending it takes. As well as some things that seemed to have nothing to do with chocolate at all, but provided entertainment for the children nevertheless! My favourite part was the screening of old adverts – HOW did that girl in a field with a Flake in the '70's ever get past the ASA?!
Once we'd had our fill of chocolate, we decided to head back into Birmingham for a visit to Sea Life (click the link to see our review), but not before we'd had some lunch at Brindley Place. It's years since I'd been to Birmingham and I was pleasantly surprised by how up to date this area of the city is. Lots of restaurants, and with the children's favourites we were well catered for before we headed into the aquarium.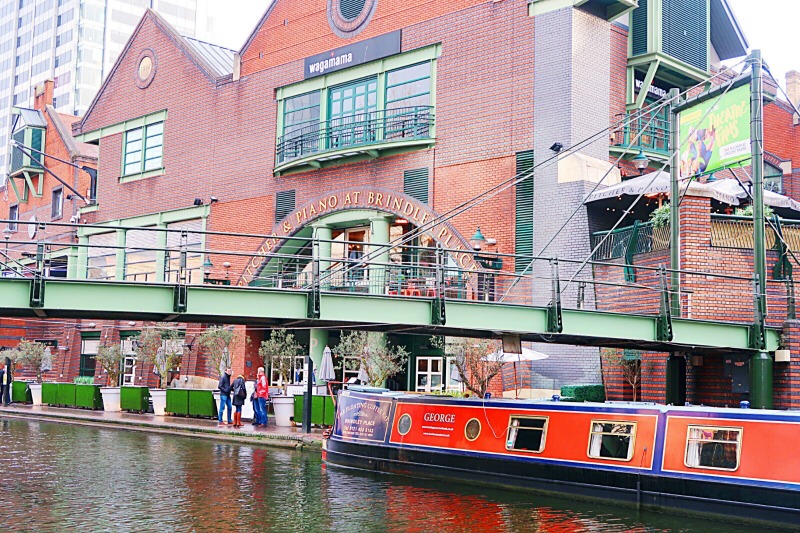 I honestly wasn't expecting much of a city centre aquarium, but there was plenty there for us to spend a good few hours, including Evan's favourite, the penguins!
We had so much fun we ended up staying until pretty much closing time, but we knew it was a simple process to change the time of our planned train back, so we stopped of for more food and cocktails at The Botanist in the city centre – if you've never visited, I can recommend it. There's even a small seating area to the side of the main bar which we took advantage of to stay out of the way of Saturday night revellers! The non-alcoholic cocktails were a total hit with the kids, though be prepared for steep prices, as you'd expect in a city centre.
Overall, we had a brilliant day out together, and I'll definitely be planning some more city day trips with our Family & Friends Railcard now that I know how much it can save us. On average, Family & Friends Railcard holders save £131 on travel over the year. It also gives you access to discounts on holidays, theatre and much more. Visit daysoutguide.co.uk to find out where you can get discounted entry to lots of other great attractions around Britain, and take a look at the Family & Friends Railcard site to start planning your Easter days out. There's also a great list of places to visit in the UK at education site Twinkl.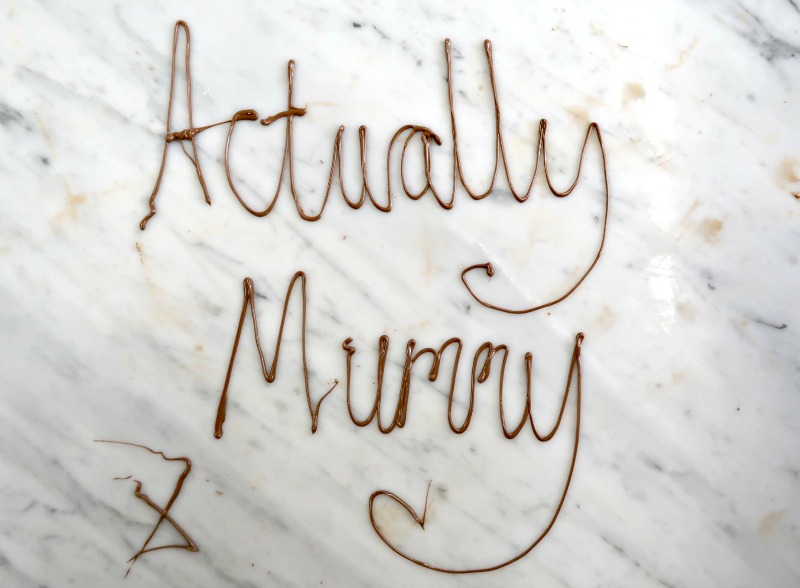 *Our Family & Friends Railcard, and our day out was courtesy of National Rail. All opinions and imagery are my own. 
More family days out