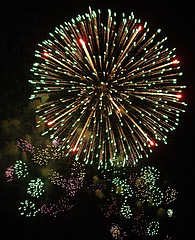 So. Here we are. New Years Eve. You have downgraded year-on-year from wild parties and Capital city fireworks, to champagne and canapes at home. You no longer celebrate with alpine ski breaks, and there was even one, dismal New Year that saw you force down half a bottle of champagne around 10pm and then collapse in bed, awaiting the early cries of  of the newborn baby. You can't get a babysitter or a taxi. I am no longer placated with an early night – I want in on the party! Kids have changed the way you celebrate New Year's Eve.
For anyone facing the prospect of keeping the kids busy during the party, here's a thought: include us in it! 'Gah!,' you think. 'What an awful idea!' But it seems my luck is in this year; my nagging has paid off, and M&D are allowing me to stay up and join in – for a while at least. Here is the plan:
How to do New Years Eve with kids:
6.30 pm: Friends arrive – another family of four. Pizza and Shloer is served for the kids, canapés and champagne for the adults (pre-prepared for ease).
7.30 pm: Party games begin!
What's in the Box?: A festively-wrapped box filled with tactile items of the season; the two families team up to feel inside the box and list the items inside. Top it up with shredded paper or newspaper. Here's what's in our box this year:

Satsuma
Bauble
Cinnamon stick (no-one will get that)
Pine Cone
Mini Christmas tree
Walnut
Dried orange slice
Champagne cork
Chocolate coin
Star
Ring on a string: we all stand in a circle holding a circle of string, on which Mummy has threaded her wedding ring. We will pass it round the circle without the watcher noticing where it is. If he guesses that I have it, it's my turn to guess..
Who am I?: We all wear a party hat. The person next to us writes a famous name on a post-it and sticks it on our hat. We ask questions of the group to determine who we are. I will always be Miley Cyrus – obviously!
Name the Christmas Song: simple – a line from a song, team up to name the title!
8.30 pm: The adults get hungry and kids get fidgety so we peel off to the living room with a bowl of popcorn to watch a movie. Dinner gets served for the adults. Last year it was themed around the decades – '60's = Prawn Cocktail, '70's = Moussaka and Leibfraumilch (you can still get it, did you know?), '80's = what the hell food did you eat in the '80's anyway, it was all about the Frascati. This year it is themed around time zones. At 9pm it is midnight in South Africa, Lebanon, Russia – a culinary challenge. M&D have allocated that course to their friends, opting for the much simpler 11pm, midnight in France. Easy-peasy – Baked Camembert and Macarons.
Daddy has prepared a quiz around our time-zone, and demanded the same from our friends, to include child-friendly questions should we deign to join in. I anticipate that at some stage I will want to slope off to bed with my friend for a late-night feast, and gossip about the forthcoming series of Dancing on Ice. Although I will fight it, sleep will come, eventually, but M&D won't notice as they sip their champagne and celebrate the New Year. Until morning… 😉
New Year Fireworks image by Flickr user c r i s. Macarons image by Flickr user Bossacafez.