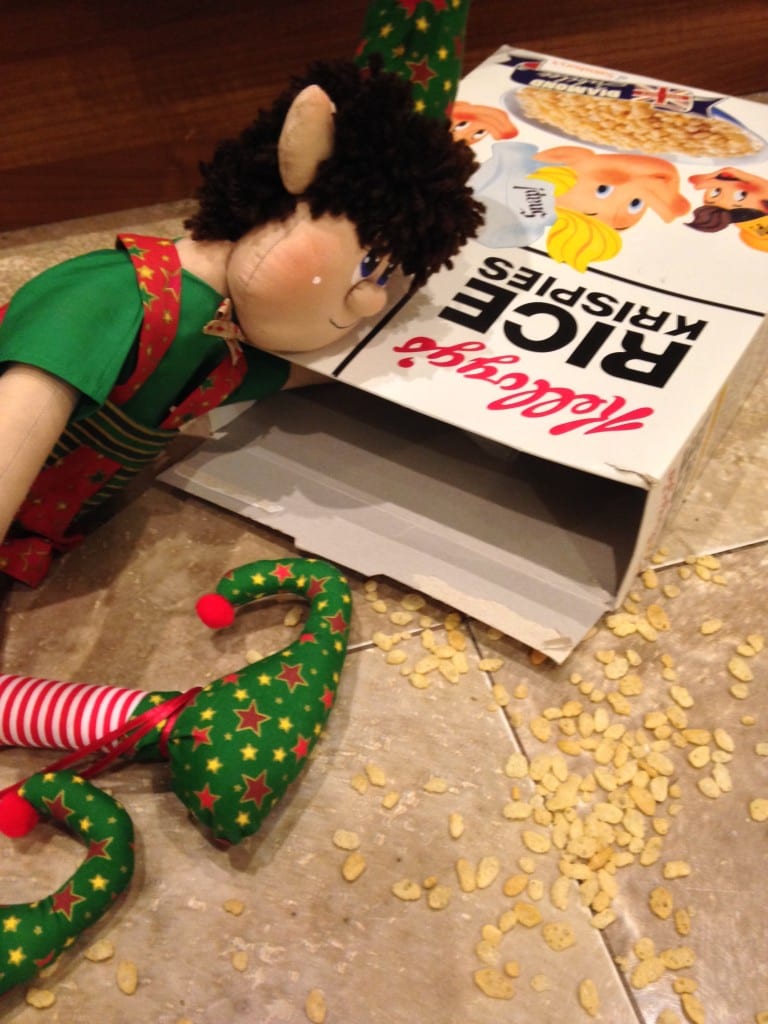 Now I do know that I'm dicing with danger with this post title. I'm conscious that all over the country there are parents seething in resentment over the Christmas Elf on the Shelf, and the need to pander to his ego every night for 24 days every December. Usually at midnight. Or in the early hours, when you've woken up in a cold sweat thinking "Crap! Did I remember to do the elf?"
I get it. I too was sold on the cuteness of over-exciting my children every morning in the run up to Christmas. I even quite liked the ritual of coming up with ever more creative Elf on the Shelf ideas – my husband eventually made it a competitive sport, outdoing me so quickly that I promptly gave up and handed the whole month over to him. This, in itself, was a mistake, as my cleaning up tasks became more tasking every morning. If you've ever tried to chip a soggy elf in a Frozen Barbie dress out of a block of ice – and dry it in time for the next escapade – you'll empathise.
Eventually my kids grew up enough to cope without the elf, although not before they'd completely stopped believing in him. A quick google shows that most parents have wondered at some point how to get rid of Elf on the Shelf, with queries like "What age to stop Elf on the Shelf?" and my personal favourite "How to get rid of elves." (Poison comes to mind). Here's what I did:
How to break up with Elf on the Shelf
The graduation letter: Once I'd completely run out of ideas for Elf on the Shelf for older kids, and the 5th version of the flour angel raised little more than a snigger, I decided it was time to part ways. So on Christmas Eve, when my youngest was 10, Elfie – from his place in an empty cereal packet – held a graduation letter. In it, he'd written how proud he was of my kids for growing up so well, and how he now had to leave. "You see," he told them, "There are other children who need help remembering to be good at Christmas, and not enough elves to fill the rota. So I have to go back home to Father Christmas, and be allocated another lucky family," The kids took it well, and I took something off my list of seasonal pressures.
There are lots more ways to break up with your elf, from the brutal (one mother I know staged an elf murder scene!), to the tear-jerking. Here are a few ideas for Elf on the Shelf's last day in your home:
Write a retirement letter: I have to admit I welled up reading this mum's words, using her elf's departure to remind her kids of the lesson's' he'd taught them, and of the spirit of Christmas
Promote him: Another letter, this time letting the kids know what a great job elf has done, and that Santa has seen fit to promote him to Workshop Supervisor
Hold a normal toy vote: Another one involving a letter, but this time elf will ask Santa to let him stay permanently as a regular toy. If you really want to soften the blow, you could even ask your children to vote on whether they want that. Then next year you can absolve yourself of all responsibility!
Runaway elf: How about one year, Elf is SO naughty that he runs away from home? I could have all sorts of fun with this one, from creating missing posters to eventually having elf spotted loving his new life in a drag show – because obviously this story needs a happy ending for it to be permanent
Whatever you choose, you could have your elf soften the blow of his retirement with a gift – elf could be the bringer of this year's Christmas pyjamas, for example.
Blame Covid – seriously if you don't do it now, when you have the best excuse ever, when will You? Elf got Covid and had to isolate. (This is now out of date, but it made me chuckle so I had to leave it in).
Put plasters on Elf's legs and give him lolly stick crutches and a note saying he's had a fall off the tree and had to rest for 3 weeks for elf and safety reasons.
Get your child to think about the kids who don't have as much as him – perhaps he'd like to donate Elf to a child who doesn't have one?
Tell your kids that due to the labour shortage Elves are thin on the ground so they've switched things round so that they only visit naughty children now.
Lock him in a cage and tell the kids he's been so naughty that he's had to be locked up to prevent further crime until Christmas. At which time he'll be deported back to the North Pole to serve out his probation making toys.
Have elf send a letter saying that due to GDPR he can no longer observe them from shelves and will be assessing children's behaviour by other means.
If this sounds appealing, and you're running out of easy elf on the shelf ideas, here are a few we used before he left us: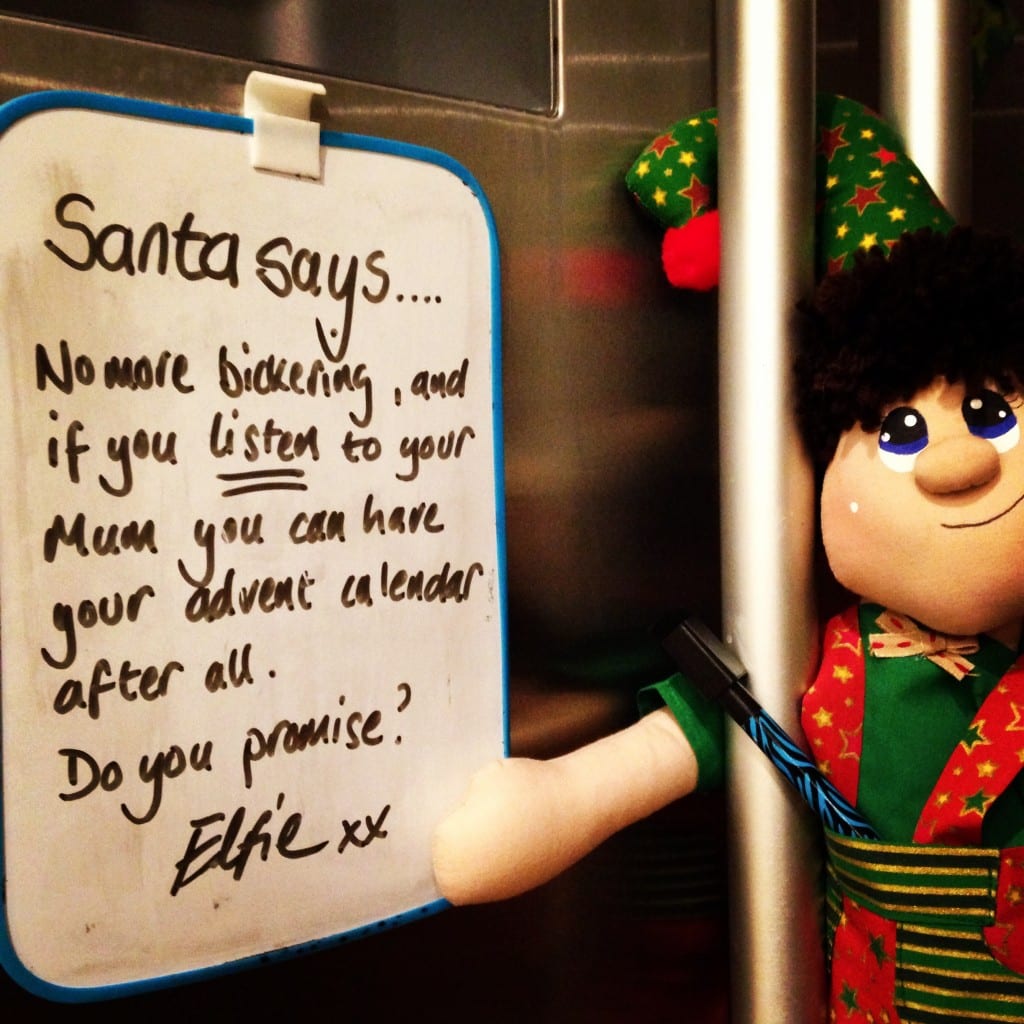 Easy Elf on the Shelf ideas
Use your elf to apologise for mum losing her cool over Christmas stressors, without losing face. When behaviour got so bad here one year, I told my kids they weren't getting an advent calendar. I know! Thoughtfully, Elfie stepped in and had a word with me after they'd gone to bed; he even offered to deliver the news to them himself!
Put Elf in the fridge under a bottle of empty wine
Have him pull a all-nighter on the xBox
Freeze him in a jug of water overnight, along with Elsa from Frozen
Another piece of elf mischief committed by Actually Daddy was to pin all the Zhu Zhu hamsters to the track with blue tack so they couldn't run. Substitute Hot Wheels, Brio trains, or anything else that moves
He once – after we'd visited the Harry Potter Studio tour – ate all the Bertie Botts jelly beans, and vomited the nasty ones into a plastic bowl
Have Elf break into the gingerbread house
Do you have a shredder? Our elf emptied ours all over the living room. I think that may have been when I decided to retire him
Put him on your garden swing/trampoline/slide – hopefully next door's cat will carry him off in the night
Think of something good your elf could do instead of getting up to mischief. Perhaps he could lay out the children's clothes for the next day, or do some laundry? Pick a job that needs doing anyway, and teach the kids that being kind and helpful goes down better with mum than throwing Rice Krispies all over the floor!
Something else I learned from my research for this post – it's not just kids who love the elf. At least 70 people per month google ideas for Elf on the Shelf for adults at work – my mind is in overdrive already. But what this tells me is that some of you love the elf more than you want to let on! Which side are you on? Will your elf retire gracefully, or be the victim of a homicide?
THANK YOU FOR READING
If you've enjoyed this post and found it useful here are some ways you can say thanks and support Actually Mummy:
Click here to buy me a virtual coffee.
Join our Teenage Kicks Facebook group which includes lots of advice and support for parents of teenagers. You can post your own problems and advice here too.
Click here to leave a review of the Teenage Kicks podcast.
Click here to sign up to our newsletter packed with tips, ideas and support for parents of teens.
Share this post with your friends.