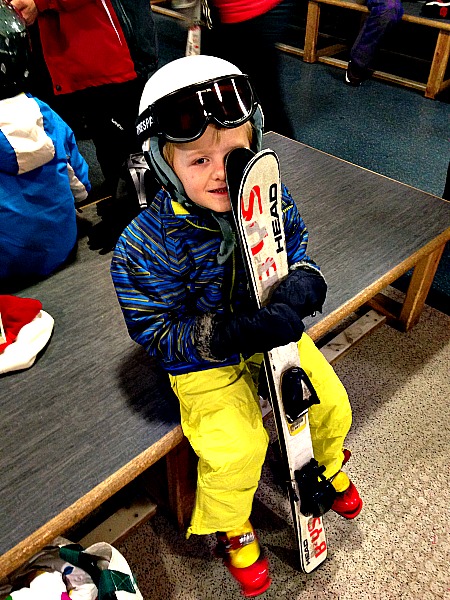 Two years ago my brother took his first ski lesson. We're lucky enough to live a short drive from The Snow Centre in Hemel Hempstead, and I had been skiing a few times already. I'd done ok with the slippery sticks and will happily fling myself face down in the snow whenever I get the chance, so The Bug, quite naturally, was willing to give it a go.
To cut a long story short, he managed his first lesson, with some coaxing from my mother, and consented to a second. To which Daddy was the responsible adult. He's not as good with the coaxing as Mummy. It was a disaster.
If you've read about our upcoming ski holiday with Mark Warner, you will know that skiing is obligatory in our family. If it were a choice between learning maths and learning to ski, maths would bite the dust. So Mummy rolled an eye in the general direction of our Dad, and set about cajoling The Bug back onto the slopes. And I'm pleased to say that this has been the result:
I'm proud. He winds me up and I yell at him quite a bit, but I watched his lessons and almost forgot that I was jealous it was him, not me out on the slopes.
We deliberately chose those bright yellow salopettes so we could always spot him on the slopes (he's only little). Plus he's really cosy in his matching cool jacket, and having the proper gear has bigged him up enough to feel like he's a proper skier.
And of course, where my brother is getting cool new stuff, I'm chipping away at the parental conscience to secure the same for me. What do you think?
In terms of tips for children's ski gear, as well as proper salopettes and jackets, we have thermal base layers and fleece tops to go under our jackets. Far from being cold, The Bug has exited the slopes each time sporting a sweaty look under his rented helmet. Nice. He also came home with headlice, which swiftly made Mummy rethink her decision to rent a helmet; we are now doing extra chores around the house to earn enough money to purchase our own, brand new ski helmets (with a little help from Grandma).
Mark Warner can cater for children of any age, introducing them slowly to the snow. For us though, the strategy was to get me and The Bug up to a reasonable level of confidence so that we can really learn fast when we get to the Alps. I think M&D have visions of happy families skiing Les 3 Vallées together. But have you seen my brother?? We'll be leaving them in the powder in no time at all!
Disclosure: we are Mark Warner Family Ski Ambassadors for 2014, and have a complimentary stay at the ChaletHotel Val d'Isère for the purposes of review. We were given our children's ski wear by Bespoke Offers, who have great deals on a huge range of products and services. All editorial and opinion is our own.