Every year it gets more and more difficult for parents to figure out what to give their teenagers for Christmas. Unless they want something very specific like the latest smartphone or gaming console it can be really hard to come up with ideas for teenage Christmas gifts. So this year I've asked my followers what they're giving their own teens for Christmas and together we've come up with this brilliant list. Read on for Christmas 2021 inspiration!
Christmas present ideas for teenagers in 2021
Disclosure: this post contains some affiliate links, which means if you buy I may receive a small commission. There's no extra cost to you, and any income – however small – helps me to continue creating free content for my readers. Some products have also been sent to me for review; this will be made clear in the product description.
Gifts for older teens
A laptop: Teenagers who have just started college, 6th form or University are usually asked to bring their own laptop into school. If yours is due to start next September, now might be the time to get ahead of the game and surprise them with their own laptop. This ultra-thin laptop from Acer is light enough to carry around in a bag, and comes in a range of colours. It also has a 15 hour battery, so it's perfect for taking to school every day. Retails at £459.99 but there's currently £50 off.
Acer also frequently have great deals like this 50% off gaming accessories when buying a gaming laptop, so do check their website if you're ever considering making a significant purchase like this one.
A decent watch: If you're anything like me you bought your first child a fun watch somewhere around the age of 6, in the delusion that they would a) wear it; b) learn how to tell the time with it; and c) not lose it. You know where I'm going with this, I think. Anyway, when your teen gets to around age 16 they do start to care about what the time is, and that's when you can start trusting them to take care of a good watch. If your teen is environmentally friendly they will love a Nordgreen watch. Nordgreen are carbon neutral, offsetting their office costs and all shipments by planting trees. They use sustainable and recycled packaging, and have a Give Back programme that has seen them provide education to children in India and drinkable water in Africa.
They also look pretty cool. Take a look at these women's gold watches from Nordgreen, or browse the site for men's watches, straps and their 'make your own watch' bundles. Women's watches start at £144.
Audio sunglasses: Yes you did read that right! Fauna are designer glasses with open ear sound technology inside. These high-end, water-resistant audio glasses are made of high-quality materials with a 2-way sound system for crystal clear sound. The first audio glasses without chunky temples, that actually look like glasses, they protect a wearer's eyes from sun or blue light whilst providing a vivid sound for listening to music, audiobooks or watching a movie. They even have integrated microphones for voice commands and making phone calls. Fauna audio sunglasses £199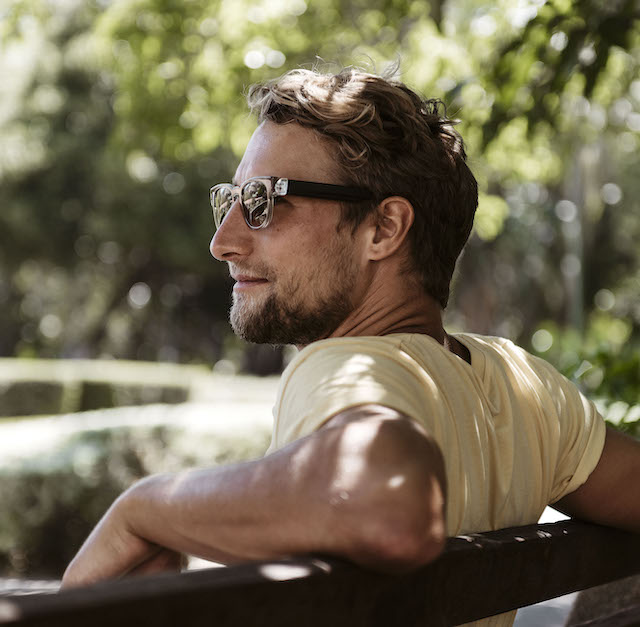 The tiny lightweight micro speakers and microphones are integrated into the frames of the Fauna glasses, giving hours of great audio without compromising on comfort. The audio module in each temple and each module includes a patented MEMS microspeaker, an electrodynamic speaker, a touch-pad, associated electronics and a battery. They range have high-quality Italian acetate frames with adjustable temple lengths for optimal fit and comfort. They also come with a charging case that allows re-charging of the glasses on the go up to 5 times and connects via Bluetooth with a smartphone or PC; a specific app is not required. The glasses are controlled by touching and swiping on the temples.
Like I said, SO COOL!! Your teen is going to put you at least 2 rungs up on the credibility ladder if you gift them these. Just don't join TikTok or they'll never forgive you!
Good quality hair products: Christmas is definitely the time when my teenagers hope for slightly better quality hair and make-up products than those they can usually afford. My daughter will scrimp and save all year at Superdrug but she absolutely loves getting something a bit more special for Christmas and birthdays. We love these Christmas gift sets from haircare specialists Philip Kingsley Their products get 5-star reviews on things like volume and shine, and just look how pretty their packaging is!
Theatre Tickets: Some of the gifts which have gone down best with our teenagers are theatre tickets. We've seen Six, Everybody's Talking About Jamie, and Come From Away in recent years. If you know what show your teenager would like to see, it can be nice to actually book the tickets for one of those 'twilight zone' days in between Christmas and New Year, especially if you buy for the whole family. Alternatively, you can buy vouchers from London Theatre Direct so that your teen can choose which show they'd like to see – and who to take!
We like this Christmas limited edition Recipe for Body and Volume, which currently retails at £45, which is a huge saving of 41% on normal prices. Price £45.
Skincare is another thing teens usually love but usually can't afford, so if you're looking to treat them now is the time. Boots have loads of great deals on good brands during Black Friday and their pre-Christmas 3-for-2 offers always find their way in our teens' stockings. Right now this Clinique Sweetest Treats gift set is reduced from £74 to £37 so it's a great time to get ahead on the shopping. You'll be glad you did when you're relaxing with a mince pie and a sherry by December 1st! (Is it just me who needs a litre of Harvey's Bristol Cream in the house by the time the tree is up?)
Clothes: Teenagers always appreciate new clothes. Whether it's the latest branded hoodies and leggings (do check with them because this seems to change every year! We've gone from Adidas, to Nike, to UnderArmour over the years.) or new base layers to wear under their sports kit, clothing will always go down well. This year I have one in need of a new winter jacket (which I will probably get from Mountain Warehouse as they always have good price deals as well as cool designs); and my daughter who is in sixth form needs 'business dress, so I'm going to introduce her to Boden for the first time! I'm thinking something like these smart tie-waist trousers will be really versatile with a few nice tops and see her through the next couple of years before she goes to uni.
Things for their rooms: I mean, they spend enough time in them, so we might as well gift them something to make them even happier up there, right? Independent home and giftware shop Yvonne Ellen have a gorgeous new Christmas collection that I'm actually wishing I had for myself, never mind my teenagers! Teens will love a new Christmas bedding set covered in penguins or polar bears. And just what every teen wants for when their mums "barge into their rooms," a Go Away Eye Mask!
Gifts for anxious teens
One of the nicest gifts you can give to a teenager with anxiety is the feeling of comfort. Weighted blankets have had a lot of good press recently, with users saying crawling under one feels like having a hug. Research shows that they reduce anxiety and aid restful sleep, so if this is something your teenager struggles with this could be a lovely gift that feels indulgent whilst providing a therapeutic benefit. Kudd.ly has over 50% off in their Black Friday sale on fleece weighted blankets that are even machine washable.
Or how about a hoodie blanket? My own teenager likes nothing better to climb into pyjamas or a onesie when she gets in from school, and these hoodie blankets are perfect for just snuggling down when it's extra chilly.
Christmas presents for younger teens
A teddy bear! I see you raising your eyebrows but no matter what your teenager tells you, they're never too old for a good stuffed toy. It brings back all those safe, cosy memories they think they're too cool for but that still make them feel good. If it helps with street cred go for this classic Steiff Cosy Year Bear 2021. Steiff have long been a collector's item and favourite for Christening gifts, so this is something your too cool for school teenager will prize as something to treasure for years. They might not want to admit it to their friends, but keep it under wraps and they will secretly love you for it.
Cool craft kits: When my daughter was 12 she became obsessed with making slime. All over the house were kits for slime, she spent all her time making slime, and had deadlines to 'fulfil orders' on slime for her friends. Since then I've realised that it's not just her. All young teens and tweens seem to get creative at this age, and love experimenting with things they can make. So some kind of craft kit is a must for Christmas.
Toys and Bears have brilliant kits for tweens based on everything from dinosaurs to space, and yes – you've guessed it – slime. They also sell this great I'm A Genius Tattoos Factory set which allows kids to experiment with safe, temporary henna tattoo designs – something else which my daughter got for Christmas one year and loved! I'm a Genius Tattoos Factory set £17.99, or scroll down for your chance to win a set.
GIVEAWAY! If you think your tween might like the I'm a Genius Tattoos Factory set I have one to give away – just scroll down to the Rafflecopter form to enter for a chance to win.
A retro Christmas jumper: Everyone needs a Christmas jumper, and what better article of clothing is there to go all out and be a bit silly with? I'm seriously considering this DC Comics Joker Ha Ha Holidays jumper for my DC and Marvel-obsessed son, and there's a Harry Potter pyjama set I know my daughter would like. Pyjamas are a regular Christmas Eve present for our entire family, and there are lots of character options to choose from, including Friends, Beetlejuice and Toy Story.
You might also like these Christmas jumper recommendations for teenagers.
Cheap Christmas presents for teenagers
Socks! Everyone needs new socks and Christmas is the ideal time to inject a bit of fun into their sock drawer. Christmas socks make the perfect stocking filler. I adore these penguin slipper socks from Sock Shop, and they even have a sock advent calendar! Patterned tights are popular too and I know my 17 year old daughter would love these funky backseam tights. She'll also be getting a stash of regular school tights, since her new-found love of acrylic nails has ripped her last supply to shreds!
Take a look at Sock Shop's range of Christmas socks for the whole family, or see last year's Christmas ideas post for some brilliant sock twists from Chatty Feet.
If you're looking for more inspiration this post has 148 stocking fillers for teens
Christmas gifts you can send in the post
If there's one thing worse than battling the crowds of Christmas shoppers it's standing in the queue at the post office any time in December, am I right? That's why I'm loving anything I can order online and have sent directly to the recipient. I know my own teenagers love to get things in the post, so here are a few Christmas presents for teenagers who don't live with you:
Chocolate! Chocolate. Always. Chocolate is an essential Christmas gift for most teenagers and I'm in love with this festive brownie box from Letterbox Gifts. My daughter would be very happy to receive these from an aunt or grandma – much better than a gift voucher or a woolly hat! They also do this lovely paint by numbers gift set, which I think would be perfect for younger teens, or if you're worried about a food intolerance or allergy. And this personalised Cadbury treats letterbox Christmas present from Prezzybox is perfect for teens who love the chocolate classics. NB: until 16 November 2021 you will also get a free gift with the code XMASBUNTING when you pre-order from the Christmas collection at Letterbox Gifts.
A flower subscription: Teens like flowers too, but no one ever thinks to send them any! I remember like it was yesterday getting hand tied flowers as a surprise delivery from a would-be boyfriend. It didn't do the trick because the chemistry wasn't right, but I very nearly caved when I opened the door to my first ever gift of flowers.
LOV Flowers is a Scandinavian inspired UK florist that specialises in letterbox flowers and subscriptions. With same day delivery in London and free next day delivery elsewhere in the UK this is a great option if you've missed the post office dates too! A subscription with LÖV Flowers would be a lovely treat for a teenager who loves flowers, or just send them a one-off treat.
And if the flower lover is you, you might like to treat yourself – imagine if you could get that "someone likes me enough to send me flowers" feeling EVERY month! Prices start at £24.50 a month for a subscription, and £29.50 for a single delivery.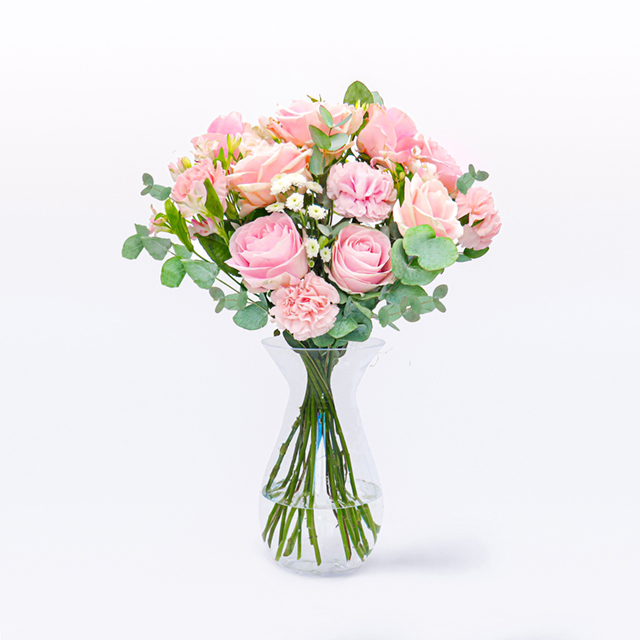 Gifts for creative teenagers
If your teen likes to spend creative time alone they might appreciate these letterbox gifts from Not On The High Street. My own daughter is a big reader, especially of the classics now that she's doing English A-level. What could be nicer than to receive a new book and a hot chocolate in the post? Choose from 15 books and a choice of hot drink.
When it comes to gifts for artistic teenagers I think this CAST jewellery kit is rather special. For those who used to make beaded bracelets when they were small, but have now graduated to more grown up things, the opportunity to create your own silver (or gold or platinum) jewellery. Simply use the kit to create your design in wax, then return to CAST for your design to be made real. A beautiful idea for a special jewellery piece, especially for a teen who's interested in art and design.
And if your teen loves a good snuggle under a duvet (and they're old enough to have candles in their bedrooms, they will love you for gifting them this 'Hug in a Box' letterbox gift set of scented wax melts, tea lights and aromatherapy room sprays. In fact I'd quite love anyone who bought this for me too!
I really hope this has given you some good inspiration for Christmas presents for your teenager this year, and that you can use it to get some of your Christmas shopping out of the way and prepare early. You might also like this post on ideas for teenagers' Christmas stocking fillers. Don't forget that if you shop over the Black Friday period you can make some great savings too!
THANK YOU FOR READING
If you've enjoyed this post and found it useful here are some ways you can say thanks and support Actually Mummy:
Click here to buy me a virtual coffee.
Join our Teenage Kicks Facebook group which includes lots of advice and support for parents of teenagers. You can post your own problems and advice here too.
Click here to leave a review of the Teenage Kicks podcast.
Click here to sign up to our newsletter packed with tips, ideas and support for parents of teens.
Share this post with your friends.
PIN FOR LATER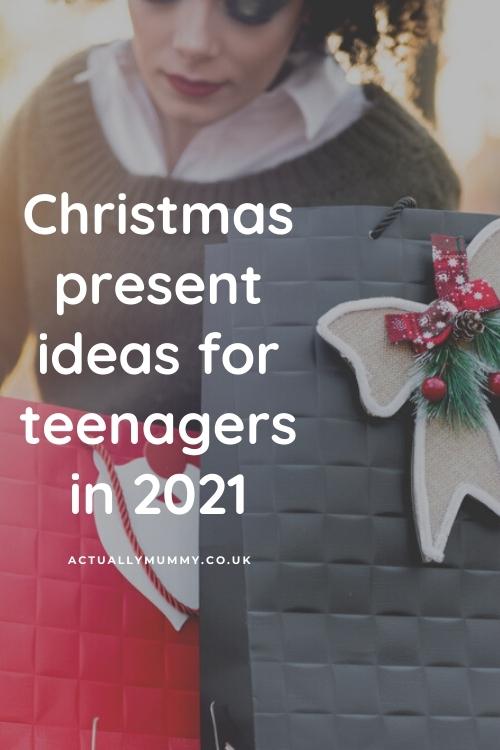 ENTER THE GIVEAWAY
a Rafflecopter giveaway
Giveaway Terms and Conditions
Entry is open to UK residents only aged 18 and over, excluding anyone professionally associated with Actually Mummy or the promoter.
One winner will win one I'm a Genius Tattoos Factory set from Toys and Bears. The prize is non-transferable, non-refundable and there is no cash alternative.
The prize draw starts at 12.01am GMT on 11 November 2021 and closes at 12.00am GMT on 19 November 2021.
Entry is free and must be made by commenting on this blog post answering: 'What was your favourite crafting activity as a child?' Bonus entries can be obtained by tweeting about the giveaway, and visiting Actually Mummy on Facebook.
The names of the winner will be published on this website within 14 days of the giveaway closing, and the winners confirming.
The winner will be drawn at random using Rafflecopter and they must have commented on this blog post for their entry to count.
The winner will be notified by email. They will have a week to respond, after which time a redraw will take place.
In the unlikely event that the prize becomes unavailable the Promoter reserves the right to substitute a prize of equal value.
The Promoter's decision on all matters is final and binding on all entrants. No correspondence will be entered into.
By taking part in this competition you agree to be bound by the competition terms and conditions.
The Promoter reserves the right to disqualify any entrant and / or winner at its discretion and without any notice in accordance with these terms and conditions.
The Promoter is:
Toys & Bears
Click & Buy It Fulfillment
Unit C2, Cadbury Business Park
Sparkford
Yeovil
Somerset
BA22 7LH