Becoming Disabled as a Teenager
Has your teenager had to deal with something life-changing? Life can be tough, and when something big happens to change your child's landscape it can suddenly throw them right off the track they thought they were on, and into what can feel like quite a scary place for the whole family.
Is Type 1 Diabetes a Disability?
Daniel Newman is HR Advisor at JDRF, the charity dedicated to Type 1 Diabetes awareness and research. He was diagnosed with Type 1 Diabetes – a life-threatening disability – when he was 10. Although he handled things well to begin with, things took a more difficult turn for him when he started secondary school, and didn't want to stick out as being the one with the disability.
How to Control Type 1 Diabetes
Teenage years are often when children start to wobble with previously well-managed situations. Type 1 diabetes is controlled with multiple daily injections of insulin, and numerous calculations every time you eat, to work out what dose to take. It can become exhuasting, especially when you have other priorities – especially when you're a teenager!
Daniel told me how he ended up failing his GCSE's because he simply couldn't engage with school as well as dealing with the implications of his diabetes. But he says that wake up call gave him a can-do attitude that he thinks everyone can learn from scratch.
Can you get rid of diabetes type 1?
Type 1 diabetes has no cure. It's a lifelong medical condition that needs a lot of management, and it's not easy to do it alone. You need the support of your family to cope with the mental strain of it, but as a teenager it's not always easy to open up to your parents.
My guests always tell me that they wished they'd been able to talk to their parents, but Daniel – who isn't a parent – goes one step further and tells parents how he thinks they might be able to break through the wall that teenagers often put up when we try to get them to open up. Have a listen, it's certainly made me rethink my strategy when I want to know what's going on inside my teenagers heads!
How do you Cope with Diabetes Burnout?
I think Daniel's learning curve is a fascinating insight into just how possible it is to turn things around even when you're at your lowest. I love the fact that he started with just tiny goals to make himself feel positive about his progress, and start turning the curve upwards. I also think his advice to parents about how to engage on their teen's level is a genius way to get them to open up and start a more natural conversation about what's worrying them.
Daniel has been through a lot as a result of his diagnosis, but now has a hugely positive outlook on life, and how to live with a condition you'd rather not have!
"Listen to how you're talking to yourself. You're your biggest motivator."
You can find Daniel on Twitter and Instagram. You also can listen to his podcast on living with Type 1 Diabetes – The Talking Type 1 Podcast.
You can also find support if you've been diagnosed with a life-altering medical condition from the following websites:
Where to listen to this type 1 diabetes podcast
You can find the episode in your usual podcast app, or if you prefer, you can listen online below.
Where to find more teen mental health podcast episodes
Thank you so much for listening! Subscribe now to the Teenage Kicks podcast to hear all my new episodes. I'll be talking to some fabulous guests about difficult things that happened to them as teenagers – including losing a parent, becoming a carer, and being hospitalised with mental health problems – and how they overcame things to move on with their lives.
I'd love it if you'd rate and review the podcast on iTunes too – it would really help other people to find it. You can also find more from me on parenting teenagers on Instagram and Twitter @iamhelenwills.
This episode is sponsored by Blue Microphones, who gave me the brilliant Yeticaster for the recording of the podcast.
Pin for later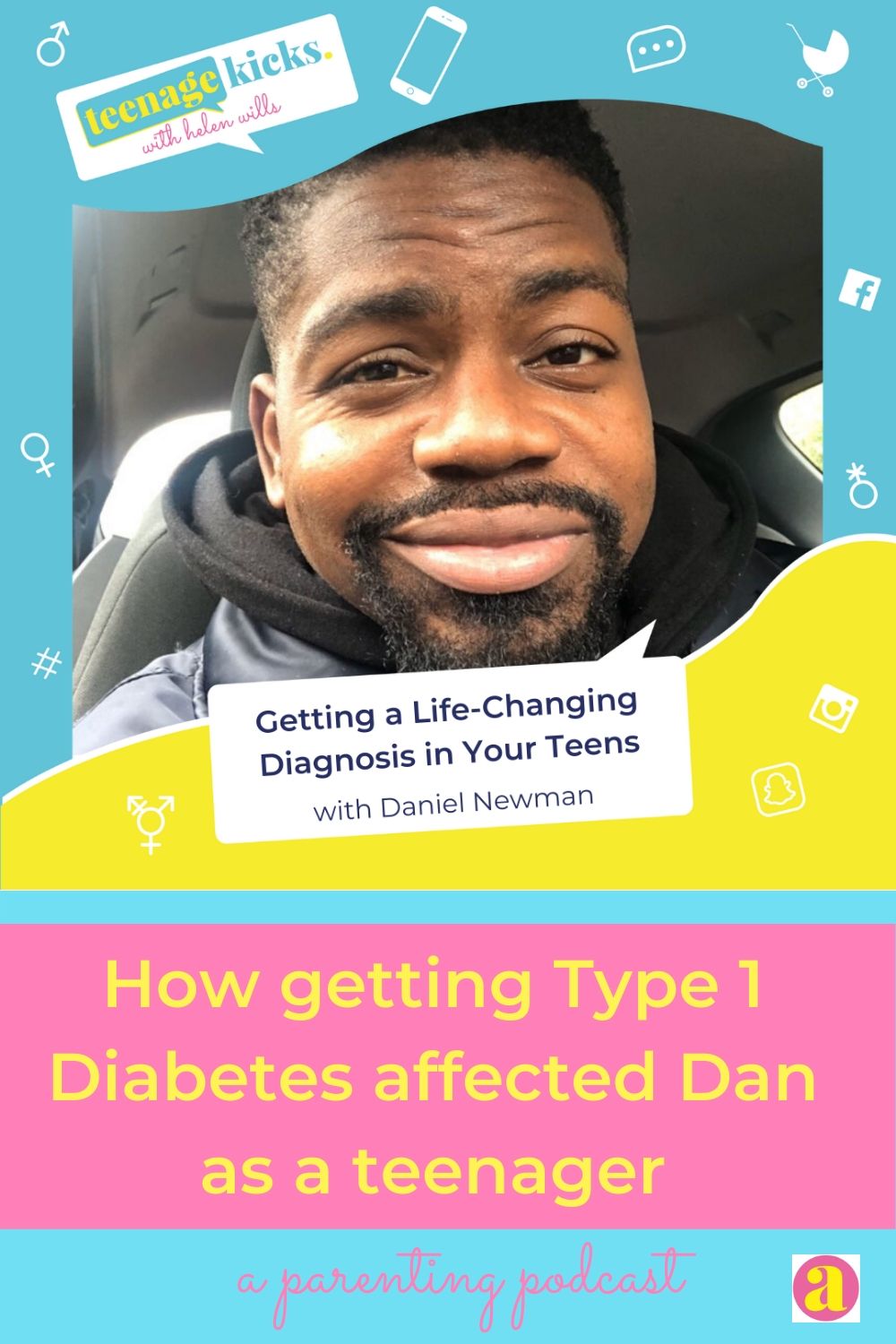 Join me in the Teenage Kicks Facebook group!
If you're a parent of teens it can be difficult to know where to go for advice, to vent, or just to talk. So I've made the Teenage Kicks Facebook group, for all parents of teenagers to chat in a safe space. You can request to join by clicking the button below. It's a private group and everyone in there will be a parent of teenagers.