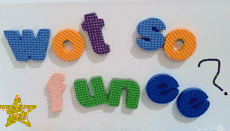 A very simple Wot So Funee? post from us this week as it is half-term and we have been running Mummy ragged all week playing games, taking trips, putting on fashion-shows: y'know, the kind of thing that needs a lot of tidying up afterwards. Consecutively she has not had a lot of spare time for doing clever-clogs vlogs!
Whilst Mummy regresses to childish fun this week, we have been thinking about what we want when we grow up. For me this is simple, I have always wanted to be the one in charge. I want to decide what I do, and when; but more than that, I want to decide what everyone else does too!
This began at a very early age. I very quickly got the hang of consequences, especially those along the lines of "If you do that, then this will happen." Here is a passage from Mummy's handwritten diary, penned when I was 2:
I've figured out consequences, and I try to use them on Mummy and Daddy. Today, when it was time to go out, I was really cross because I wanted to stay in and play Noddy Snakes and Ladders. They were making me put my winter coat on, with the gloves on elastic through the sleeves. I was so cross I just yelled at them: "If you don't let me play snakes and ladders right now I'll……..wave my glove really really fast!" For some reason, M&D went very quiet and looked at the floor….
The Bug has an ambition too. He likes to be in the front of the car. This week he came out with this:
Mummy, when I'm big, and you're little, you can sit in the back and drink juice, and I'll sit in the front and drive and drink Coke like you!
Now go ahead and link up your own #funee posts with the linky tool below. Then go visit the other entries and share the giggles!  Steal my badge, or put a link in your post so your readers can find everyone. If you're new here check out the Wot So Funee? main page then come back and join in the fun! We will visit you all and try not to laugh!
Powered by Linky Tools
Click here to enter your link and view this Linky Tools list…
I am also linking with Mummy…Mummy…MUM! and Tropical Mum, who both do funny posts on a Friday!