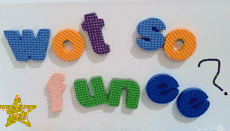 Me and the Bug have been pretty sensible this week, so it's time once again to look to social media for some inspiration. We asked for your funees and you did not disappoint! I love reading that I am not the only one whose parents laugh at their children's very serious attempts at language, and I think you will find some very clever children running rings around their silly parents here! If you have written a similar post please link up at the bottom, and if you're not a blogger, or just have a quick quote like these feel free to post on my facebook page and I'll include them and tag you in a future post 🙂
First up this week is Real Suburban Mummy: "My son, age 3, "Mummy that lady is looking at me and she is disgusting" – the lady heard and I nearly died!" Oops!
A Mummy Too had to hide her blushes recently when "in the bus station…JD cried, "That man must have got lots of money from the tooth fairy!" – I looked up to see him pointing at a man with very few teeth. Eek."
Cass from Frugal Famil had this to say about my #funees: "I love reading these types of posts – I had an embarassing moment in Asda a while ago when my little boy very loudly asked me to hold his nuts while he had a wee. He meant his pistachio nuts but everyone else in the shop didn't realise that ;-)" Sorry, excuse me a moment but, Bwahahahahahaah! It seems she's not alone in her child's inappropriate toilet humour. The Real Housewife of Suffolk County also cringes as her son "always has the urge to get naked in our Asda. Once he pulled his trousers and nappy down whilst I was stood talking to a friend, I didn't realise until I turned round (he was stood in the trolley). Most embarrassing!"
Apparently the faux pas don't stop when I grow up! Angie told me about her 15yr old daughter – yes 15 – asking an Australian (whom she had been talking to for 2 hrs) do you speak English in Australia? She then went onto to ask him if the kangaroos lived his garden. Now even I know that's silly – kangaroos are only ever found in zoos of course!
Language issues often cause embarrasment, as with the eight year old at Stressy Mummy who was looking for a different word for an alien and came up with 'extra-testicles.' And the nine year old from Fab Foibles who asked when his tummy button would fall off! He'd overheard a friend (with a new born) saying it often fell off in the bath & was waiting! He does sound even weirder than me to be honest. Apparently he was overheard whispering to the cat last week " go on, poo on mummy's kindle." Now there's an extreme reaction to lack of parental attention if ever there was one! I usually make do with creating potions in the sink and flooding the bathroom!
Teens and Twincesses has a story I can relate to: "Many years ago, the boys used to go their nannies house for lunch on sunday. They used to take her notes and pictures, Sam adored her but Emile wasn't too sure. One afternoon he was getting ready to go and shoved a piece of paper in his pocket. Good job I checked it " I like you Nanny but not a lot" ha ha still makes me laugh! Which also reminds me of a little girl I knew who left the country a few years ago. We all wrote her note to remember us by. One of those notes read "Please stay away from England!"
Mrs C has a cute anecdote:  "Little Miss C on telling her dad that she'd been sick that day. "Daddy, Daddy – I spilled out of my mouth!" Jennifer has age issues – with her three year old "You were born a hundred years ago, weren't you Mummy" Not quite! And finally Cari Rosen overheard her four year old the other day discussing hair: "Daddy has no hair, my hair is gold (?!) & mummy's hair is brown & white stripes". She immediately booked emergency hairdresser appointment! 😀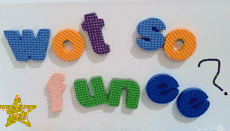 Now, if you have your own post to link this week, grab the badge code from the bottom of the page, and click the link – I can't wait to see what you have! If you're new here you can check out the Wot So Funee? main page for more on how to join in.