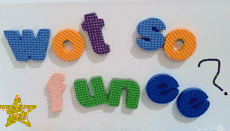 When I grow up

When I'm 30 years old I will live 1 kilometre from my current home. I will live in a mountain, on a house. Hmmm. You need to have a rethink darling. We live in Hertfordshire; there are no mountains here, and all you will find within one kilometre is a 1950's housing estate and 5 Tesco metros. Unless of course your mountain is metaphorical, which it would have to be, were you to actually build it on top of a house. I do hope the house in question is not our current abode – I think a mountain might actually crush us. Though it would be nice to have you drop in for Sunday lunch.
I will be married. I will have 2 kids and a dog named Bob. I will have the same best friend I have right now. I will listen to the same kind of music I listen to right now. I will have the same basic haircut I have now. I will be in really excellent shape. Great, that sounds a lot like a normal life. Although I should point out that having 2 kids and being in excellent shape are mutually exclusive 😉
I will work as a dolphin trainer and I will make 100,100,000 dollars a year. Oh thank goodness. So when your mountain house caves in our roof I'll just send the repair bill to you then. 
I will be 2 metres 10 centimetres tall. Sheesh that's going to cost me a lot in groceries when you're a teenager!
I will take a bus to work every day. What? You're a multi-millionaire darling. You'll have a limo. Besides, the buses round here only go the the Tesco metro.
I will have visited 17 different countries. Uh-oh, that sounds like a very expensive gap year…
I decided all of this using the Diary of a Wimpy Kid Do it Yourself book (which for your information, we bought with our own money, so there). I entertain my family regularly from the back of the car with my scribblings on its pages. The Bug is perfecting his eye-roll…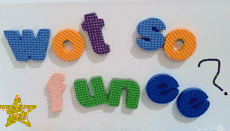 Now, if you have your own post to link this week, grab the badge code from the sidebar, and click the link below to enter your post – I can't wait to see what you have! It's not obligatory, but if you include a link back here in your own post, I'll return the favour with a tweet-out. If you're new here you can check out the Wot So Funee? main page for more info.