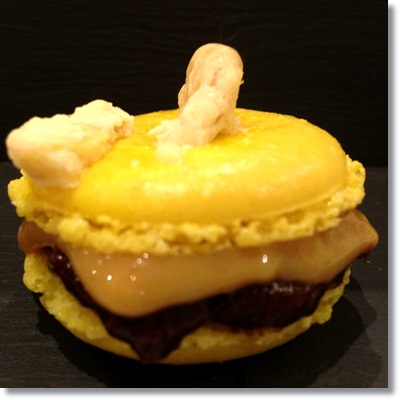 Great British Bake Off – the Macarons Challenge
Inspired by the Great British Bake Off, my friends Jenny and Helen – pudding and cake bloggers extraordinaires – have set a challenge to bloggers who enjoy #GBBO. Each week we will commit to creating an item on the theme of that week's Great British Bake Off. This week the theme is Trifle, and Petits Fours. So as I sit here watching the contestants mess up their Iles Flottantes, and steal each other's custard, my caramel ganache and banoffee caramel are cooling in my kitchen, destined for these babies. Read on for my Banoffee Macarons recipe.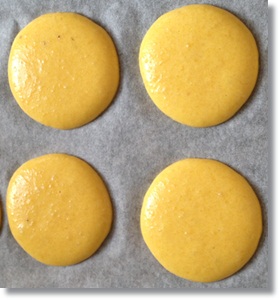 What are macarons?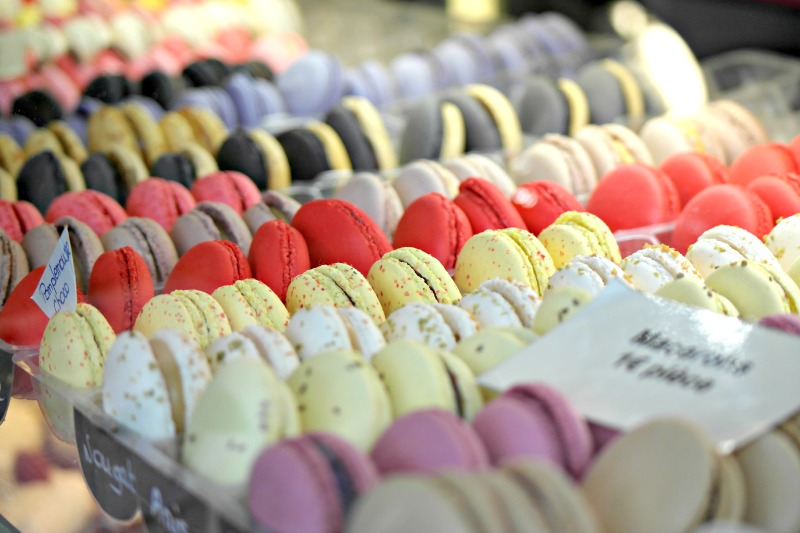 Macarons are small meringue shells made in perfect flat circles, sandwiched together with a soft filling – usually a ganache, cream, jam or buttercream. Made from egg white, sugar and ground almonds, they're often featured as petits-fours in an afternoon tea, and are a staple of a good French patisserie. They are NOT to be confused with Macaroons, which are – in my opinion – an abomination of dessicated coconut and glacé cherries. Although that could be a flashback to my own childhood teatimes!
Think of a macarons as a tiny marzipany meringue, and you won't go far wrong. The trick is to follow the instructions to the letter.
How to make macarons for beginners
I'm a pudding maker really, not a creator of desserts, but my daughter's favourite thing in the whole world to eat is Macarons. So much so that – distressed by the cost of the damn things in shops – I learned to make them myself. I bought her this book, and every now and then she picks the object of her desire and we make them. The process is actually not that tricky, but there are some tips and essentials that we've found over the years that make it easier to produce the perfect macaron, which I'll share with you here. This time we chose Banoffee Macarons. As with all our recipes we varied the original to take account of what we had in the house and what we fancied.
The three things that will make or break your success with a macarons recipe are as follows:
Time: macarons take much longer than you imagine, but they're worth it. Try not to be too ambitious with flavours on your first go, and only make one batch at a time. We've often got excited about two or three different recipes and regretted it at 11pm!
Patience: if the recipe says that you should only add a teaspoon of sugar at a time, stick with it. Trust me, it's what makes the difference. Likewise with the waiting and tapping after piping. It will make a huge difference to the appearance of your macarons.
Equipment: you will definitely need a piping bag with the right size nozzle. You need to start in the centre of your circle, piping close to the paper, until the mixture starts to reach the edges. I'd also 100% recommend purchasing two good quality silicone macarons trays. Don't ask me why, but it makes a huge difference to the end result, and it makes it easier to prise the shells off after baking.
Banoffee Macarons recipe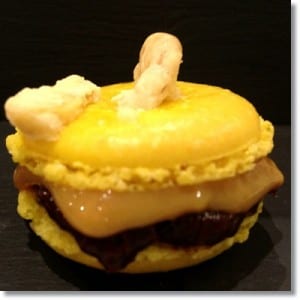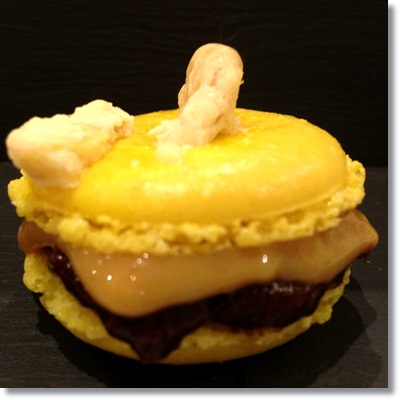 Banoffee Macarons
Decadent and gooey macarons reminiscent of a banoffee pie - but without the calories!
Ingredients
200

g

icing sugar

100

g

ground almonds

3

egg whites

pinch

of salt

40

g

caster sugar

yellow food colouring paste

50

g

yoghurt coated banana chips

For the ganache filling:

150

g

dark chocolate

flavoured with caramel - we used Lindt caramel

150

ml

double cream

1

tablespoon

light muscovado sugar

pinch

of salt

For the banoffee filling:

75

g

caster sugar

1

large ripe banana
Instructions
Mix the icing sugar and ground almonds in a food processor until well blended.

In a separate, clean bowl, whisk the egg whites and salt until a firm peak begins to appear.

Continue to whisk as you add the caster sugar, one teaspoon at a time, until the mixture is thick and glossy.

Add a small amount of food colouring paste and mix well in until you have a bright yellow colour.

Fold the almond mixture into the eggs until you have a smooth dropping consistency.

Lay a sheet of baking parchment onto a heavy baking tray, and use a circular template (we used the larger end of our piping bag nozzle) to draw circles into which you will pipe the mixture. Alternatively, use a silicone macarons tray to create the perfect circles.

Pipe using a 1cm nozzle on a piping bag.

Once all the mixture is piped, bang the tray on the work surface to cause any air bubble to rise to the surface, and leave to rest for at least 30 minutes - this is important to form the skin which will give you the distinctive frilly edge of the macarons.

Break the banana chips into smaller pieces and top half the macarons with a piece each.

Bake for 10 minutes at 170 deg C (325F).

Remove from the oven and leave to cool on the tray.

For the ganache:

Chop the chocolate and tip into a heatproof bowl.

In a small saucepan heat the cream and sugar until it comes to the boil.

Pour the cream mix over the chocolate and stir until melted.

Leave to chill in the fridge.

For the banoffee filling:

Place the sugar and 2 tbsps water in a pan over a low heat, and let the sugar dissolve.

Increase the heat and bring to the boil, continuing to heat until the liquid turns a caramel colour.

Remove from the heat and stir in the sliced banana.

Transfer the mixture to a blender and blend until smooth, then chill.

To assemble the macarons:

Spread the underside of the plain macarons with ganache. Drop a teaspoon of banoffee mixture onto the ganache, and top with the banana chipped macarons.
Phew! That's a lot of instructions! It is time consuming, but if you are patient it's not difficult to make a good macaron. Making it look perfect is another matter. I'm told it takes practice – we're on our 6th go 😉
Macarons FAQ's
How long do macarons take to bake?
We've experimented with our oven to get the perfect settings so that the macarons don't brown too much, but do dry out enough to lift from the paper. Most recipes suggest 10 minutes at 170 C, but use that as a starting point and experiment. We've found we need to go slightly lower, and leave them in for 12 minutes.
Can you bake macarons without parchment paper?
No, absolutely not, unless you have the silicone trays I mentioned above. And the quality of your paper is important too. Buy the best you can afford unless you want to spend hours peeling little shreds of paper off your shells.
Are macarons gluten-free?
Yes. The beauty of these little sugary shells is that they only contain egg white, almonds and sugar, so they should be fine for gluten intolerance or allergy, depending on what colours, flavourings and fillings you use. Of course, macarons aren't ideal for lots of allergy sufferers as they do contain nuts and egg.
How long do macarons last?
I'm often confused as to how long macarons will last – although in our house the question is often mute, given how fast my family can consume them! But essentially, if you have a large batch of macarons, they will keep for different timescales depending on what you've filled them with. Anything with a cream filling needs to be eaten within a few days, and absolutely must be kept in the fridge. Jam or buttercream fillings will last up to a week, but again, they're better in the fridge.
You could bake ahead and keep the unfilled macaron shells in an airtight container in a cool place, in which case they will last for 2 weeks before you need to get them filled and devoured!
Are macarons low carb?
With type 1 diabetes in the family we have to count the carbs in everything. As we tallied the ingredients in this recipe I was expecting the carb count to be huge, but it's actually not terrible. Whilst macarons aren't low carb, they are only around 12g in most cases, and the addition of eggs and nuts slows down the absorption of the sugar into the bloodstream. My diabetic child can quite easily get away with an insulin dose for two of these at a time, with no tricky impact on her blood sugar levels.
Why are macarons so expensive?
If you've read the recipe you'll have an idea of how much time it takes to make the perfect macaron. I remember being appalled at how much I had spent the first time I bought all the colours my children wanted in the patisserie – and at how quickly they were demolished! Once I'd made a batch I realised the work involved. Macarons are expensive because they are a work of art!