… before and after kids.
By

Helen

…

Whilst making a packing list for our forthcoming ski trip it struck me that what I'm taking now is considerably different from what I would have packed 10 years ago, before we had the children. So for anyone planning a holiday in the snow, with or without kids, here's my advice.
What to pack for a ski trip
Before kids:
Fleece headband that matches your ski jacket – prevents earache, but avoids the shame of hat-hair.
Duty-free Absolut vodka – distracts the mind from occasional sprains and bruises.
Multivitamins – with all that delicious cheese and patisserie, it may be tricky to keep up with your 5-a-day.
Skinny jeans and your best chenille tops – warm but still chic for the evenings.
Thermals – useful for the torchlight descent – it gets very cold in the evenings on the mountain.
Your best underwear – never know who you're going to meet.
Clinique facial sunscreen – kind to skin and tinted for a healthy glow.
Swimsuit – swimming pools and hot tubs in the snow are sooo special.
Oakley sunglasses – mirror effect optional but great for photos.
Hip flask – you can get a dry mouth when you're skiing.
After kids:
A helmet – did you know that alcohol shrinks the brain? You need all the protection you can get.
Haribo – one family pack per day. Distracts the mind from occasional sprains and bruises.
Haemorrhoid cream – it may be tricky to keep up with your 5 a day.
Torchlight descent? You'll be nursing a gluwein long before that.
Velour jogging bottoms and a fleece for the evenings. Should be able to get away with just the one set if you're carful not to spill your wine.
Big pants – you're going all out for comfort.
Factor 50 sunblock – it's just not worth the hassle of risking sunburn.
Leave swimming things at home – they're just going to clog up shower cubicle with chlorinated lycra.
Arnica – tablets and cream. Useful if nothing else as a placebo for the hourly complaints of painful feet.
Camelpack – skiing is thirsty work.
Tena liners – in case of over use of the camelpack.
The kids – much cheaper than booking them seats on the plane.*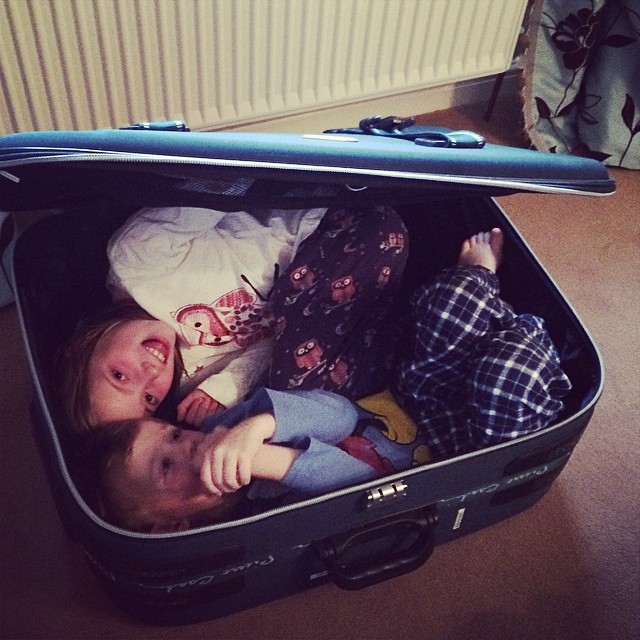 *Note, we do not actually recommend packing your children in a suitcase – I'm pretty sure it's illegal, and probably not very safe.
Disclosure: we travelled to Val d'Isere with Mark Warner Holidays for our very first family ski trip. Our holiday was complimentary, for the purposes of review. All editorial content and opinion is our own. For more on how it went, pop back every day this week, as we give you the low down on skiing with the kids.
Mark Warner operate a variety of family-friendly trips, including ski and summer holidays. Explore the huge variety on their website.
Disclosure: this post contains affiliate links. All opinion, editorial and imagery is our own, and may not be copied without permission.