We are a bit sick of the cold. It is set to snow again this weekend, and my mind is on holidays. I crave the warmth of sunshine, or at least the cheer of a fresh bright morning. Is it just me who thrills to the sight of a sunny day? Is the school-run suddenly different, more interesting?
No, of course not; it is we who change at the first emergence of the sun; our moods that swing to the ascendant as the sun rises feebly over the playground. It puts a smile on our faces; we didn't know we were missing it until it came…
This week we were thrilled to have one beautiful (if chilly) day to spend outdoors. The Bug ran in fields – a necessary activity for a balanced young boy! – and I cooked fish on a hollowed-out log. We discovered various styles of den, various lengths of tree branch, various types of panther (cats)… Our parents played with us! We forgot that we were on a walk. Such is the power of a clear blue sky.
Check the sky tomorrow. If it's grey, fair enough – we all like a good duvet day. If you see the merest patch of blue, get out there – adventure is waiting!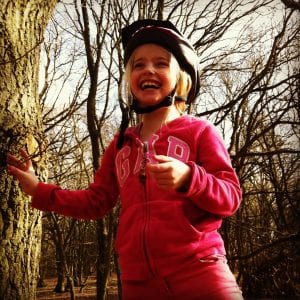 We're linking this post to Coombe Mill's Country Kids. We're looking forward to spending some time with them this year, dragging our parents into their version of the outdoors! Click the badge to see the really great outdoors!