Regular readers here will know that I'm fond of bold colours. If you've ever fancied trying a brighter colour than usual, let me tell you – it pays off! I've had so many compliments on my outfits since starting to wear colourful fashion, and it never fails to cheer up my day when a complete stranger tells me how great I look. I love bright, colourful jewellery too, but recently I've started to crave more delicate, elegant jewellery – something a bit more simple, but still classy.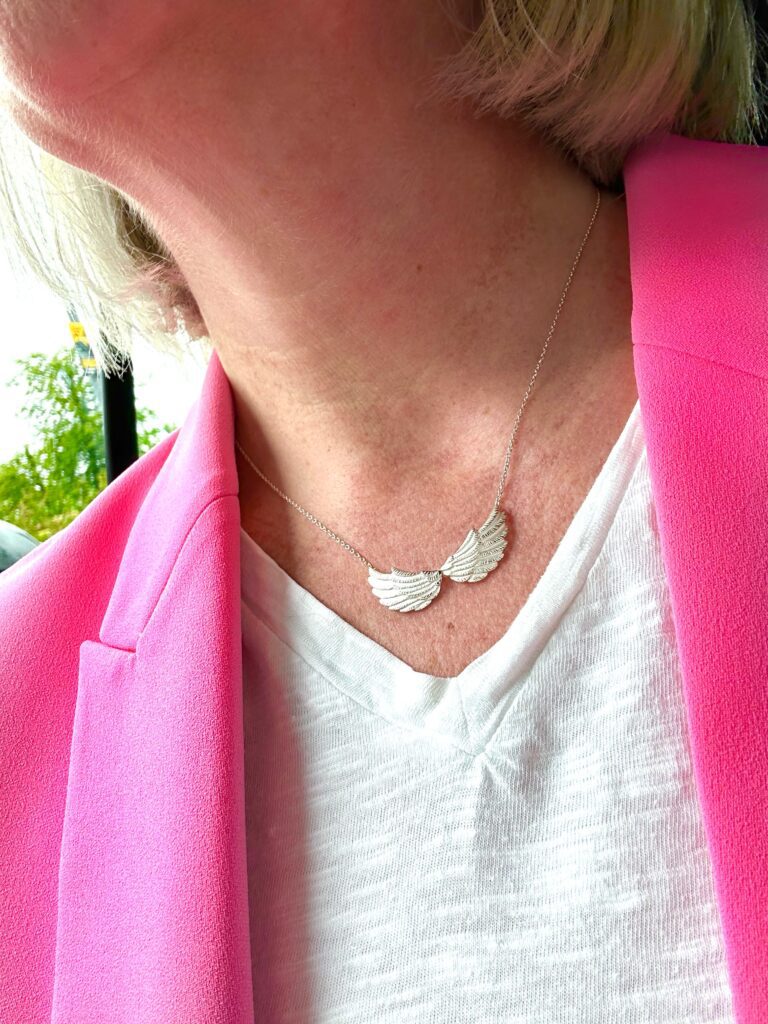 Advertorial content: this posts contains links to Jana Reinhardt Jewellery, who gifted me my necklace.
Jana Reinhardt Jewellery is a small business owned by Jana, who crafts beautiful animal themed jewellery, only in solid gold, silver and platinum. The reason for this is sustainability – the methods in gold plating are harmful to the environment, so Jana limits her collection to process which show care for the planet. It also means that the jewellery never loses its lustre.
Jana and her husband Ross (both vegans) have a soft spot for animals, and this – coupled with their desire to nurture the planet – established the theme for Jana's business – animal jewellery. And they have everything; seriously, you name it and they've probably made it – from unicorns and dolphins to baboons, cows and frogs!
I chose a pretty pair wings in silver for my necklace, with a specific reason why. Jana's is the first jewellery I've seen that definitely isn't going to do that annoying thing where the clasp slides round so you're decorated by a clasp and dangly bit of chain instead of what you originally chose your necklace for. Is it just me that happens to? I find the prettiest pendants and within minutes of putting them on the clasp has slid to the front.
These wings form part of the chain, so they'll stay where you put them, all day.
Some facts about Jana Reinhardt jewellery
As a vegan brand – they're 100% plant powered, which means a smaller carbon footprint 
11 of their designs have been created to benefit 11 different charities, including: PETA, Surge Sanctuary and OVAID. To date they have raised over £9000.
All Jana Reinhardt products are made from 100% recycled precious metals.   
Any precious stones used in the pieces are lab grown to avoid the harmful practices involved in mining gems.
Every Jana Reinhardt piece is made by hand using the more environmentally friendly methods of wax carving and fabrication.
Jewellery boxes are made from 100% recyclable card and paper. Cartons and printed materials are all 100% recyclable and they even use recyclable paper tape.  
The business offsets the carbon created when wthey make jewellery and ship it to customers, by planting a tree with Ecologi for every sale.
I've already had compliments on my new necklace – so many, I'm considering buying the matching earrings!