It's official. I've ruined summer. You know that little window of sunshine and double digits we had over the Easter weekend? Oh, you didn't notice? Well, don't beat yourself up, it lasted around 10 minutes; all you needed was a family lunch and you'd have missed it passing by in the garden.
This is a featured post in partnership with Lighthouse Clothing, who gifted me my new clothes, and Strive Footwear, who gifted me my white sandals.
Joking aside, over the bank holiday weekend I took the opportunity to change up my wardrobe and go bright for Spring. Lighthouse Clothing sent me some colourful separates a while ago, and I'd been dying to cast off my chunky knits (essential for Winter but come on, 6 months of Winter is bleak by anyone's standards). I already had these M&S jeggings, and I knew this bright pink Strand hooded top would be perfect to layer up on cooler days.
It's beautifully made, with a gorgeous blue and white striped lining in the hood, and pockets for my phone and keys. Pockets is an essential for me. Since lockdown I've completely given up wanting to take a bag out with me, just phone, keys and lippy, so anything with pockets is a win. This is thick enough to keep chill winds out at £59.99.
This would be the perfect outfit for a walk or a casual shopping trip, stylish but laid back and casual, and versatile enough to cope with changing temperatures. As it was, I was just playing in the garden with Rocket, who is a very engaging playmate with endless energy. Before too long, we were both breathless, and I was taking a layer off.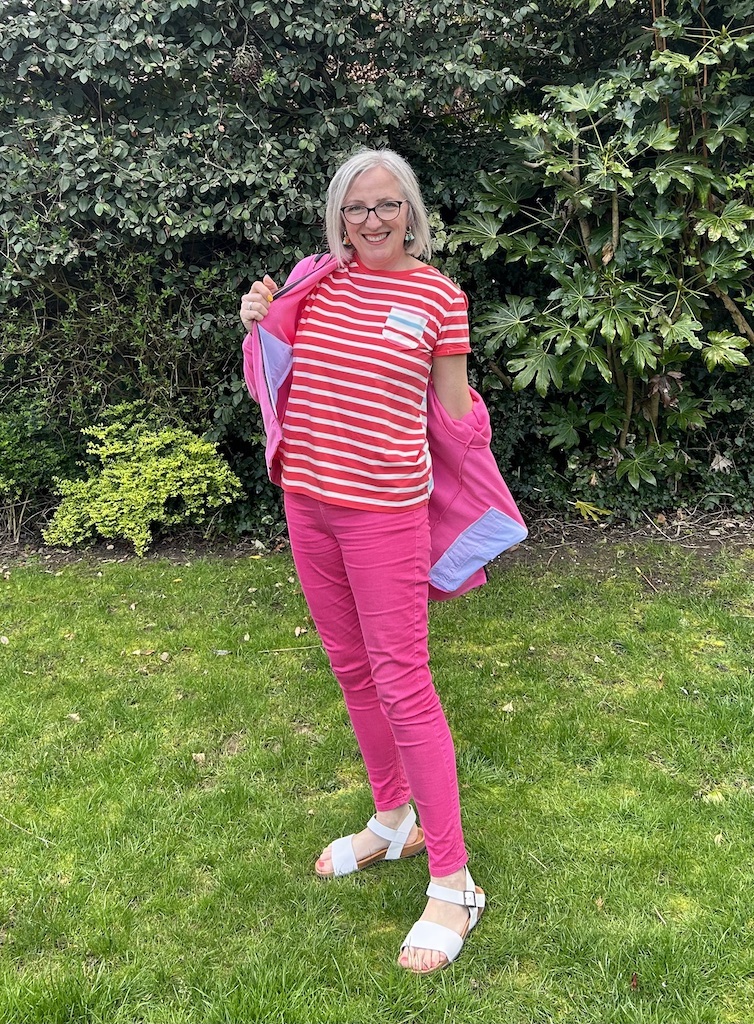 This Causeway Tee in Watermelon Stripe is perfect for me given all the colours. Red and white on the front (I love a colour clash, and pink and red work really well together, despite what my mother told me 40 years ago), with candy pink and blue mixed in with white on the back, as well as on the pocket detail, this t-shirt just sings happy to me.
It's made of a thick stretch cotton, which makes it gorgeously soft, and it doesn't cling to lumps and bumps, or show the outline of my bra strap – super good quality at £29.99.
The thing I'd been most looking forward to about warmer weather was freeing up my poor feet from thick socks and boots! I was gifted these white sandals by Strive Footwear, who make shoes with arch support built in. I have collapsed arches, so throughout the winter I wear arch supports in my shoes, boots, and even my slippers. I used to have horrible hip pain and sciatica; a visit to a podiatrist 20 years ago cured me – all I needed was the right arch support. But when it came to summer sandals I was stuck. You can't put Scholl insoles into sandals!
With Strive, that's taken care of. These are seriously the most comfortable shoes ever, and they give me all the support I need for a few months in the Summer, until I can go back to my custom-made orthotics. Strive have a range of summer shoes, from classics like these Cara sandals at £69.95, to smart sandals that would work with your prettiest summer dresses.
Anyway, sorry if I've chased the sun away permanently by jumping the gun with my new summer gear! Hopefully it will return, at which point I'm ready with my new Spring wardrobe!