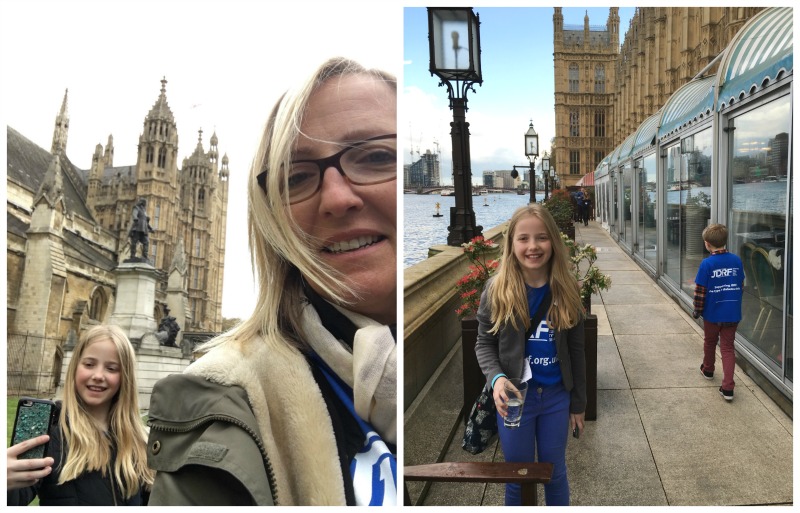 Want to know what'll get you inside the Houses of Parliament? I don't mean queuing up to take the tour (which in itself is very cool), or going through security (rather like airport scanning, that's how serious government is) to sit in the Commons and hear the debates (yes that is totally a thing). Nor am I talking of secret plots to usurp government and all its officials. No, this is about a personal invitation to a private party on that stretch of the river Thames that always looks so inviting on a sunny Friday afternoon; the Terrace Pavilion, where you always imagine the PM sipping a G&T at the end of a hard week.
Well I can tell you. On a chilly afternoon in April I signed Maddie out of school (with the head teacher's permission, I might add – no unauthorised absence for this one), and took her into London for the kind of event that most people don't get to attend in a lifetime, never mind as an 11 year old. We had been invited by type 1 diabetes charity JDRF to go and talk with MP's and key medical researchers about why we believe type 1 research needs more funding.
Hosting the event was Jamie Reed MP, himself a type 1 diabetic, who had run the London Marathon the day before. Remarkably, he looked sprightly and had managed to reserve some of his energy for an impassioned speech about what we as advocates of the diabetes community need to do. Basically, he said, we have to "rattle the cages."
Which is what we do, me and her, on this blog, all over Facebook and Twitter, and on her Instagram feed and blog, Type 1 Drama Queen. (And yes, every single one of those words is very relevant to my daughter's character). We talked to MP's about quite how difficult it is to meet the target blood glucose levels recommended by the NHS (NICE) to be a healthy diabetic. We watched their eyes widen when we told them that less than 20% of children manage to do it, that's how labour intensive it is. We shocked them by mentioning that the figure is even lower in adults, probably because they don't have parents on their case the whole time.
We grinned as Karen Addington, Chief Exec of JDRF, outlined the amazing research that is being done, and our profiles dominated the Twitter wall.
We broached the subject of eating disorders with them. A woman with type 1 diabetes has more than twice the risk of developing an eating disorder; it's no wonder really – the medical need to count the carbs of everything that goes into your body leaves you scouring nutritional labels, and obsessing over weight like the most helpless anorexic.
We told of the likelihood of mental illness when you have diabetes. The stats have it as pretty much a certainty – can you imagine knowing that that's what lies in store for your child? The pressure of managing a 24:7 medical condition, alongside the stigma of incorrect perceptions of your illness from the general public, the media, and even most of the medical profession, wears you down. You'd have to be incredibly resilient not to succumb at some point. Thank goodness she is, already, but I fear it won't be enough.
We remarked on how difficult it is to motivate an army of fundraisers to the diabetes research cause, when there are so many more obvious charities. Want to run a marathon but don't have a personal cause? You'll probably run it for cancer, children, or animals. Of course you will, and they're deserving of your efforts. But so is diabetes, and no-one thinks to pick it, because the real profile of diabetes is low, at best; at worst you're condemned for having it, for 'giving yourself diabetes,' and big media stars are perpetrating that myth.
Talking of myths, we ate cakes, and when eyebrows were raised, we took the opportunity to explain that it's totally fine to eat sweet things when you have diabetes, as long as you keep your blood sugar levels in an acceptable range, with insulin, exercise, or general healthy eating. We explained how wearying it can be to be questioned every time you pick up a biscuit, and that people with diabetes can do the same as anyone else, as long as they eat a generally healthy diet. Like everyone else…
We spoke with researchers about their progression towards a cure, and in the meantime a more effective way of treating diabetes to minimise complications and eradicate safety issues. We got excited over Mark Peakman's (Professor of Clinical Immunology at King's College) research into turning off the hostile immune response the the beta cells that produce insulin, only just managing to avoid hugging him as we urged him to hurry up.
The research is amazing. There is so much promising stuff in the future of diabetes treatment. But it's not coming next month, as the Daily Mail would have us believe. It is years away; the really good stuff – the stuff that means my girl will one day be able to say she used to have diabetes – is decades off. All of it could come sooner if diabetes were given more funding, more profile, and had more awareness. So we rattle the cages.
This week is diabetes week, so you will likely see me sharing posts and photos to do just that. To ask you, as readers and friends, to rattle the cages with us. To run, swim, sell cake, donate, and speak out for those struggling with this massive condition. I did not know this, and even my eyes are widening. We all have cancer and dementia on our internal mind maps, don't we? Diabetes needs to be there too.
So anyway, what do you do once you're inside the the Houses of Parliament? Record the world's first musical.ly video from UK government headquarters, obviously!