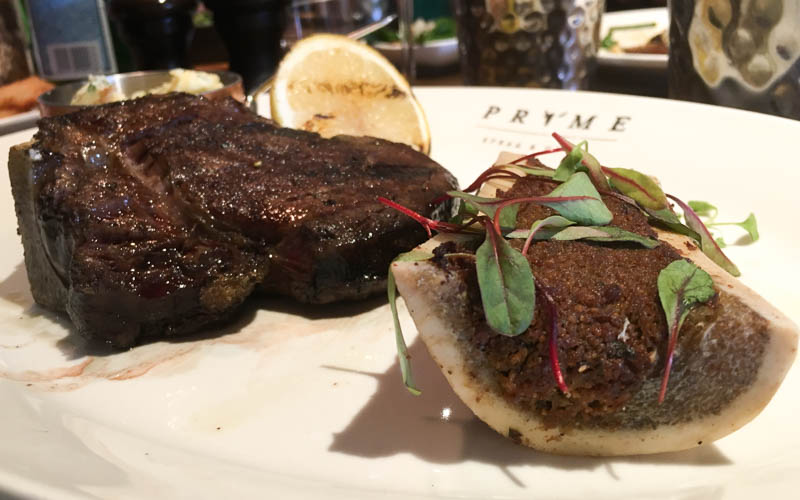 Which is the best steak restaurant in St Albans?
A review of Prime St Albans
We have lived in St Albans for a long time. When I started this blog I wanted to be anonymous, so we didn't mention our city. Look how that turned out! When I met my husband, a large part of our dating was spent in smart restaurants. We lived in Chiswick and would seek every excuse to hop on a train for an evening in the OXO tower, Bluebird, or Titanic (rather sniggeringly named because it sat on top of the Atlantic Bar and Grill – it went under in much the same way).
When GG and the Bug arrived, and income halved, it looked like posh food was off the menu, only to be consumed hurriedly on birthdays, with one of us slaving over an oven. It was less dress up and dine, more glug some champagne and pretend you didn't burn the onions. But as they have grown, they've shown themselves to be cast in the same mould as their parents. My daughter will not eat from children's menus, always choosing the rib eye steak, medium, with triple-cooked chips, if it's in truffle oil, all the better. My son's favourite food is chilli squid.
St Albans Restaurants: Best For…
We have lost no time in initiating them into our dining habits – one epic meal at Hawksmoor has already gone down in family legend. And over the 16 years we've been here, St Albans restaurants have come a long way. From a lonely Pizza Express and an iconic Italian, the city has added to its food offering, to become a city whose gourmet delights we now want to explore as a family. We've been here so long we've also branched out geographically, one of our favourites being The Giggling Squid in Harpenden. So I'm starting a series of reviews: St Albans Restaurants: Best for…
Prime Steak and Grill: the best steak in St Albans
As soon as we sat down I knew what I was going to eat. Before the menu even arrived, my eyes fell on my paper place setting, and it was no contest. My daughter didn't take long to decide either:
"So Mum, I'm having steak, with garlic and parsley butter, green beans, and triple cooked chips."
Okay then.
"I can't believe they don't have lobster!" declared my 8 year old. "In that case I'm going to try the smoked salmon tartare, fresh dill, avocado, curry and lime crème fraiche and coriander shoots."
I raised an eyebrow at Actually Daddy. We were in for the full works. Might as well order a salt and pepper squid and settle down for the afternoon.
As we discussed the various steak options (it was always going to be steak, though there are other gorgeous options, including burgers, calves liver and some very adequate fish choices) our waitress quickly noticed that my daughter was wide-eyed at the cocktail menu, and offered a virgin version of a watermelon caipirinha. It looked amazing, and didn't last long, so I'm guessing it was.
Our waitress offered us a good explanation of the various cuts of steak, and the best ways to cook them for maximum flavour. She was also happy to recommend wine, and when we couldn't decide, brought us not one, but three different splashes to taste before we made up our minds. Win.
Prime Steak and Grill: the menu.
The starters: our crispy salt and pepper squid was pretty much perfect. There's only one squid starter I've had to rival it, at Jamie's Italian, and it's a close contest. This was crispy and hot, juicy inside, and the mango, lime and chilli dressing was a nice foil. Having explained to my son the meaning of tartare, I was nervous he might not enjoy his salmon, but it all went, and it was a struggle for us to get more than a forkful off his plate:
How good is the steak at Prime St Albans?
Our steaks were beautifully cooked. I like my steak tender, and order it medium, but so many times I've had a plate swimming in blood, so I've often gone for safety and ordered well-done for the kids. It's always disappointing. Well-done steak is usually dry, and even the children prefer the flavour of a juicier steak. This one was good, pink inside, but no leaking. They shared the sirloin, swapped fries for triple cooked, chunky chips, and asked for a side order of garlic mushrooms and onion rings. I'll say one thing for my kids – they have good appetites!
I'd never had marrowbone before, but it made a wonderfully rich, salty accompaniment to my tender fillet, and stuffed as I was, I had to finish it all.
My children whimpered as I declined the dessert menu. I agreed to a glance at what we would miss, and they managed to secure a promise from me that would return and resist the starters, leaving space for a proper pudding. I'm rather looking forward to a Lemon tart with passion fruit ice cream, lemon curd and shortcake, with the suggested Plum Sake dessert wine. I'll be needing a taxi.
Good to know:
Prime Steak and Grill is on the London Road in St Albans, just opposite the newly refurbished Odyssey. Road parking is possible after 8pm, but not guaranteed. During the day it's best to park on the bottom level of the Maltings car park on Victoria street, and walk down Lattimore road to the restaurant. Our three starters, four steaks, two mocktails and two glasses of wine came in at just under £200, so it's not an every day lunch unless you're flush, but it's perfect for a special occasion. Or a 'just because you fancy it' occasion. There is a children's menu – I'm afraid we didn't really look at it, but the staff were more than happy to divide adult dishes for the children to share, or amend dishes to suit the kids. Prime Steak and Grill are also on Facebook, and Twitter.