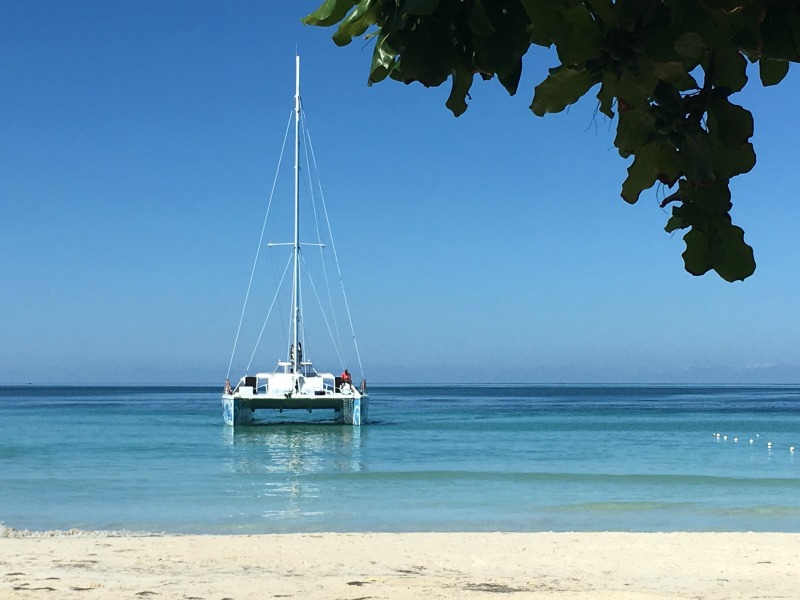 How beautiful is that? That's the catamaran you'll dance on. Oh yes you will, because you won't be able to stop yourself.
Once you've arrived at Beaches Resorts Negril, there's not much you'd want to leave for. It truly is paradise (take a look at our virtual tour review if you don't believe me). But there are one or two things on offer that you really will be glad you paid the extra for. Here are our two favourites:
Reggae Catamaran Cruise
I have to confess I was dubious. I had visions of Club 18-30, and whilst that does look fun (and I'm gutted that I missed my window of opportunity for Hedonism), these days I'm a bit intimidated by quite that much enthusiasm. Club 18-30 this is not though. This is the most chilled out way to see a bit more of Jamaica. Wear a swimsuit as you'll have to wade out to the boat, bags (and babies) on your head, but once you're on board there's everything you'll need for this morning cruise.
We were greeted with drinks as we headed out to the reef for some guided snorkelling, picking up spider crabs (declared freaky by my 8 year old, and too weird to touch by my daughter), sea cucumbers and this sand dollar that fascinated all of us:
Back on board snacks were brought out, and cocktails mixed before we picked up speed and headed around the island to the famous Margaritaville bar, where we were able to stop and have some fun on the inflatable climbing raft moored there. Our guides pointed out landmarks, and told us more about the history of Jamaica, the sugar cane plantations, and the island's independence. Of course the children were more than happy to let us chat, given that they were wholly occupied by the catamaran's water slide: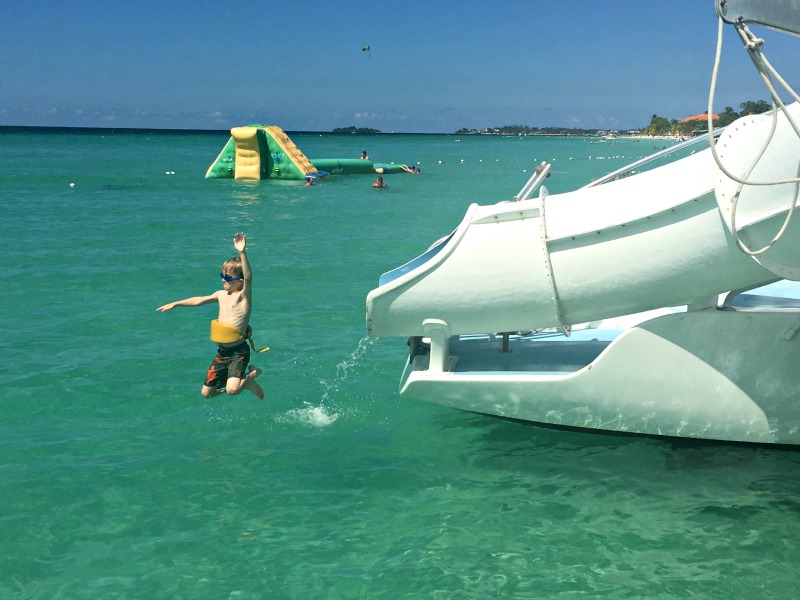 Homeward bound, our DJ cranked up the tunes, the bar staff mixed any colour of cocktail we fancied, and we did indeed dance. Well why wouldn't you?
A Dolphin Swim
Towards the top of the Bug's bucket list is an interaction with dolphins. He loves any kind of animal, but is especially besotted with dolphins, and stores up facts like an encyclopaedia. I held my breath as he announced to our group that dolphins shed their skin every two hours, but our guide at Dolphin Cove confirmed that he was right, and led him down to the water to ride with a dolphin. There's something magical about being in the water with dolphins, and to learn so much about their habits.
The Reading Road Trip
We didn't do this trip, but had we been there longer, I would have liked to. Sandals (who own Beaches Resorts) is the largest employer in Jamaica, which is probably why the staff seem so invested in its success. But they don't just operate luxury tourist destinations; they put energies back into the community in various ways, including this trip to a local school which is massively over capacity, and struggling with illiteracy. Visitors are asked to take a favourite book to share with students there, and leave at the school. I think this would be a great thing for our children to see and contribute to, given the privilege they have in the UK of a free education. Fellow blogger Becky visited, and you can read more on her blog here.
So, beautiful as Beaches Negril is, it is worth leaving occasionally. You just might need to book a longer holiday!
Our catamaran cruise was courtesy of Beaches partner Island Routes, who also organise the other trips featured here, as well as many more experiences. 
Our stay at Beaches Negril was courtesy of Beaches Resorts. Seven nights' accommodation at Beaches Negril Resort & Spa costs from £5,735 for a family of four (2 adults and 2 children). Price includes Luxury Included® (all-inclusive) accommodation in a Negril Premium Double Room, return economy flights from London Gatwick with Virgin Atlantic and return resort transfers. Subject to availability and valid for travel in June 2016. To book or for further information on Beaches Resorts call 0800 597 0002 or visit www.beachesresorts.co.uk.