*Clears throat importantly* I know you're all dying to read Wot so Funee? but first Mummy has an announcement…
Yes, the Mad Blog Awards 2013 are now open for nominations! Last year we were lucky enough to win the MADs in the Best Schooldays category. We had the time of our lives and are so grateful to everyone who reads and shares this blog for making that possible. Of course, we would love to enter again, but that is up to you. If you think Actually Mummy is deserving of an award this year, we'd love a nomination in any or all of the following categories:
MAD Blog of the Year

Most Entertaining Blog
Best Family Life Blog
Best Schooldays Blog
By all means nominate us for best Food blog too if you're a fan of our Beetroot Cake, but leave me out of Best Pregnancy Blog, won't you 😉 How about you? Are you a blogger who would like to be nominated? Do please feel free to give me a gentle nudge in the comments and I'll see what I can do! Now, on with the #funees:
****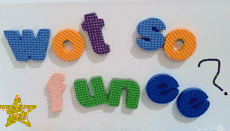 On the last day of the school holidays after Christmas, we made a To-Do list. We wanted to make sure we filled our day, and didn't miss out any of the final fling  activities we hadn't had time for over the previous 2 weeks. Mummy thought it amusing, although we did it all, regardless!
Notes:
Mummy agreed to quite a lot of time playing Just Dance 4 on the Wii (a gift from Santa) because she claims it can be legitimately claimed as an exercise session. (I have a  sneaking suspicion that she trots home after school drop-off to practice; I know because she is now capable of beating me on all except the One Direction routines…)
Where my brother found the desire to listen to the News is perplexing
We made the smoothie. Correction: I made the smoothie – berry blitz, delicious!
Mummy added a couple of her ideas to the list; she did blog, but we never got round to dunking the Bug's head in the sandpit.
My own illuminating plan did actually come to fruition, after much angst on behalf of the Bug, and the result will be fully featured in next week's funee post.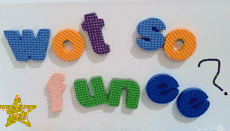 Now, if you have your own post to link this week, grab the badge code from the sidebar, and click the link below to enter your post – I can't wait to see what you have! It's not obligatory, but if you include a link back here in your own post, I'll return the favour with a tweet-out. If you're new here you can check out the Wot So Funee? main page for more info.

Powered by Linky Tools
Click here to enter your link and view this Linky Tools list…