My mother tells a story of how she once left me outside the cubicle of a dress shop while she tried on an outfit, and came out to find me prancing round the fitting rooms in another woman's shoes. She tells a lot of tall stories my mum, but either I remember this one, or it just sounds so ME that I've created one of those picture memories we all make to illustrate our earliest histories. It was the sound they made. Those heels I wasn't allowed (but secretly bought with pocket money as a teenager, to change into on the way to school), with their click-clack allure, and promise of a more grown up life.
I've loved glamorous shoes all my life, and when I was old enough (but still young enough) to fit into a tiny business suit, it was always the heels that perfected my look. I bought pale green patent croc sandals on Knightsbridge one summer to match my size 10 Episode dress, and I was totally in charge of the world. That size 10 is long gone (and I'm much the better for it!), but thirty years on I remain loyal to my love affair with a gorgeous shoe.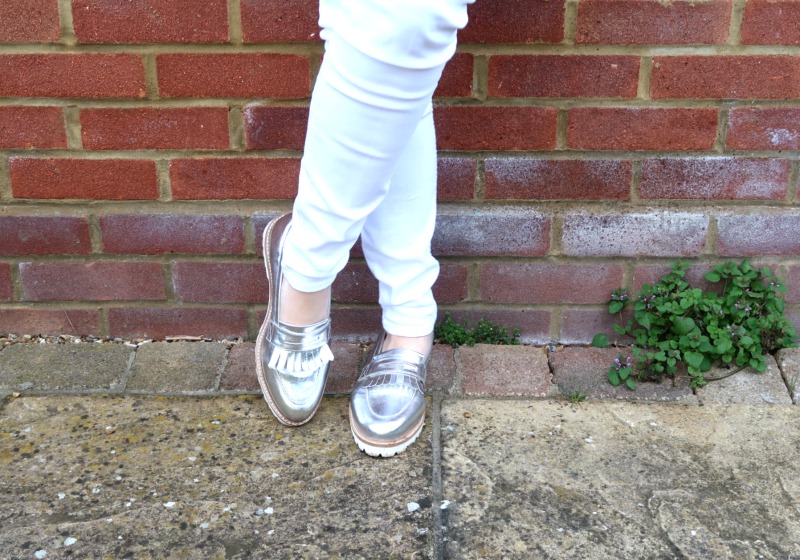 How to find stylish, comfortable shoes
I've talked before about my frustration with fashion labels who ditch women once they're past 50, tossing us into the ocean of ugly orthotic shoe catalogues, and (*shivers*) slacks! On the one hand, you realise as you get older that your mum was right – you should have looked after your feet (it may have been teeth, but the same applies). The revelation that the totally maddening pain of sciatica could be completely fixed by an orthotic sole was a life-changing moment for me. But still I refuse to wear the sensible shoes she persisted in buying me as a child. I want it all – comfort, AND head-turning shoes, and I'm not prepared to wander over to the scrap heap and take up residency!
If you're in a similar place, and want comfortable shoes that still look hot, these are my tips so far. I suspect I'm just scratching the surface, so if you've found a way to get proper foot support in a stylish shoe please let me know.
1. Choose colour!
There's no doubt that flat shoes are more comfortable to wear than most heels. But I've found that wearing bold colours looks cool no matter what style you're in. Colour is fun, it makes a statement, and makes people take notice. It mitigates for so much too. I've found that no amount of concealer will hide tired eyes, but a streak of bright lipstick distracts from them, and brightens my face immediately.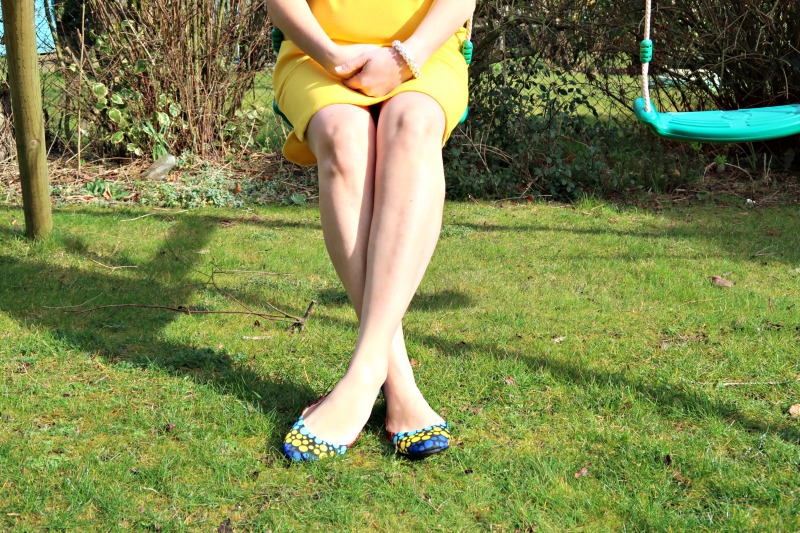 A simple pair of ballerina flats like these from Heart & Sole is perfect with a summer dress, or jeans. I've also found that I can fit a small pair of orthotic supports into most ballerina shoes, making them supportive for the collapsed arches most of us get with age, as well as super-comfortable for daily wear. Another tip is to look for suppliers with an exclusive range, as they're more likely to be a little bit different to the high street shoe chains. And as we all start to learn, the older we get, different is cool! I'm in love with most of Heart & Sole's designs. First, they're a small range, sourced from Mexico, with design and comfort in mind (no really, the owner Tom took his mum with him to help make decisions on the range to stock!). I also love that they come in half sizes. Never since Clarks' children's shoes have I managed to find half sizes. Instead, I either squeeze my toes into 7's, or I slosh around a bit in 8's. Plus, there is only one 7.5 pair of each design, so I know that nowhere in the UK is there a woman with feet like mine wearing shoes just like mine – now that's cool, right?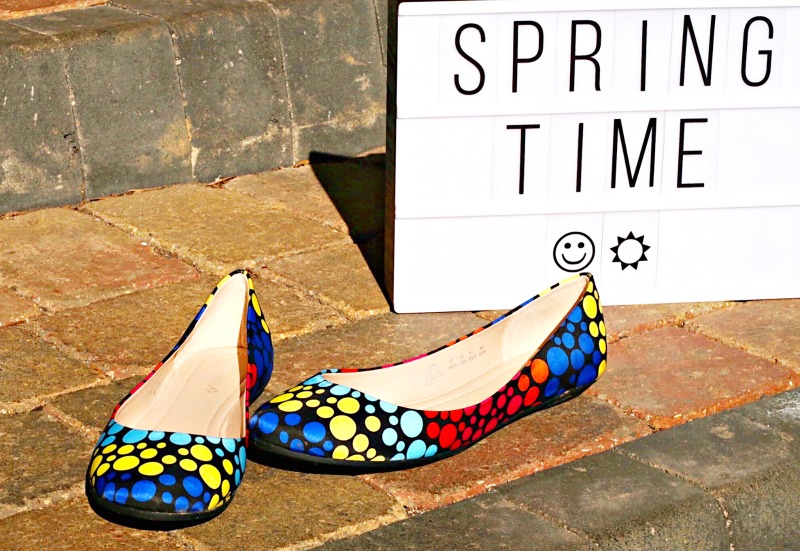 2. Opt for metallics
Right now, nothing says glamour like a pair of metallic shoes. It's my absolute go-to for the summer, when I need a supportive sandal. You can get away with pretty much any design if it has a bit of bling, so I swerve flip-flops (the worst possible footwear for a collapsed arch and a dodgy hip), and slide into glittery Birkenstocks, or shiny FitFlops that are comfortable enough to get me through the summer. But even in the colder weather, there are some fabulous silver shoes that look amazing, and don't compromise on comfort.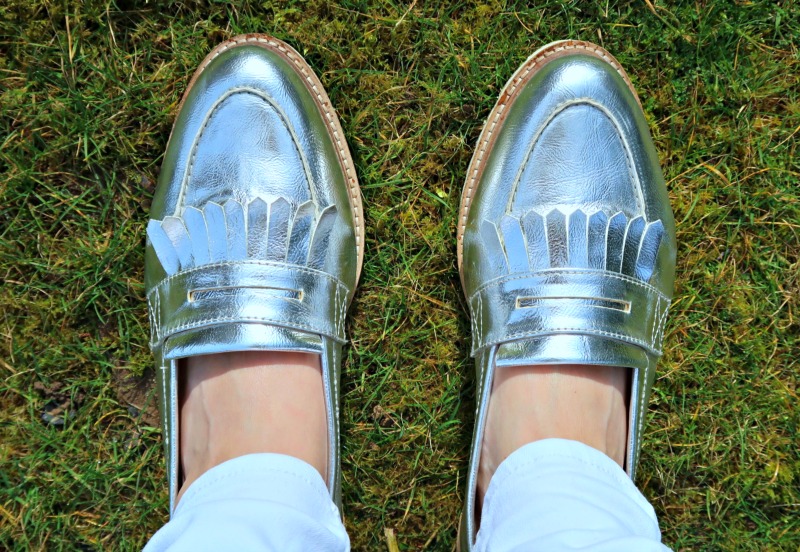 These high shine loafers from JD Williams are a perfect example of a flat shoe that's wide enough for comfort whilst looking completely on trend. I chose a size 7 (my usual size) and found that they were roomy enough to take my own orthotics too, which means they're now the perfect support for my joints, and no one would ever know!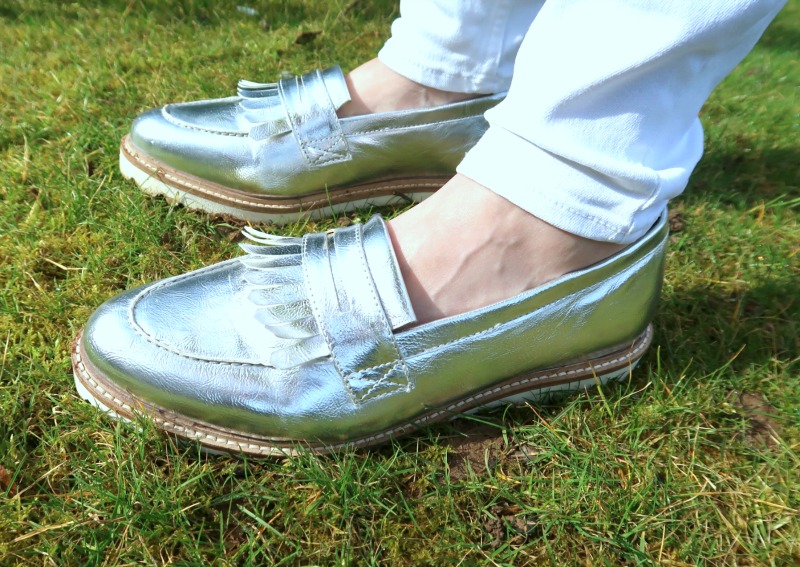 Built-in orthotic soles
What's really promising is that some designers are beginning to get the message about people like me, who don't want to slide off quietly into comfortville and be forgotten in the style stakes. I found Strive, who not only manage to make their comfortable shoes look ultra hip and bang up to date, but also incorporate a podiatrist-recommended orthotic footbed. At last! Strive began their business as makers of custom orthotics, so they really know what they're doing. Made in London from natural materials, the shoes aim to restore our original biomechanical contours, balancing the body to reduce stress, and pain in the joints.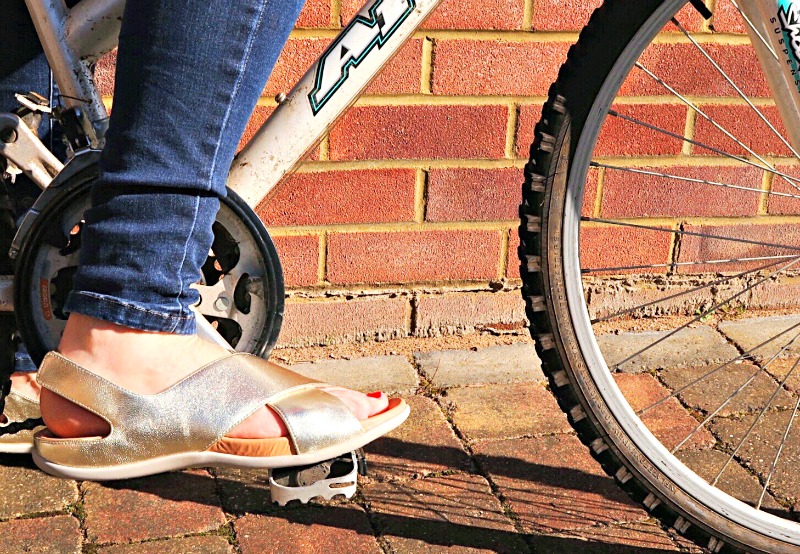 These are SO easy to wear, and solve the annual problem of looking nice whilst keeping cool in the summer months, without sacrificing your posture and comfort. If you're not used to orthotic insoles you'll need to get used to the feeling of support under your arch from the moulded footbed, but your feet and body will thank you for it! I've been wearing orthotics for 15 years, and I feel very vulnerable without them – I even have orthotic insoles in my slippers!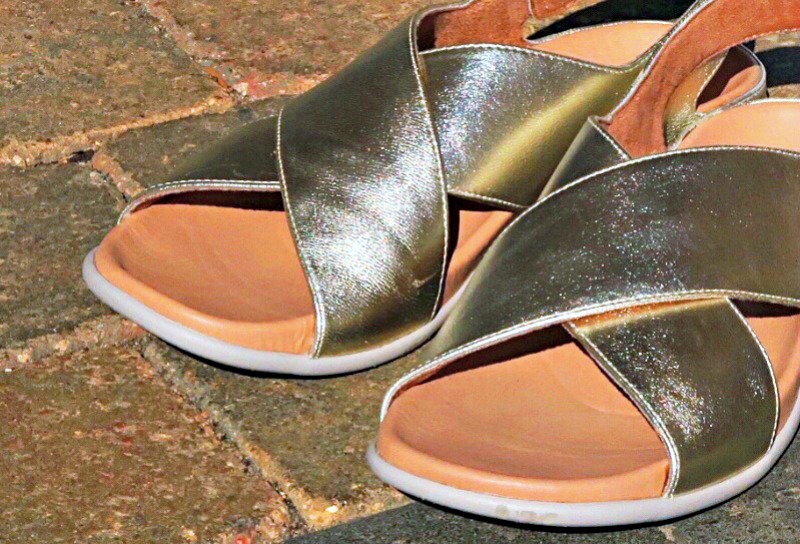 There's a large range of sandals, training shoes, boots and slippers, all in varied colours, including my favourite metallics for summer – there are even lizard print sandals! These pale gold Venice sandals are likely to be my best friend with summer dresses and shorts over the holidays, and I'll definitely be buying some of Strive's running shoes to minimise the risk of chafing from adding insoles to my trainers.
3. Size up
On that note, it's worth considering trying a size bigger than your usual fit. In both my silver loafers, and the silver lace ups I have from Jones the Bootmakers, I was able to remove the original sole, to make room to replace them with my own orthotics. This means they fit like a glove, and give me enough support to stay comfortable, whatever I'm doing with my day. But sometimes just sizing up (especially if you can find half sizes) will give you the same flexibility with your own insoles.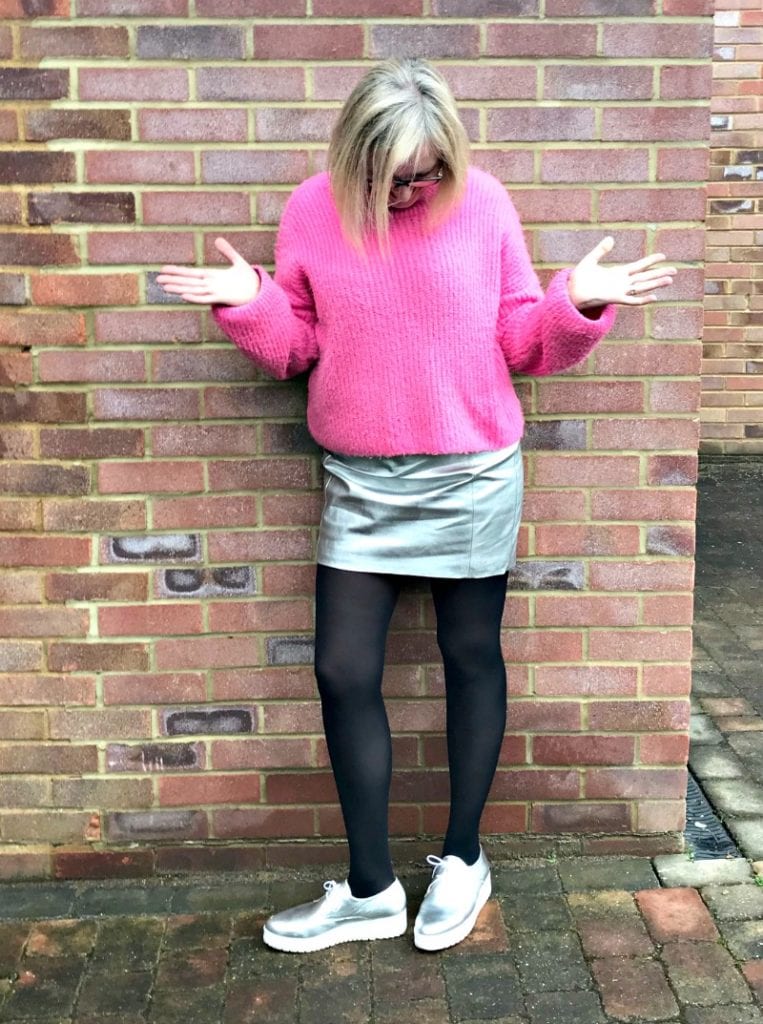 4. Look for wide fittings
It's quite easy to find wider fittings now, as shoe retailers realise that we're not all dainty teenaged fairies. Look for Footglove at M&S, and wider fit shoes at New Look and Primark. These will make it easier to fit your own orthotics into the shoe, or – if you're going with sandals and ditching the insoles for a few hours – wider shoes will give you more general comfort, and stop your feet from feeling pinched. I bought these colourful wedges a couple of summers ago from New Look (who have the added bonus of being a complete bargain), and they come out without fail every year to brighten up my cropped jeans. My feet are always glad to be on proper insoles, but they're perfectly happy for me to flirt with heels for a few hours in these.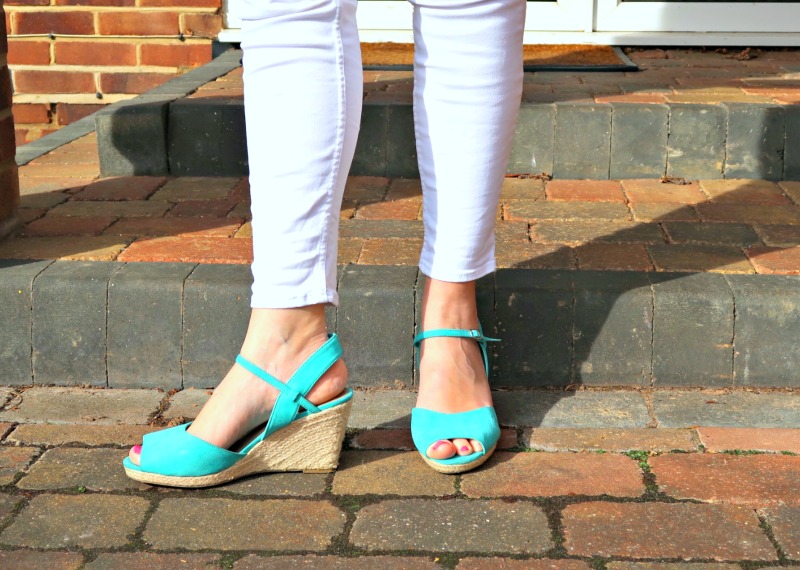 5. Order a taxi!
I have to confess that stilettos are definitely not comfortable. But there comes a time when a shoe is just so beautiful you have to own it, right? It's okay, though – simply reserve your utterly-fabulous-jumped-off-the-shelf-and-into-your-basket heels for those occasions when you can take a taxi to an event and remain seated at your table looking perfect for the entire evening. Make sure they're special though. I found these at Heart & Sole, and absolutely had to have them. I mean, hello? Pom-poms on a shoe are obligatory, surely?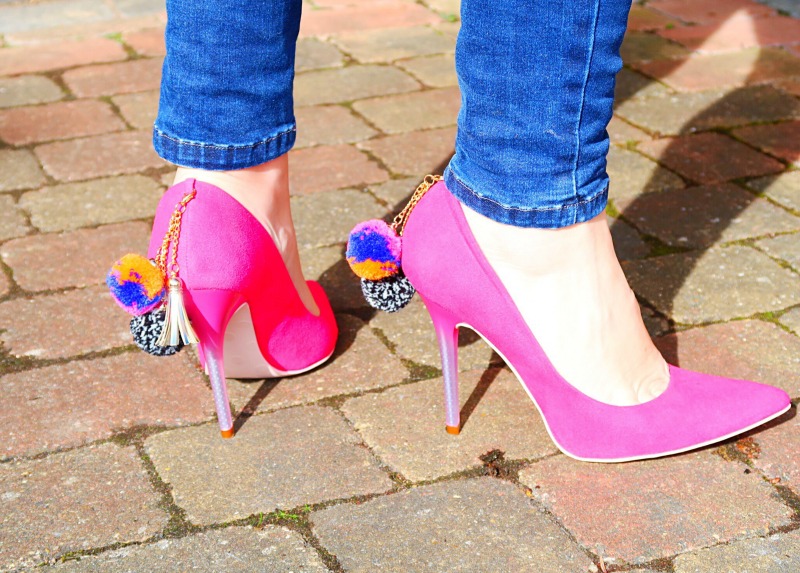 What do you think? Do you struggle to find comfortable shoes that still look amazing? Or have you found the perfect pair of heavenly heels?
*Huge thanks to Heart & Sole for gifting me the pink pom-pom stilettos and the colourful spot ballerina shoes; also to JD Williams for my silver loafers, and to Strive Footwear for my orthotic gold sandals. Everything else was my own purchase, and all words, opinions and imagery are my own.
Like this? Try these…