Before you click away, this is definitely NOT a health food post! I enjoy roast pork, a citrusy Sauvignon, and cheese far too much to ever write a post about diets, and you will never find me advocating a protein bar. But. I know that there are things that make me feel generally better in myself. A daily walk in the fresh air; plenty of water; a few nights a week without alcohol; and a good amount of fruit and vegetables in my diet. The trouble is, when life is hectic, and food often comes in the variety of 'grab' or 'comfort,' fitting in the requisite 5-a-day isn't always easy. So I've come up with a couple of solutions which help me to eat more fruit and veg easily, and without feeling like I'm overloading my plate to make up the quantities.
How to eat more fruit and veg
Drink it!
I've always known that a morning smoothie makes it easy to get 2-3 portions of fruit ticked off by the time breakfast is done. But two things stop me doing it. One, I'm really not a breakfast person. All I want in the mornings is a strong latte, and then I really don't feel like eating till mid-morning. By which time I'm often out of the house already. Next, the blender faff! I have a great blender, but it's huge, and I often feel like it's a chore to go to the trouble of assembling, then washing my blender just for the sake of one drink. Plus, very often it just isn't up to the job, giving me fruity strawberry lumps to navigate. So I rarely do it.
But that has all changed since I got my Salter Blender-To-Go. It comes with two flasks that are perfect for one person's smoothie. The flask fits onto the blender, which is powerful enough to blend crushed ice as well as fruit for a perfectly smooth drink. Then you simply remove the flask, swap the blade attachment for the spouted bottle lid, and you can take your smoothie wherever you're going.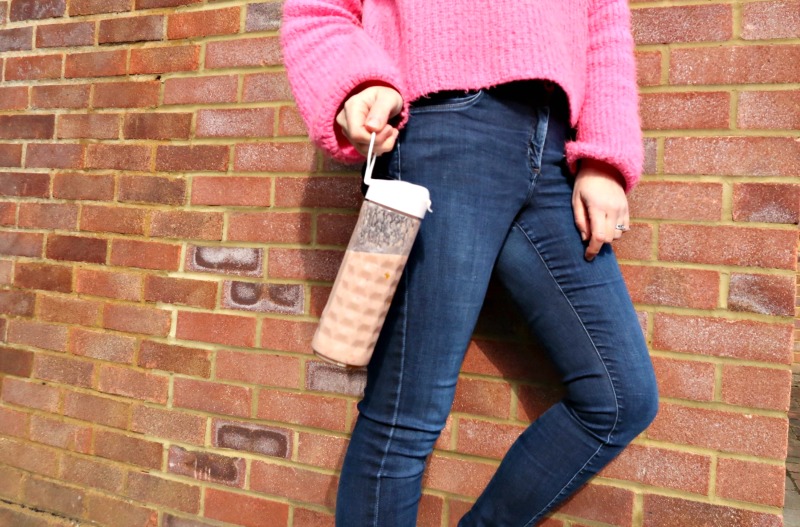 I tend to blitz mine first thing, then head out for some fresh air before I get settled at my desk for the rest of the day. The other thing that sometimes puts me off a smoothie is the amount of fruit. Although the vitamins and fibre in fruit are good for me, I know from watching my daughter's blood sugar levels that fruit causes a huge spike, followed by a crash, and cravings when the insulin catches up. So whilst fruit is 'good' in lots of ways, it's not the best idea to be eating lots of it in one go. To get round that, I'm adding half a ripe avocado to my smoothies; this gives me an extra vegetable serving, and cuts down on fruit sugar, plus the healthy fats in an avocado slow down the speed of sugar absorption, and are great for my heart, skin, and circulation. Win!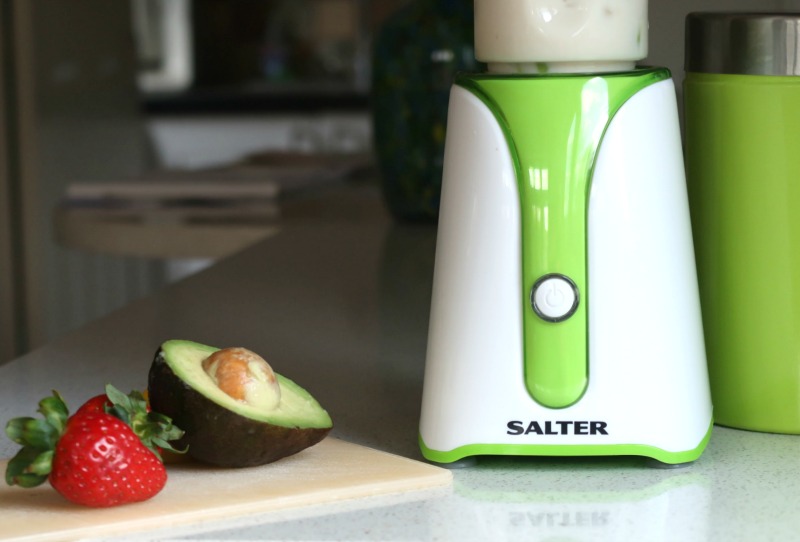 2. Spiralise it!
The other gadget I'm loving in the kitchen just now is my spiraliser. It's given me a new reason to add vegetables to my plate in a much more interesting fashion. For the sake of speed, I tend to just steam some broccoli or carrots and dump them on a plate alongside whatever I'm serving, but isn't this the most boring way to eat a vegetable? It kind of reinforces the feeling that vegetables are the penance we must do to be allowed the steak and chips!
With my spiraliser though, I can now create interesting fillings for quiches and pasta sauces, as well as simple but tasty vegetable side dishes.  This spiralised butternut squash was roasted with onion to add to spinach in a frittata, and it was delicious. Much more interesting than steamed squash, and was even palatable to the kids, who are firm squash avoiders. I've even started substituting vegetables for my usual pasta dishes, creating courgetti to serve with a creamy mushroom sauce, or homemade pesto. The spiraliser is much easier to use than I expected, and three courgettes were transformed to perfect ribbons in no time. They were quicker to cook too – just a few minutes tossed in a pan in some olive oil and they were ready to serve.
I honestly expected to find courgetti a poor substitute, but it tasted really good, and was every bit as satisfying as the carb load of a standard spaghetti. Even my husband is happy to eat it (although he'd still want to know where the meat was if I served it on a Friday)!
What other sneaky ways do you have for getting more fruit and veg into your diet?
*With thanks to JD Williams for my Morphy Richards spiraliser, and Salter Blender-to-go. As usual, all imagery and opinion is my own.
More ideas for the home