Two years ago my then 9-year-old bounced out of school on the last day of the year, full of excitement for the holidays, and pronounced that it was going to be the best summer ever. For various reasons, it wasn't, and the memory of that hopeful, thwarted statement has haunted me ever since. I've waited quietly for the best summer ever to tip up and lay that ghost to rest, biding my time, and watching my children as they unwind after a long school year.
This summer was the one. This holiday has been the best summer ever. As we pulled together the loose ends of the break, assembling uniform and school bags, lunch boxes and timetables, I felt sad that it had ended, as a new, unknown chapter begins for our girl at secondary school, and our boy seems so much older. I held on to those last few days, refusing to go back to work, snatching every moment I could with my kids before the whirlwind of the term commenced and we're swept into the current for another year.
The Best Summer Ever
We haven't done anything particularly epic; no big trips or momentous rites of passage. I have had more work this holiday than usual, and that has kept me at my desk from time to time. But we have lived. When we've had time together we have used it so well, and I've delighted in my children's company, relishing the small things.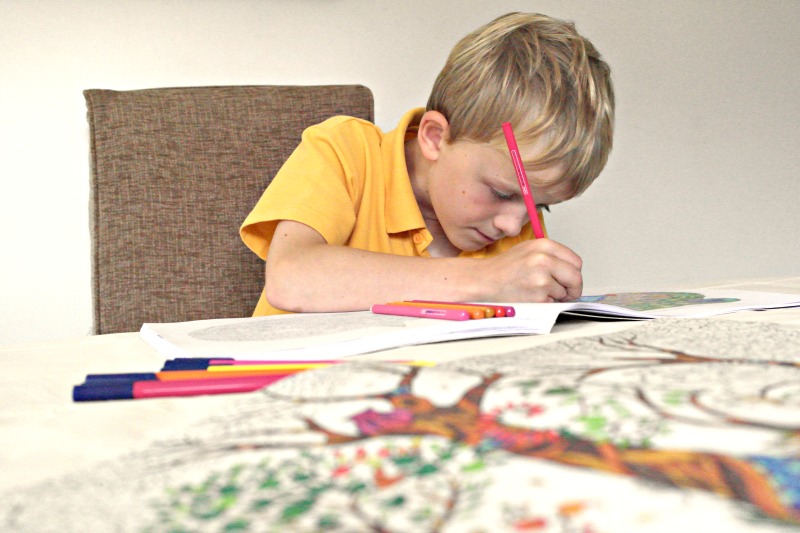 My boy wanted a colouring book for his birthday, and we gave him an epic one, full of intricate animals, along with a huge pack of coloured pencils. In a fit of frivolity, I bought one for myself too, and whenever we've had down time, we've coloured together, him and me. I've tried to make time for it, each of us showing off our best colour combinations as we've sat, and chatted together. It's been so lovely.
I had my annual girls day out with my daughter; we've done it since she was five, picking a London attraction to visit, dipping into Hamley's, stopping for cake, then the theatre, returning home late with her asleep on my shoulder on the train. It's a huge treat, which began when the Bug was a baby, to give her some one-to-one time with her mum, and it has stuck. Over the years it has morphed; we now spend more time in New Look, ice-cream has made way for macarons, but some traditions have stayed the same. We eat at Inamo, we must visit Hamley's, and a great stage show is the highlight. We've seen Oliver, Mamma Mia, Wicked, Phantom, and this year Les Mis. She handled the latter with more emotional maturity than I did.
She feels different to me now. She tackles hospital appointments with the same fears, but the tears only brim, they don't fall any more. She's reached an age where we argue about make-up. They all do it, experimenting with colours that don't work, and lines that look wrong on girls their age. I want so badly to be on her side, yet I can't keep quiet when she doesn't look good to me. So I took her to Bobbi Brown, where a lovely girl showed her what worked for her skin, and her age, and made her look beautiful, without going too far. It felt special to do that for her, rather than simply declaring a war on Rimmel that I could never win. She feels different, but better than I could ever have imagined.
We've hung out together in London and at home. We've caught up with Masterchef, and old friends, met new friends and explored potential ones. We've played on beaches, been to zoos, eaten burgers, made ice-creams and sushi. We've crafted and coloured, played games and had picnics, stayed up late, and watched movies. We've done everything and nothing very much. It has been bliss. We definitely picked the best summer for a staycation.
I know once they're back at school we won't do that any more. It will be harder to find the time, and stress-free moments with my kids will become a luxury. Tomorrow I'll have all the time in the world to myself, but I'll struggle to settle; I will crave the summer, reluctant to move to the next phase.
I'm hoping I'll remember where the colouring books are from time to time.