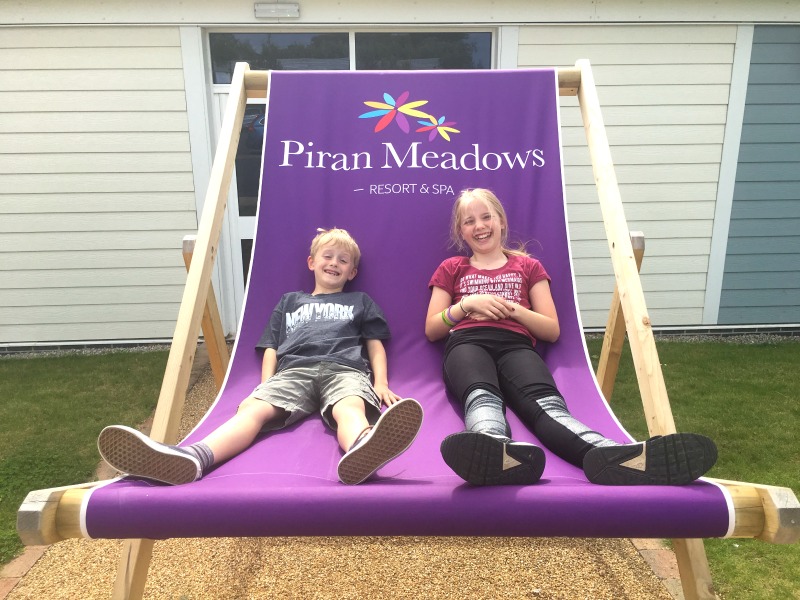 Luxury (noun): two pillows per person.
Hoseasons Cornwall Piran Meadows Review
When I walk into a bedroom which will be mine for the duration of my holiday, and see abundant pillows, I know I'm on a luxury trip. There's usually a TV on the opposite wall, and I know I will sit, plumped against my copious pillows reading my book, or watching a movie with my family. Luxury.
So it is at Piran Meadows, in Cornwall, a small resort in White Cross, not far from the glorious beaches of Newquay. And of course, that's not the best part. It is quite possible that I would recommend you a holiday on the basis of how many pillows are provided, but if you needed your arm twisted, there's a private hot tub in your lodge. Double luxury.
What's the best accommodation at Piran Meadows?
We stayed in a 3-bedroom Truro Premier Lodge; don't worry, it's not a budget hotel on the A30 – it's a large mobile home, with queen size beds, a proper twin, three bathrooms, and a wide deck, where you will soothe away the day in your hot tub, as you contemplate the magnificent sunset.
Piran Meadows has lodges of various sizes, but they all come with quality as standard – ours had a dishwasher and washing machine as well as the usual appliances, two sofas, a dining table for 6, the same out on our deck, and a huge flat-screen TV and DVD player in the living room, as well as a TV in all the bedrooms. Pretty much home from home.
What activities are there at Piran Meadows?
The premise at Piran Meadows resort is of an active family break; there's no evening entertainment programme (although they do have live music twice a week, and the small bar restaurant is very good). Instead, families are encouraged to take part in all the fun daytime activities on offer at the resort. Go Active is their programme of water and outdoor fun, including archery, laser clay shooting, and Go Quest, a treasure hunt for the whole family, and a fun test of your navigational skills.
We chose water activities and had a hilarious time trying to get moving (or stay on our feet, in my case) in the Water Walkerz – think giant inflatable hamster balls in the pool. I've listened to both my kids tell me how they've mastered them on their school activity camps, and thought they sounded fun. Well, first it was fun watching the kids race across the surface; then, I'm told it was immense fun at the side of the pool as they collapsed in hysterics at the parental attempts.
I fared much better the next day with the Sea Scooters. A mini underwater motor propelled us around the pool, as we competed with another team to collect dive toys, zooming through hoops and seeing how long we could stay under.
What is the Hoseason's Go Active programme?
The great thing about the Go Active programme is that it covers all age groups, and includes the whole family. My kids have never been overly excited about holiday children's clubs, so this appealed to us a lot. It's easy to see from the timetable which activity is suitable for which ages. So if you're all over 5 you can take part in Water Peddlers – little peddle boats, or for over 6's you can all bounce off each other in Body Zorbs. Each activity is led by the activity supervisors, all of whom were great fun, as well as making sure everyone was safe, and knew what they were doing.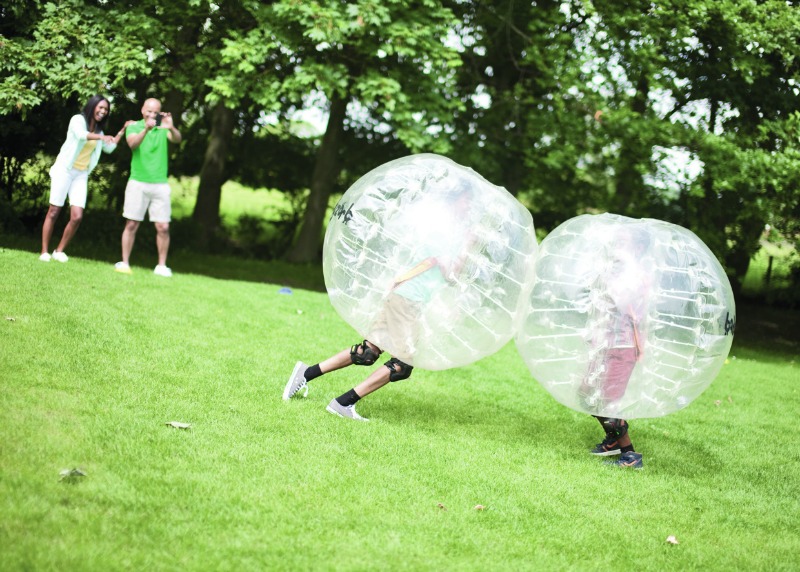 The other thing that impressed me about Piran Meadows was how friendly and helpful everyone was. I mentioned it to our pool lifeguard (the one that was spinning me round in the hamster ball!), and he told me that it's drummed into everyone there: see a guest, say something friendly or helpful; see a paper cup where it shouldn't be, pick it up and sort it out. He said the work ethic was one of the things he loved about the place, and it's true that the staff seem happy there. Even the daily hot tub chemical testing boys seemed happy and cheerful as we waved at them over our morning coffee!
What's the food like at Piran Meadows?
Happy staff usually make for a great customer experience, and there's nothing I could criticise about Piran Meadows on that front. Our last evening was spent in the restaurant, where the set-up and volume of customers led me to expect ordinary service. We were told we may have to wait a while for our meals, which didn't surprise me. So I wasn't expecting to return from placing our order to find our starters arriving; nor did I imagine our main courses would turn up 5 minutes after we'd finished our starters. The menu looks basic – think lasagne, scampi, steak, and curry – but it is all really good. My lasagne was delicious, the Bug polished off all his scampi and declared tartare sauce yummy, the steak was tender, and the wood-fired pizza oven produced a really crisp, tasty Italian-style dish.
Piran Meadows Spa Review
The same easy-going, friendly service extended to the resort's Serenity Spa too, where I had one of the best back massages I've had in ages with Kerri, and a lovely relaxing foot massage. The spa uses Aromatherapy Associates products (their shower gels and hair care products are also in all the lodge bathrooms), and the smell is wonderful. I had trouble not falling asleep, it was so relaxing!